Today, May 9th, marks the arrival of the Akshaya Tritiya holiday celebrated by Hindus and Jains. Also frequently called "Ahka Teej," this celebration is often accompanied by weddings and gold purchases, as it is seen as an auspicious time to do so.
There are some concerns that this year's gold sales on Akshaya Tritiya will not be as impressive as in years past. Reasons abound for this fear, but there is also an exciting development from the Indian government in honor of this year's festival.
New Gold Coin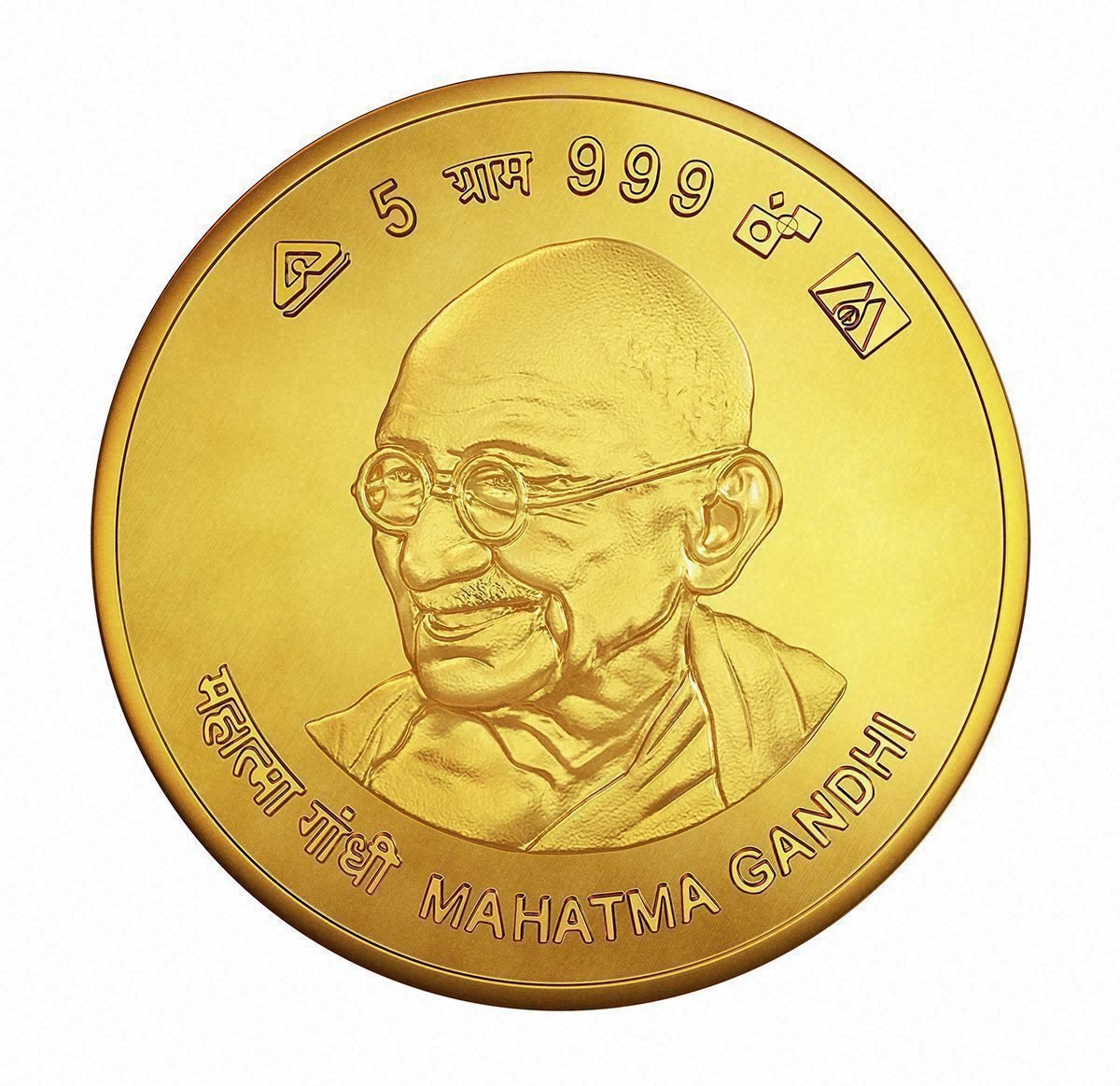 Source: All India Radio News
The government of India does not often issue precious metal coins. In fact, it was only recently that the country introduced its first gold bullion coins. This infrequency makes the government's announcement of a pair of new gold coins, struck from .999 fine gold, a cause for excitement. Fittingly, the two gold coins will be released on May 9th in honor of Akshaya Tritiya. One of the coins will honor national icon Mahatma Ghandi and will contain 5 grams of pure gold, while the other will feature the Ashok Chakra from the national flag and will weight 10 grams.
The government hopes to generate extra revenue from the new legal tender issue, as consumers in India often purchase gold coins as a token of the holiday. In a similar measure taken specifically for Akshaya Tritiya, the country's stock markets will allow gold ETF trading to stay open until 7 pm.
Will Sales Disappoint?
While everyone expects purchases of gold coins, gold bars, and gold ornaments on this auspicious holiday to pick up as the day carries on (and certainly outpace a typical day), there are a host of reasons why some are predicting a down year for Akshaya Tritiya in terms of gold sales. First of all, India has experienced a drought this year, so the weather has impacted the crop yields (read: profits) for the country's vast number of rural farmers. These families may have less money to spare on gold this year.
Moreover, the country's jewelers went on strike earlier this year for several weeks as a form of protest against tighter government regulations against gold businesses. In a country like India where the sale and trade of gold is an enormous deal, the strike by 30,000 jewelers have had a devastating effect on normal business flows, even delaying wedding season. At the same time, gold prices are much higher this year than they were during Akshaya Tritiya a year ago.
Nonetheless, the coinciding demand drivers of Akshaya Tritiya and weddings could still lead to a significant boost in gold sales in India. Traditional weddings are celebrated with large amounts of gold jewelry and gold ornaments. Some have even suggested that the jewelers' strike may have led to a great deal of pent up demand that will now be fulfilled. A few dealers in the country offered estimates of 15% to 25% growth in gold sales compared to last year.
The opinions and forecasts herein are provided solely for informational purposes, and should not be used or construed as an offer, solicitation, or recommendation to buy or sell any product.