Scattered among its many confusing models, dense mathematics, and at times counterintuitive logic, there are a few core principles in economics that are thankfully much more straightforward. Perhaps the easiest to understand is the law of demand: As prices go down, sales volume generally rises.
The word "law" here is somewhat misleading in this context, though. There's nothing truly set in stone in economics; markets are made up of human actors whose individual decisions amount to an incalculable variable. Nonetheless, the inverse dynamic between price and sales volume has an extremely strong, predictable pull on these actors' psychology.
Amid months of consolidation, this pattern of behavior is finally cropping up in the precious metals market.
Buying the Dips
For almost the entirety of the past two quarters (Q2 and Q3 2018), the precious metals have all been in a prolonged downtrend. (At least this is true for gold, silver, and platinum. Palladium has actually been resilient, recovering about 9% from its 2018 lows and nearly erasing its losses year-to-date.) However, all four metals have traded in a fairly tight range over the last six months.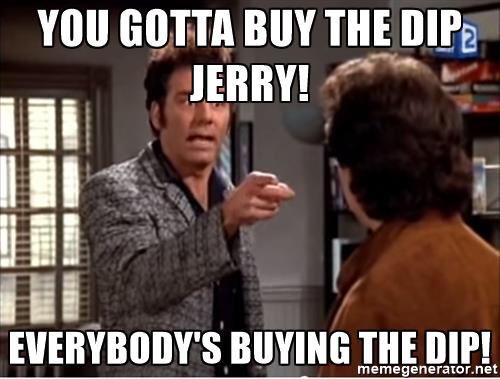 Falling prices typically shake out short-term players from the market who decide to sell and exit their positions. At the same time, this tilts control of the market toward a solid base of value investors and people with a buy-and-hold strategy. From a technical perspective, when bullion prices are drifting lower, it establishes firmer support levels—below which the price is increasingly unlikely to fall.
The phrase "buy the dip" (and the slightly more spirited abbreviation "BTFD") is a common mantra on Wall St that captures the logic behind the law of demand. Here's another way to sum up the general principle: Investors looking for value will quite rationally buy more of an asset when prices are lower.
Yet BTFD applies even better to what has happened to gold and silver this autumn.
Surge in Silver Sales
The first and most obvious sign that cheap bullion is attracting more buyers comes from the United States Mint.
Sales of the mint's flagship American Silver Eagle coin jumped during August, as covered by the SRS Rocco Report run by researcher Steve St. Angelo. Bullion Uncirculated Silver Eagles are only distributed to Authorized Purchasers (i.e. reputable coin dealers), so it's fair to assume that dealers are responding to stronger consumer demand for silver bullion.
In fact, the U.S. Mint's own inventory of 2018 Silver Eagle coins is currently exhausted! The mint temporarily suspended ASE orders from its APs in early September while it replenishes the suddenly depleted stockpiles.
There's been a similar surge in purchases of gold, but the demand has come from large institutional buyers in addition to consumers and retail investors.
In India, widespread gold-buying in rural communities has been matched by official government purchases. Gold imports hit a 15-month high in August while the Reserve Bank of India, the country's central bank, added 6.8 metric tons to its gold reserves. It marked the fifth straight month the RBI has added to its reserves, which now total 573 tons, after years of not buying gold.
Russia has followed a similar strategy—but more aggressively and for a much longer period of time. Nonetheless, the Russian state hardly ever misses a chance to buy gold on the dips. As a result of Russia's nearly constant growth of its gold reserves, it now holds the fifth-largest gold stockpile of any country in the world at roughly 2,000 tons.
The opinions and forecasts herein are provided solely for informational purposes, and should not be used or construed as an offer, solicitation, or recommendation to buy or sell any product.