Cointastrophe (koin-tas-truh-fee) noun: any misfortune, mishap, or failure relating to coins; a coin-related fiasco
On a fairly regular basis, a customer visits our showroom and shares an interesting or funny story about a disastrous experience with coins they had. These stories invariably lend themselves to a broader discussion about what went wrong. For all of our customers' benefit—and perhaps for a few laughs—we are beginning a series of posts known as Cointastrophes! that highlight examples of these catastrophic mistakes.
(Don't worry: we won't be using any real names, unless you ask us to directly mention you!)
An Act of Motherly Love
Recently, a woman came into our showroom looking to buy some silver for her son. She characterized him as a lifelong coin collector, and knew that he kept a jar of junk silver coins on his dresser, so she wanted to buy him a few ounces of silver rounds to add to his holdings.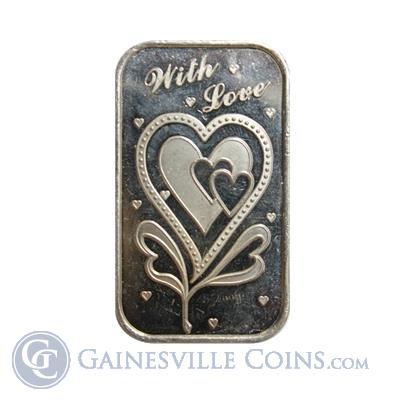 An entirely reasonable and thoughtful gift, of course. This is also an example of a fairly commonplace occurrence. Every day, we see people come in to purchase silver as an affordable way to preserve their family's wealth. This particular woman was admirably thinking about her son's future.
It was when she returned a few days later that the story took on a new life.
Hidden In Plain Sight
Upon her return, when asked if her son enjoyed the gift, she relayed that his girlfriend had mistaken his junk silver jar on the dresser for a regular change jar. In need of a few dollars for food, the son's girlfriend grabbed a handful of silver coins and took them to a CoinStar machine. She got a few dollars in exchange and picked up lunch, not giving it a second thought.
I've heard a number of horror stories involving CoinStar machines; a friend of mine once accidentally dumped a 1909 VDB Wheat penny into one. That means he got back less than one cent (taking into account the machine's 10% surcharge) for a collectible coin worth at least $10.
It turned out that the girlfriend had innocently spent about $3 or $4 in face value—worth around $50 or $60 in silver! At this point in the woman's story, we went from exchanging expressions of embarrassment to sharing laughter. Luckily, this was only a small portion of what her son had in the jar, but it brings up a great point about storing your coins.
When you collect coins, keeping them in good condition is an idea that makes sense to most people. However, since worn junk silver coins—which are valued entirely on their silver content, not their condition—do not fall under this category, most junk silver collectors tend to leave these coins piled up somewhere. I'll admit, I keep my own modest junk silver holdings scattered in a small jewelry box that my sister gave me many years ago.
The problem is not really about how well-preserved these silver coins are in storage; the point is that many junk silver coins look basically the same as today's circulating quarters and dimes, and can easily be mistaken for the copper-clad versions. The Washington and Roosevelt designs haven't changed since we stopped using silver in circulating coinage after 1964. To the uninitiated, these silver coins look no different than regular change. This could lead to the situation described above, where 90% silver coins are (unfathomably!) spent for their face value.
The Lesson Is . . .
The take-away from this anecdote is that leaving 90% silver coins out in plain sight is not advisable. They should be treated like your other valuables, and kept safely hidden. The fact is that no matter how much someone knows about silver coins, and no matter how strongly you trust another person, when someone sees change in a jar or bag, they often can't help but think about going to McDonald's or the soda machine. At minimum, try to keep your stash of junk silver clearly labeled, or even better, have them out of sight completely. Check out our infographic on 90% junk silver to learn more about not letting a silver coin pass by you undetected.