One of the most worrisome signs in the U.S. economy—among many—is the mounting level of corporate debt. This troubling trend is entirely self-inflicted damage for U.S. companies chasing short-term results, however.
$6.6 Trillion Corporate Debt
Much is made of the national debt, which is now in the neighborhood of $19 trillion, as well as the growing number of individual consumers who are underwater with their finances. (Personal debt in the U.S. also numbers in the trillions in the aggregate.) However, the $6.64 trillion debt held collectively by American corporations is nothing to sneeze at.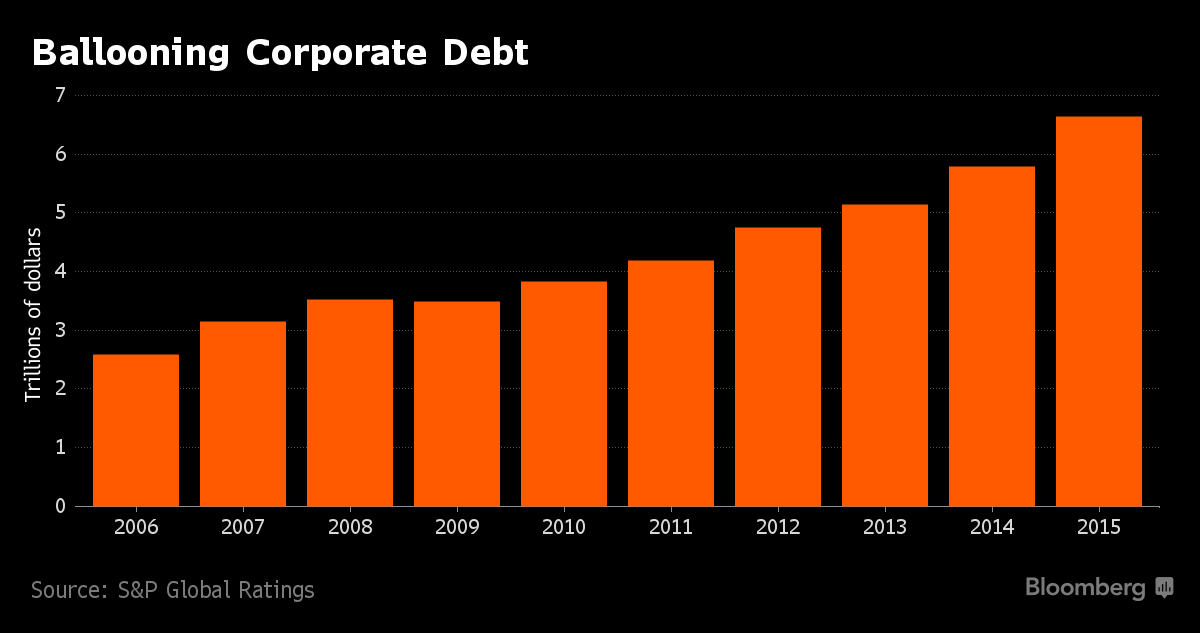 "The similarities between the pre-recession debt binge by consumers and today's burst of borrowing by companies are striking," Rich Miller reports for Bloomberg. "Like households, corporations are using the money for short-term purposes rather [than] to prepare themselves for the future. They're basing their bets on rosy expectations that may not pan out. And it's the bottom 99 percent that are most at risk should credit conditions tighten."
Although it has been pointed out that corporations currently hold a record-high amount of cash and liquid investments ($1.8 trillion), this "breathing room" is concentrated in the hands of just a few major tech companies like Alphabet (née Google), Apple, and Microsoft. (A large sum of this cash is held overseas, untaxed.) Indeed, the piling up of corporate debt doesn't paint a very healthy financial picture for firms beyond the top 1%. In fact, 50 different U.S. companies have already defaulted on their debt obligations so far this year.
Warning Signs
Lagging profits for U.S. firms due to a sluggish economy and a stronger dollar have accompanied the rising corporate debt and mounting number of defaults. In most cases, a severe drop in corporate profits like the one we're seeing portends an impending recession.
At minimum, these conditions are a key risk factor of a recession. The unfortunate and inconvenient truth that most pundits in the media are keen to gloss over is that U.S. firms have resorted to short-term cover-up measures ranging from big mergers to stock repurchase agreements. Moreover, all of this shortsighted activity is papered over by the current environment of near-zero interest rates.
Alternative Palliatives
Low interest rates encourage greater levels of borrowing. Again, Miller explains: "Behind the deterioration in creditworthiness: surging corporate borrowing. Enticed by record-low interest rates, companies increased total debt by $2.81 trillion over the past five years to a record $6.64 trillion. In 2015 alone, liabilities jumped by $850 billion, 50 times the increase in cash by S&P's reckoning." Said differently, corporate debt is rising at a much faster clip than on-hand cash and profits.
In a myopic attempt to palliate their financial woes, companies have resorted to M&As and buying back their own company stock. Both strategies offer a short-term lift to share prices but little else. According to Bloomberg, "Since 2009, S&P 500 companies have spent more than $2 trillion to repurchase shares, helping sustain a rally where stock prices almost tripled. Mergers and acquisitions worldwide, meanwhile, jumped about 28 percent last year to a record $3.52 trillion."
What can be made of this situation? Corporations are clearly taking a page out of the playbook of the U.S. government by putting off their financial problems into the future with ever-greater levels of debt. Eventually, though, the chickens will come home to roost.
The opinions and forecasts herein are provided solely for informational purposes, and should not be used or construed as an offer, solicitation, or recommendation to buy or sell any product.