Despite the considerable pullback during May for precious metal prices, the leading gold ETF (the SPDR Gold Trust, GLD) has rallied 2.9% since the end of last week. This roughly coincided with the huge $30 jump in gold prices following dismal employment data on Friday, helping push the yellow metal back above $1,240/oz.
Making Headlines
Source: BullionStreet.com
Thanks in part to this rapid recovery in the gold price, the SPDR Gold Trust (GLD) was plastered all over investment news site Seeking Alpha on Monday and Tuesday. The range of opinions were varied, and we take a look at a few of them below.
In several cases, the development in the markets spurred renewed faith in the current bull market in commodities. Analyst Andrew Hecht provides four compelling reasons to support this viewpoint:
Markets have a tendency to "overshoot," in this case shooting too far to the low side in response to gold's strong rally to begin the year.
Interest rates around the world remain unusually low—in many places, negative. These conditions won't suddenly change, so the longer such rates remain in place, the more embedded the bullish outlook for precious metals becomes.
The commodities market is cyclical by nature; when prices fall, demand rises. This is what we've been seeing lately in response to the years-long bear market.
Natural resources are finite while population continues to grow. The math of this Malthusian reality is unavoidably supportive of higher prices in the long run.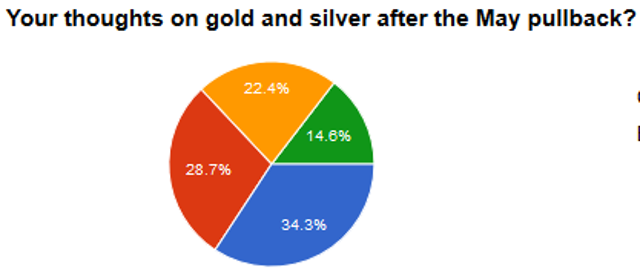 Source: Seeking Alpha
Meanwhile, editor Michael Hopkins conducted a poll of Seeking Alpha readers to gauge market sentiment and found that only 14.6% of respondents were bearish on gold while 34.3% believed the recent correction represents a key buying opportunity. Combined, 51.1% of those polled cited economic uncertainty or central policy as factors that made gold appealing, as well.
Finally, investment strategist Rakesh Upadhyay urged readers to "buy gold before it's too late," as the continued deterioration of monetary policy by central banks and the many risks in the global economy are all but certain to spark a wave of interest in gold bullion as the ideal safe haven in such times of turmoil.
Not So Fast
However, Seeking Alpha is a fairly balanced resource, and they also provided the alternative scenario for good measure. Nikhil Gupta offers the competing perspective that the Federal Reserve will indeed raise interest rates this year, supporting a stronger dollar and thus softer gold prices. Gupta sees some residual bearish sentiment that could send spot gold back to $1,100/oz on the downside or, at minimum, stall the current rally in its tracks.
Though he also uses technical chart patterns to support his hypothesis, Gupta is wise to point out that the same analysis points to a possible upside of $1,400/oz for the gold price, which amounts to a 12% rally from current levels.
There is, of course, one flaw in this coverage that can't be ignored: it emphasizes ETFs like GLD over physical bullion. Savvy precious metal investors know that there's no replacement for physical metal!
The opinions and forecasts herein are provided solely for informational purposes, and should not be used or construed as an offer, solicitation, or recommendation to buy or sell any product.