Despite widespread media bias against it, the gold mining sector has continued to provide intrepid investors with impressive returns. As a matter of fact, the exchange-traded funds (ETFs) that track the NYSE Arca Gold Miners Index have held true to form by outperforming spot gold itself.
As we will see, this is the natural tendency of mining stocks, making them the far riskier play than simply holding physical gold bullion.
"Most Hated Rally"
In a lot of circles on CNBC, Fox Business, and other mainstream outlets, the persistent surge for gold mining stocks and the broader gold market have been met with disdain. The phrase "most hated rally" has even been uttered in these newscasts multiple times. Why the hate?
For starters, there is always rampant anti-gold sentiment across the mainstream financial news. These pundits cannot accept that gold is not merely a "useless ornament." Central banks—despite all of their gold-buying this year and last—are commonly an enemy of anything that has to do with precious metals, so this adds to the mainstream belief that gold should be ignored.
Moreover, criticizing the gold rally allows talking heads to remain blind to the fact that icons like Warren Buffet are indeed fallible. (Buffet has repeatedly dismissed gold in the past.) At the same time, hating gold might give some of these pundits a sense of "contrarian credibility" at the moment by placing them at odds with the current trend.
Dynamics of Gold Stocks
The fact that gold mining funds like the Market Vectors Gold Miners ETF (GDX) and its counterpart for junior miners, GDXJ, have outperformed spot gold is actually no surprise. Movement in the gold price leads out ahead of these stocks' performance rather than lagging behind it. However, once a trend begins, gold miners usually have a greater upside than bullion as far as short-term moves are concerned.
This is a double-edged sword: such shares typically fall further than gold prices do when there are corrections. Plus, the factors that go into the performance of these ETFs (the sector's debt levels, earnings concerns, management strategies, expansion opportunities, etc.) are more complicated than the straightforward wealth-preserving qualities of physical precious metals.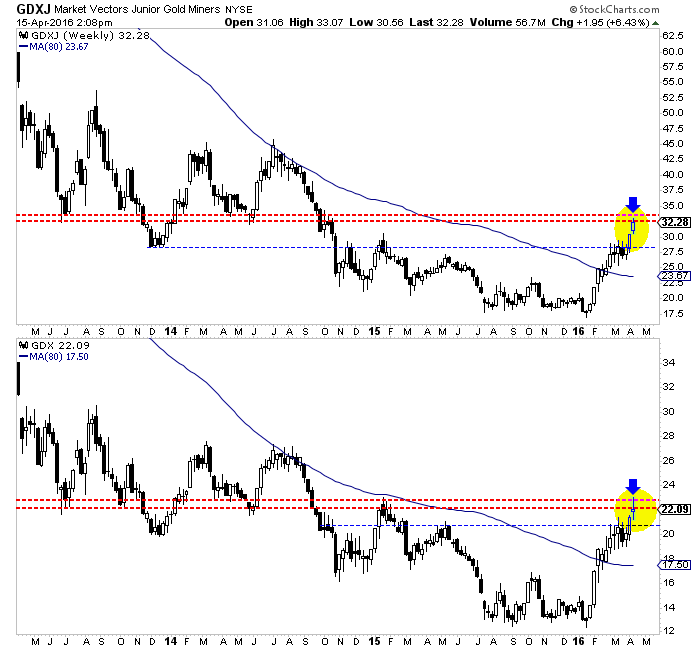 GDXJ and GDX 3-year price charts. Source: StockCharts.com
As the charts above demonstrate, GDX and GDXJ are coming to a key inflection point. The red lines represent a strong resistance level right around the high-point of last year's 80-week moving average (the continuous blue line). Both funds appear poised to break above this resistance, a signal that technical traders often attribute to markets that are moving another leg higher. As Certified Market Technician (CMT) Jordan Roy-Byrne explains, "gold stocks have been on a tear lately as they continue to move higher in defiance of the bearish calls of numerous pundits and traders." GDX gained another 4.8% during Tuesday's trading session, settling at $23.25 per share, its highest since 2014.
Source: goldstockbull.com
Ironically, many of the bearish "haters" have been convinced that the rally for gold and gold stocks was surely about to end. They bet on a reversal—trying to "catch a falling knife," as it were. While GDX and GDXJ continued to surge, some $111 million of net inflows flooded an ETF known as DUST. This is an inverse ETF, meaning it goes up if a particular gold miners index falls. Over the last month, DUST lost over 30% as the miners kept advancing. As a result, many investors got killed incorrectly trying to call the top of the "most hated rally."
The opinions and forecasts herein are provided solely for informational purposes, and should not be used or construed as an offer, solicitation, or recommendation to buy or sell any product.