Gold mining firms have been strong this year, with industry players big and small alike posting remarkable gains. However, the broader mineral and resource mining space is still trying to recover from its multiyear slump.
Troubling Signs for Glencore
Glencore PLC (GLEN), based in Switzerland and known as one of the bellwether mining firms of the entire sector, is still suffering under its worst performance of the persistent bear market over the past three years or so.
Companies like Glencore that primarily focus on mining other commodities than precious metals like coal have yet to emerge from their bearish struggle. Meanwhile, many gold miners have enjoyed outsized returns so far this year.
Although these two groups of miners are broadly in the same sector of resource extraction, the safe-haven demand for gold and silver distinguishes it from the rest of the mining industry. A sluggish global economy has severely cut into demand for raw materials—and the companies that mine them.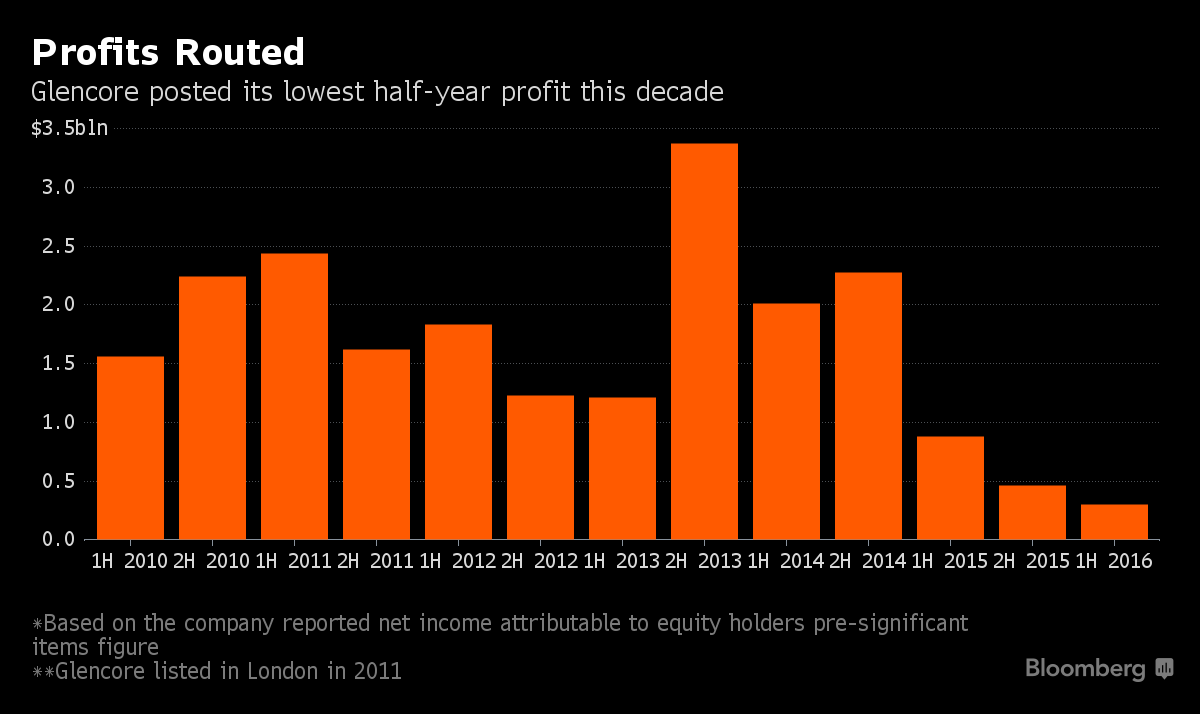 As the chart above shows, the first half of this year yielded the worst profits for GLEN since the beginning of this decade in 2010. Glencore doesn't mine gold but, as an industry behemoth, its downward trend is reflective of the "crisis" for mining firms collectively. A considerable slowdown of the massive Chinese manufacturing sector coupled with general uncertainty about the future stability of China's economy also do not portend well for companies that mine industrial metals like copper and zinc.
It's troubling that these profits are the worst half-year performance for Glencore since it was first listed on London's FTSE 100 in 2011. The company has undertaken an ambitious debt reduction plan to improve its position in a beleaguered market. Its debt soared during the thick of the bear market beginning in 2013. Glencore subsequently responded by "scrapping its dividend, selling $2.5 billion of stock, disposing of assets and slashing spending." In line with this objective, it also has sold 30% equity in its Ernest Henry gold mine to Evolution Mining (CAH) for $880 million—including selling all of the mine's gold production. Evolution is entitled to 30% of the mine's silver and copper output, as well.
Impact on Gold Mining
While the story has been different for primary gold miners and silver miners, it's imprudent to understate or entirely overlook the influence of negative sentiment for Glencore and others in the mining sphere. If mining stocks are falling in general, there's going to be some downward pressure placed on the gold miners. There's a near-term bias against gold, according to analysis by Daily FX currency strategist Illya Spivak.
Commodities in general, including crude oil, have been losing steam lately. This has dragged down the outperforming gold stocks in turn. The Market Vectors Gold Miners ETF (GDX) has fallen 5.5% over the last five trading days. However, it's still up nearly 134% year-to-date. The fate of gold miners are only so tied to the broader commodities markets.
The opinions and forecasts herein are provided solely for informational purposes, and should not be used or construed as an offer, solicitation, or recommendation to buy or sell any product.