The precious metals continued to benefit from rising tensions around the globe, particularly with North Korea. The gold price traded as high as $1,295 an ounce overnight before traders took some profits. When markets opened in New York on Monday morning, spot gold was down just $1 per ounce to $1,287/oz.
Spot silver was also off slightly, losing 3¢ per ounce to $18.50/oz. Platinum was actually 0.7% higher, while palladium lost 0.5%.
Chinese Economy Roars Back
The big economic news on Monday was the report of first-quarter gross domestic product (GDP) in China. It appears that the Chinese economy grew at a 6.9% pace during Q1, its best since 2015. This represents the type of extraordinary growth that China became accustomed to over the last 20 years or so—but many believed to be a thing of the past.
However, there was some skepticism toward the fantastic headline number. China is still perhaps relying too heavily on its world-leading steel industry and an overheated property market to continue generating such unbelievable growth. In other words, this doesn't seem to change the narrative of China's gradual economic slowdown: at some point, as the country transitions from a production-oriented economy to a more consumption- and service-based model, the high levels of government investment in infrastructure and real estate will have to unwind. Chinese steel production hit a record-high in March while demand for the metal slipped, suggesting a possible supply glut on the horizon.
The Shanghai Composite index still lost over 0.7% during last night's trading session.
Other Market Movement
The U.S. dollar remained weaker on Monday, continuing last week's trend. The USD fell to a three-week low against its major peers, losing 0.3% on the DXY index for a reading of 100.2. This has also mirrored the impact on the bond market, as investors search for some safe harbor away from the uncertainty over North Korea and Syria. The 10-year Treasury yield was just 2.23% this morning, its lowest since November. Declining bond yields have coincided almost perfectly with rising gold prices (see chart below).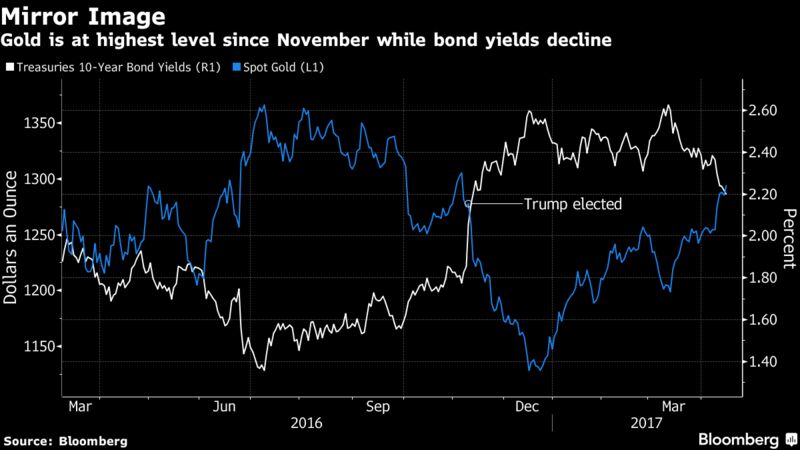 The dollar was also dragged lower by the strong drop seen in the most recent New York manufacturing data. All of this sets up to continue to support gold prices, likely through the $1,300/oz threshold.
European markets, along with markets in Australia, Hong Kong, and New Zealand, remained closed today in observation of the Easter holiday. Expect some lower trading volumes on Monday as a result.
The opinions and forecasts herein are provided solely for informational purposes and should not be used or construed as an offer, solicitation, or recommendation to buy or sell any product.