Gold prices are lower this morning after a hawkish early morning interview by Federal Reserve Vice Chairman Stanley Fischer, where he said the US job market was near full employment. His statement gave new support to a US dollar which rose to a three-week high , putting pressure on gold prices and oil futures.
Tomorrow is the last trading day of the month, which means a lot of fund managers will be squaring books. Considering the very light volumes in the markets lately, we may see some out-sized moves due to this window dressing. Wall St yesterday saw a volume of only 4.94 billion shares, the lowest activity this year.
Stocks fell after this morning's open, crushed by Stanley Fischer's statement that negative interest rates seemed to be a good thing. "We're in a world where they seem to work," Fischer said, noting that the central banks presently pushing interest rates below zero "basically think they're quite successful."
Gold is moving in a very tight $5 range this morning. At 10am in New York, gold was trading at $1,318.90 an ounce. Spot gold was down $4.30, while December gold futures were down $8.20. Spot silver was trading at $18.74 an ounce, with spot silver and December silver futures both down 11 cents.
Gold prices were up modestly Monday, with spot gold gaining $2.70 to close at $1,323.20, and spot silver gaining 20 cents to end at $18.85. December futures saw gold gain $1.20 to settle at $1,327.10, while silver futures gained 11 cents to end at $18.86.
Reuters quotes Alan Thorndike, senior precious metals trader at MKS PAMP Group, as noting this tight trading range for gold lately. "Gold remains range-bound within a descending triangle over the past month, with price action likely to remain fairly stable while inside this."
Strong support has been seen in the $1,315 range, with gold bouncing off that level multiple times. However, Thorndike sees the solid support level a bit lower, in the $1,309-$1,311 range. He places the next target for gold bulls at the 50-day moving average (50DMA) of $1,334.80.
Despite the recent hawkish comments by several Fed officials, markets are only pricing in a 24% chance of an interest rate hike on September 21st. The odds this morning of a December rate hike stand at 57% Most investors are ignoring any chance of a November rate hike, as the FOMC meeting, which comes 6 days before the Presidential election.
Among those discounting a rate hike next month are the bond analysts at Morgan Stanley. In their note to clients, they say "While August payrolls present an obvious risk, we continue to believe market-implied probabilities for a September rate hike will end at zero, not 100."
Common consensus is that Friday's Non-Farm Payroll report for August will be the data that gives the Fed a "go or no go" sign. A strong showing is widely believed to be the event that triggers a September rate hike, but the August NFP has a history of coming in below expectations. Bloomberg notes that for the last five years, August payrolls have been a miss.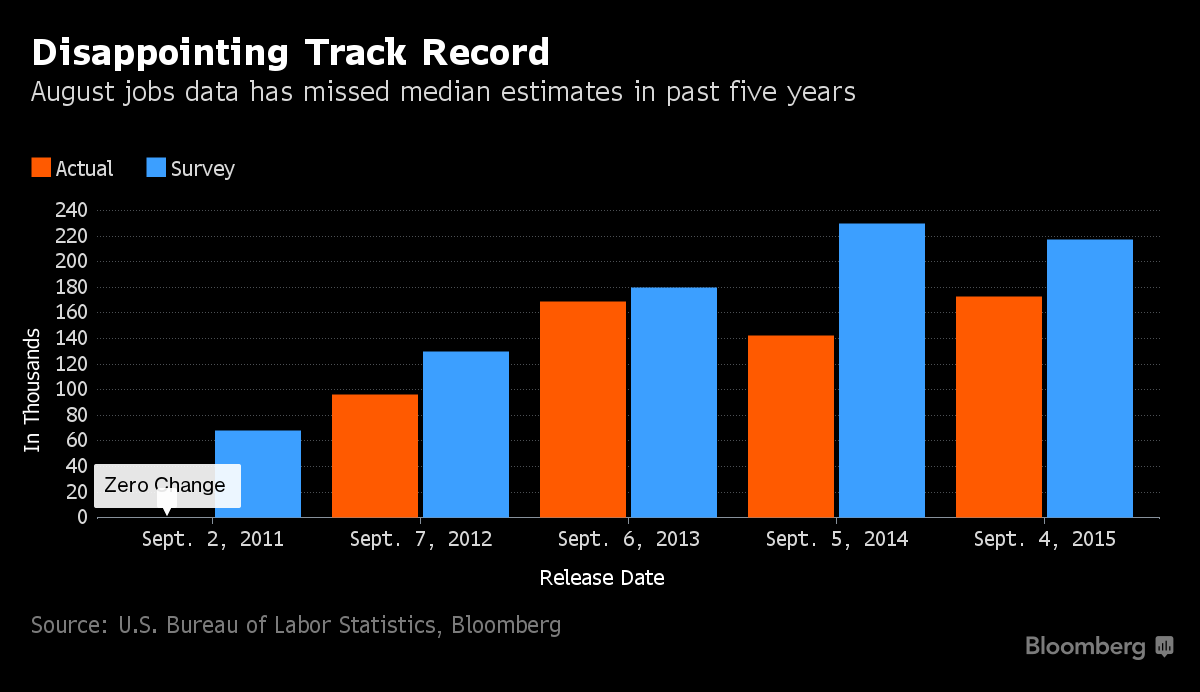 Reuters' survey of 89 economists put the median job growth for August at 180,000, more in line with historical averages than the 255,000 new jobs in July and 292,000 in June.
Treasuries were pounded on Friday in the aftermath of Fed boss Janet Yellen's speech at the global central banker enclave in Jackson Hole, Wyoming, but snapped back on Monday. This was likely a reaction to the oversold conditions on Friday. The 10-year Treasury note saw it's yield fall by 6.5 basis points Monday, the largest one-day fall in seven weeks.
Oil futures were down 1% Monday on oil glut worries, as Iraq revealed plans to increase production, and a cease fire between the Nigerian government and rebels in the oil-rich Niger Delta region was announced. Brent futures fell 1.3% to settle at $49.26 a barrel, while WTI fell 1.4% to end at $46.98.
Crude prices were down more than 1.5% Tuesday morning, as a stronger dollar adds to headwinds for the petroleum sector.
Tomorrow's big market-moving data will be ADP's private sector payrolls report for August. While it doesn't count local, state, or Federal government jobs, it is still seen as a good bellwether for the government's non-farm payrolls.
The opinions and forecasts herein are provided solely for informational purposes, and should not be used or construed as an offer, solicitation, or recommendation to buy or sell any product