16. Italy
By Gainesville Coins
Published June 24, 2015

2013 Demand: 20.2 tonnes
Jewelry/Coin & Bar: 20.2 tonnes/<1 tonne
Reserves: 2,451.8 tonnes
% of Total Forex Reserves: 74.3%
2013 GDP: $2.15 trillion
D^g:GDP: 0.04%
"Influence/Expertise"
The influence of Italian craftsmanship, as it pertains to jewelry, has roots that date back more than 3,000 years, to antiquity and the Etruscans. In modern times, Italy is undoubtedly the world's foremost expert and authority on jewelry in many ways. Whether it is classic jewelry styles, or the cutting edge of high fashion, Italy seems to have its finger on the pulse of global jewelry demand, and the know-how to meet it. With a network that spans more than four cities across the Italian Peninsula, Italian artisans have become the global authority in three key areas of the jewelry industry: style, production, and marketing.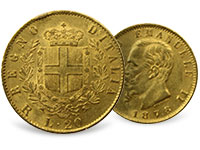 State Interests:
The government of Italy holds one of the largest inventories of gold in the form of reserves worldwide. Despite having a relatively low commercial demand for gold, the metal still plays a very important role in Italian culture, as Italy is heavily reliant upon exports of jewelry and retail tourism. These industries employ more than 40,000 people across the country, and comprise a large portion of the Italian economy. Domestic demand for jewelry required about 20.2 metric tonnes of gold last year. Yet, across the country, it is estimated that more than 500 tonnes of gold had been processed into jewelry in 2013, most of which will be exported or marketed to tourists.
Commercial Interests:
Italy has a network of four main jewelry-producing cities, each specialized to a specific area of the jewelry industry.
Vicenza: This city in northern Italy serves as the country's international hub for high fashion gold jewelry. Located in northern Italy, Vicenza plays host to the annual "Gold Exposition," a series of three seasonally themed expositions on modern gold jewelry trends. Recently, Fiera de Vicenza entered into a partnership with Dubai World Trade Centre to help elevate the positions of the UAE and Italy as regional and global gold hubs, respectively.
Valenza: Located in the northwestern province of Alessandria, Valenza serves as the country's foremost area in the stylistic and technical development of gold jewelry. The city of Valenza is home to more artisan gold jewelers than any other city in Italy, despite having the smallest total population of any of the four major gold districts within Italy.
Arezzo: Arezzo is a city and province, located within the Tuscany region of central Italy just north of the capital city of Rome. Known for its cultural and historic identity, Arezzo is also considered the capital of the Italian gold industry, and holds several annual international gold festivals that highlight the towns artisan culture.
Torre del Greco: Torre del Greco is a small fishing town located on the southwestern coast of Italy, at the foot of Mount Vesuvius. The small commune is best known for its cameo and coral jewelry, and is considered the fourth major cultural center of the Italian gold and jewelry industry. In Torre del Greco, seashell cameo brooches and pendants are hand carved by local artists and enhanced with gold casings.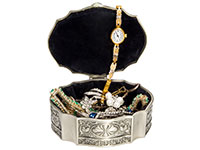 Civilian Uses:
The civilian uses for gold are primarily limited to jewelry. While Italy is a global leader in the production of gold jewelry, the domestic demand for the yellow metal is rather low relative to many other nations on our list. Of the domestic demand for gold that does exist within Italy, the vast majority of it seems to be for jewelry, with a negligible demand for coins and bars.
Did You Know?
In Japan, the art of Kintsugi (Japanese for "golden joinery"), sometimes alternately known as Kintsukuroi (Japanese for "golden repair") is a time-honored tradition of mending broken objects with lacquer resin that has been dusted with powdered gold. Lacquerware has long been an important Japanese art form that became popular in France during the 18th century. Kintsugi is also partly a philosophy, emphasizing that the evidence of repair tells the "history" of an object, and should not be hidden but instead highlighted with gold. When Kintsugi was first employed, it became so desirable that some were rumored to purposely destroy valuables in order to have them repaired with Kintsugi techniques. Japan also has a rather rich history of producing gold coinage as well. The koban, is an oval shaped coin that was produced until the mid 19th century. The actual gold content however was not standardized, and usually decreased, making it that the denomination of gold koban were not continuously synonymous with the weight specifications of the coins.
See Also: