The precious metal markets opened sharply lower on Monday morning, with gold prices off more than $10 per ounce, trading 1% lower at $1,244/oz. Spot silver was down more than 0.6% to fall below $16.60/oz. The Platinum Group Metals were off by slightly more than silver.
Many traders and insiders were scratching their heads about why gold prices plunged early this morning before slowly rebounding. It seems we have an answer: a possible "fat finger" trading error in the New York gold market. According to Eddie van der Walt of Bloomberg News, some 1.8 million ounces of gold changed hands on the COMEX this morning in the matter of a single minute. With otherwise low volumes so early in the morning session, this had a considerable effect on prices.
Bloomberg provides a chart (below) that illustrates how unusual the order was.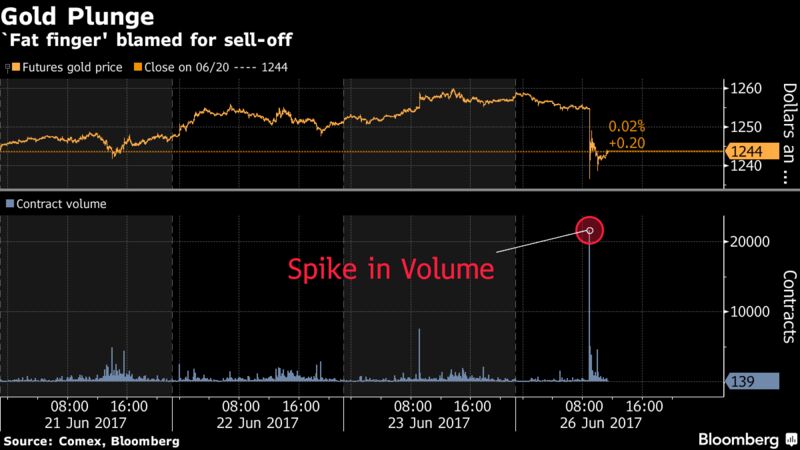 There are, of course, doubts that the activity was merely a mistake. If that was the case, the chances are good that the odd trading behavior will be corrected for by the end of the day. If not, it may be an indication that a large institutional gold investor, such as a hedge fund, dumped a massive amount of gold onto the market.
Here's a quick glance at Friday's closing numbers:
Gold: $1,256.60/oz (+0.53%) Silver: $16.68/oz (+0.97%) Platinum: $928/oz (+0.43%) Palladium: $853/oz (-3.18%)
Monday's Market News
After a disappointing reading in April, durable goods orders by American businesses for the month of May fell by 1%, the biggest drop in such orders in 18 months. One of the reasons cited for the decline is unmet expectations by companies that were hoping for tax cuts and other regulatory changes under the new administration that have yet to materialize. The Senate is holding ongoing debate on the current healthcare proposal, a piece of legislation that carries enormous tax implications if passed.
The durable goods data did somewhat obscure that automobile sales were actually 1.3% higher during the month.
Across the Atlantic, European stocks got a lift this morning by the news that senior shareholders will not be wiped out in the restructuring of several large Italian banks. Instead, the banks will be the beneficiaries of an old-fashioned government bailout worth the equivalent of $19 billion. Equities across the region, not just financial stocks, rose considerably in response to the bailout. Shares were 0.67% higher in London, up 0.9% in France, and the EURO STOXX 600 index rallied 1%.
Taken together, global equities are just an eyelash shy of their all-time high valuations. U.S. stock futures also pointed higher on Monday while the 10-year Treasury yield stood flat at 2.14%. The dollar was just 0.1% lower against its global peers, registering at 97.2 on the DXY index.
The opinions and forecasts herein are provided solely for informational purposes, and should not be used or construed as an offer, solicitation, or recommendation to buy or sell any product.