Gold prices trended lower overnight to hit a 4-week low. A further bout of technical selling came in at the New York open. Prices touched a low of $1,235 an ounce before recovering back to initial support at $1,237. The dollar is moderately higher, as the euro hits a two-month low vs the greenback. Oil reversed early losses to trade in positive territory, and stocks opened higher after closing essentially flat on Monday.
Today's technical numbers for gold show support at $1,237 and $1,232. Resistance sits at $1,241 and $1,245.
CNBC quotes technical traders today who say that gold's long-term fundamentals are still strong, and that rate hikes do not necessarily mean lower gold prices. (That's more a function of dollar strength.) Analysts agree that it is the dollar strength, both presently and expected, that is weighing on gold prices. However, we have already seen the pain a sharply higher dollar can inflict on the US economy.
The Eurozone isn't feeling very well, mainly due to worries over the United Kingdom leaving the EU. Curiously enough, it seems the Germans are more worried about a Brexit than the Britons are. The ZEW economic sentiment report for Germany collapsed to a 6.4 reading, from an 11.2 reading in April. Experts has expected a minuscule rise to 11.3.
The British Pound is stronger today, as a recent poll shows the "Remain" side in the Brexit debate gaining ground. Given the poor track record of British polling firms, one couldn't be faulted for approaching this prediction with a fair amount of skepticism.
Oil prices reversed losses to trade barely in positive territory this morning in New York Crude is caught between several conflicting forces.
A huge backlog of oil tankers waiting to unload in China is one sign that private refiners are unable to process as much crude oil as they would want. Another factor that could reduce Chinese oil demand is the new law that mandates higher quality in gasoline refining that goes into effect in seven months. The cost of upgrading will force some small refiners out of business, while the cost will eat into already small profit margins.
The global backlog will continue to grow, as Iran announced that it will not cap production.
Also on the supply side, a nationwide labor strike has closed all eight of France's oil refineries. This has already led to 20% of French gas stations running out of gas, or are about to. Social media suggests that the actual number is much higher: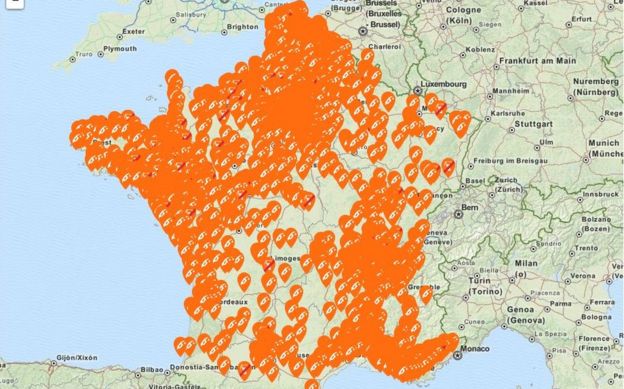 Reports of empty gas stations in France (BBC)
On more positive (for global oil traders) supply news, guerilla attacks on oil infrastructure in Nigeria, and wildfires in Canada continue to keep nearly 2 million barrels of oil a day off the global market.
The opinions and forecasts herein are provided solely for informational purposes, and should not be used or construed as an offer, solicitation, or recommendation to buy or sell any product