Wednesday morning saw the gold price hold steady just above $1,250/oz while it continued to be outpaced by silver. Spot silver was about 15¢ higher to move further above $17/oz.
Both of the Platinum Group Metals were higher as well. Platinum added 0.9% to trade at $1,025/oz, its highest since last August. Palladium was the biggest gainer, surging 1.5% to almost touch $600/oz.
Despite gains for the precious metals across the board, the dollar was also steady, inching just marginally higher to 94.1 on the DXY index. While stock markets in China, Taiwan, and Hong Kong sank overnight, indices in the U.S. and Europe edged higher.
Confusion in Currency Markets
In a broader sense, the flat performance of the dollar could be taken as a bearish sign for forex traders. The greenback has been progressively weakening of late, which is being taken as a sign that the years-long rally for the dollar is unwinding. Naturally, this has prompted currency traders to look elsewhere for safe harbor. Trying to predict which currency will be the next winner has been a crapshoot in the current confused state of the markets. It seems to be based on whichever central bank chooses to stop easing first. With the dollar faltering, many traders have turned their attention to emerging markets.
Return of the Argentines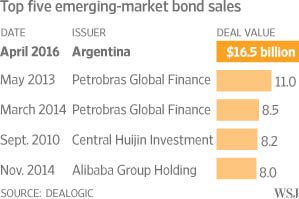 Source: Dealogic via Wall Street Journal
Speaking of emerging markets, one of the biggest developments has been Argentina's reentry into the global debt markets for the first time in 15 years. The government was locked out of the bond markets after defaulting in 2001. Now, it has come back with a bang, selling $16.5 billion in sovereign debt in its initial return. Emerging market bonds have performed very well of late considering that advanced economies in Europe, North America, and Japan are offering such low yields. This continues to portend well for gold.
Chinese Markets Still Hurting
Another positive sign for the precious metals has been fresh wounds for the Chinese markets. After a period of relative calm to being 2016, the Shanghai Composite Index (the country's benchmark stock index) slumped 2.3% overnight. Session lows were even worse, touching 4.5% in the red. This was the worst losses for Chinese equities in 7 weeks.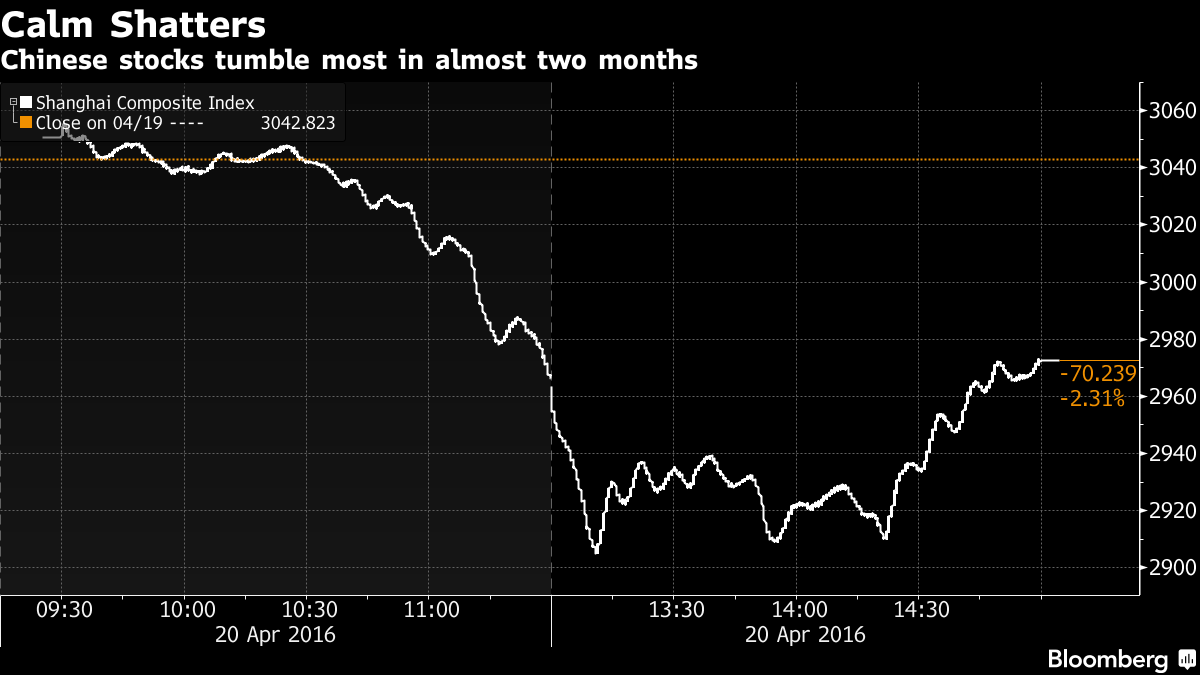 SHCOMP overnight price chart. Source: Bloomberg
Moreover, structural problems with the country's economy have led to tightening liquidity and mounting bad debt. This has caused cash conversion ratios—how long it takes non-financial firms that sell goods or services to get paid—to skyrocket. On average, these companies are being forced to endure 192 days to receive their cash. In some cases, such as for one of the country's oil giants, the delay is as long as 678 days! This makes it much harder for Chinese firms to service their growing debt loads and make interest payments.
Oil's Dead Cat Bounce
An end to Kuwait's three-day strike by oil workers helped push crude prices lower on Wednesday, as well. The country's oil industry felt it proved its point, though the government was unwilling to negotiate. Although news of the output disruption helped oil prices rally this week, it appears to be another "dead cat bounce" for the beleaguered energy sector. Both crude benchmarks (WTI and Brent) fell by more than 2% this morning as the global crude oil supply continues to outstrip demand by 1.5 million barrels per day.
Technical Outlook
All of these developments are essentially a wash for the precious metals right now. Silver's fundamentals continue to point to strength while gold is undergoing consolidation.
The support levels for gold from a technical perspective appear to be at $1,248/oz and $1,246/oz, while support is being seen at $1,254/oz and $1,256/oz. These tight ranges are indicative of a consolidation channel.
The opinions and forecasts herein are provided solely for informational purposes, and should not be used or construed as an offer, solicitation, or recommendation to buy or sell any product.