Gold held steady overnight after hitting three-week highs in US trading yesterday, until the ADP Private Sector Payrolls report was released at 8:15 this morning. The report, which does not include local, state, and Federal jobs, showed 179,000 new jobs in the private sector. Economists were expecting an increase of 170,000. June's ADP report was revised upward by 4,000 to 176,000.
Gold prices were already pushing back against a stronger dollar before the report, which tipped prices back below $1,360 an ounce. The breach of that line initiated some automated selling to lock in profits. Spot silver has given back yesterday 17 cent (0.83%) gains this morning, to trade around $20.40 an ounce.
At 10am in New York, gold is down $4.20 at $1,358.70 an ounce, while silver has lost 16 cents (0.78%) to trade at $20.41.
Silver futures hit a two-year high for the second day in a row Tuesday, settling at $20.70 an ounce. Gold ended at a three-week high of $1,362.80. Precious metals' futures settlements at 2pm meant that they evaded the afternoon pullback from daily highs. December gold settled at $1,372.60 an ounce, gaining $13.00. This was the best one-day performance for a most-active contract since March 2014, 16 months ago. Gold is being assisted in the current rally by market disappointment over a less than expected government stimulus program announced in Japan.
This chart from Bloomberg shows just how far precious metals futures have risen in 2016: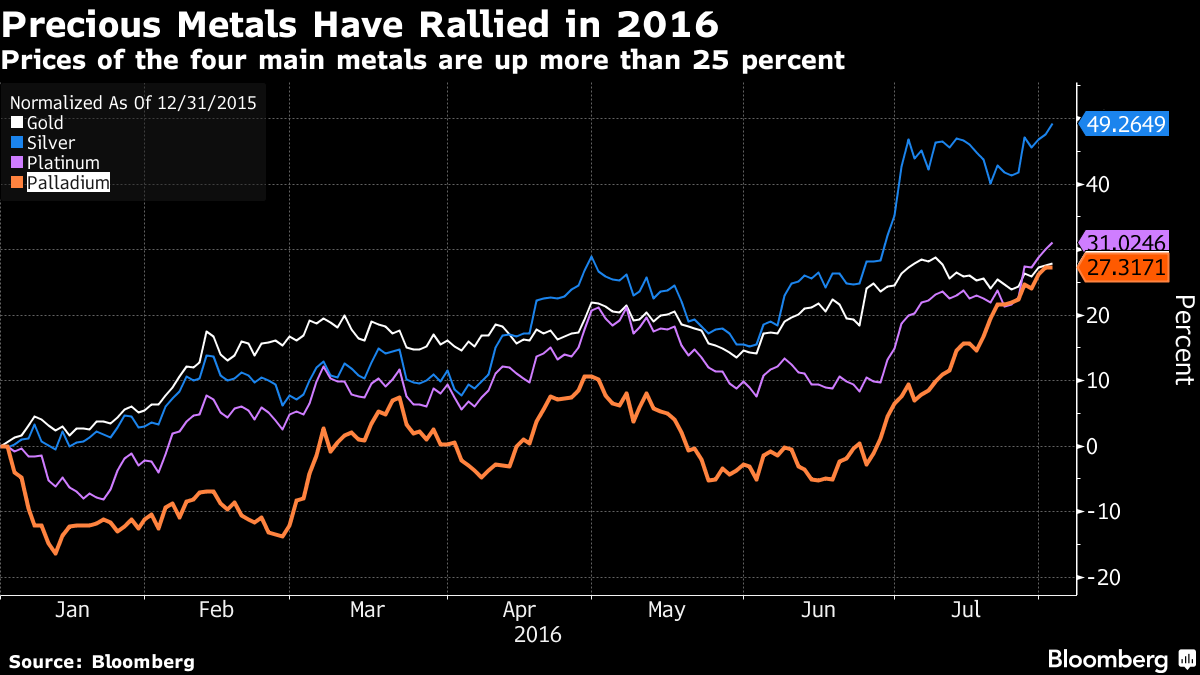 Spot gold ended at $1,362.80, well off the session highs but still $10.40 higher than Monday's close. Spot silver closed at $20.57, up 0.83%.
Wall St saw it's worst day in almost a month Tuesday. Concerns over the pace of the economic recovery in the US outweighed a weaker dollar, which helps exports compete on the global market. The Dow Jones Industrial Average saw its seventh straight day of losses.
The dollar ended at a five-week low in Tuesday's trading, helping commodities. The euro gained as expectations of a US interest rate hike were pushed back, hitting a five-week high. The yen continues to tromp Japanese stocks, as it continues to strengthen. The recently announced government stimulus program was far smaller than investors expected, allowing the yen to appreciate against its peers.
The greenback is clawing back those losses this morning, thanks to the upbeat ADP payrolls report. The DXY dollar index against a basket of currencies is up nearly a half point in early trading. US Treasuries are still seeing selling pressure, with yields hitting a one-week high yesterday.
Nymex crude oil futures have almost reversed yesterday's losses, which saw West Texas Intermediate lose 55 cents to settle at $39.51. This is the first time since April that WTI has ended below $40 a barrel. Brent crude had a slightly worse day, losing 34 cents to settle at $41.80. However, it was enough for the North Sea crude to join WTI in a bear market.
Mother Nature may be helping the oil market soon, at the expense of offshore drilling operations in the Bay of Campeche. Tropical Storm Earl is bearing down on the Yucatan peninsula from the western Caribbean. Veracruz is in the middle of the cone of probability, which means that winds of at least tropical storm intensity will hit offshore operations in the southern Bay of Campeche.
Offshore operations in the Bay of Campeche
The opinions and forecasts herein are provided solely for informational purposes, and should not be used or construed as an offer, solicitation, or recommendation to buy or sell any product