The spot gold price opened just slightly lower around $1,335/oz on Monday morning due to the dollar hitting an overnight high. Supply concerns for crude oil also dragged commodities lower in general. This marked a two-week low for the yellow metal.
Mostly hawkish cross-talk from Federal Reserve officials and modestly higher chances for a Fed rate hike have boosted the U.S. dollar and cooled off demand for Treasurys. Meanwhile, silver prices were sharply lower, losing nearly 40¢ per ounce (-2%) to trade slightly below $19/oz. This was a seven-week low. Platinum and palladium followed gold about 0.4% into the red.
Friday Fed Talk
Friday's market action can all be traced back to suddenly hawkish statements by Fed officials after last week's release of the July FOMC meeting minutes. New York Federal Reserve president William Dudley (who always votes in the FOMC) talked about a "possible" rate hike in September, while complaining that the markets were "too complacent" about the chances of higher interest rates. Moreover, San Francisco Fed president John Williams (who isn't voting this year) chimed in, saying the possibility of the Fed hiking in four weeks was still "in play."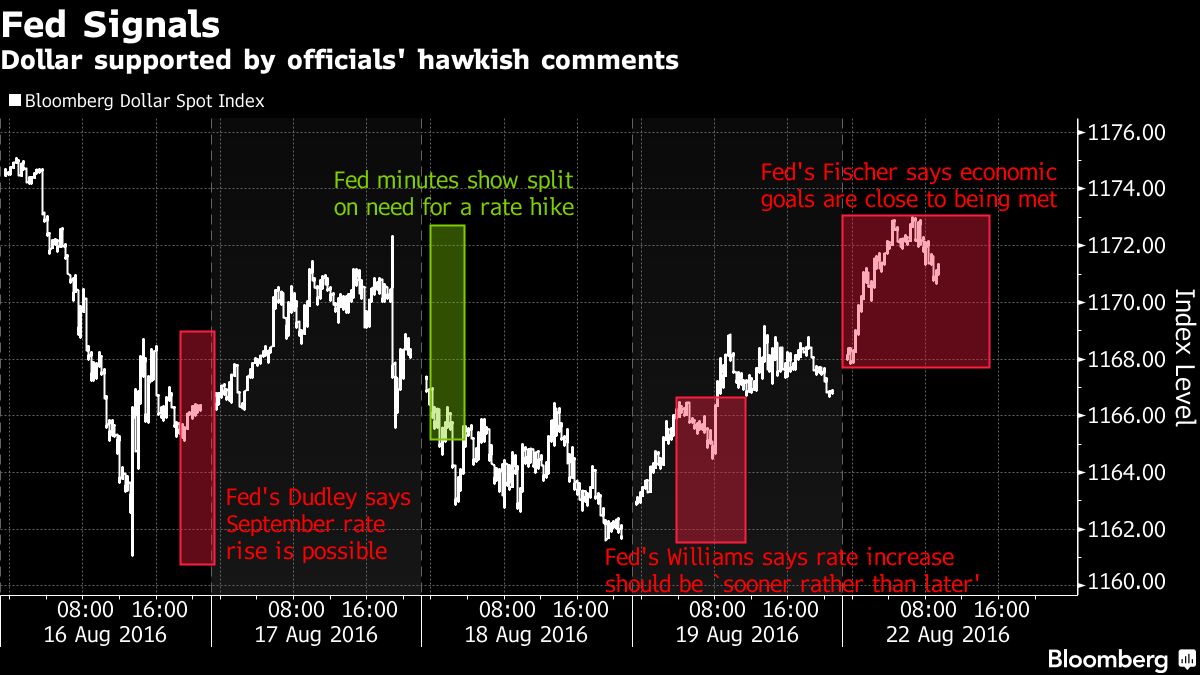 This led to bond traders cutting their exposure while stocks lost ground. The U.S. dollar also advanced against most of its competitors. On top of Dudley and Williams's comments, the vice chairman of the FOMC, Stanley Fischer, also gave a hawkish speech that is causing markets to reconsider the projected pace of interest rate hikes from the Fed. Fed Chair Janet Yellen will not be heard from again until she speaks on Friday at the Jackson Hole, WY meeting of central banking and finance insiders.
Outside Markets
Although U.S. stock indices jumped barely into positive territory during early trading on Monday, global equity markets were lower almost across the board. This is partly because of the hawkish rhetoric from the Fed, and also likely because of weaker crude oil prices.
Oil prices are down after see its longest rally in four years. Both WTI and Brent crude fell nearly 3% this morning. The data from the Baker Hughes rig count show that the idle stockpiles continue to grow, as 10 more rigs were added last week to make 406 total. It also appears that markets are somewhat discounting the pronouncements by Saudi Arabia that it may consider freezing production to support higher prices—a case of "we've seen this movie before."
Overall, we're in the middle of dead summer trading conditions. Many market participants in the West are on vacation, so trading has been particularly slow lately. This is allowing even the more trivial signals from central banks to have an outsized influence on the markets. Treasury yields are at their highest since Brexit, showing some cooling off of safe-haven demand in the immediate. Analysts will pay close attention to the non-farm payrolls numbers in August for a better idea about the likelihood of interest rates going up in September.
The opinions and forecasts herein are provided solely for informational purposes, and should not be used or construed as an offer, solicitation, or recommendation to buy or sell any product