More and more experts are coming around to the idea that the current bull market for gold could be a rather long one.
Most definitions of a bull market use the phrase to describe any market that trades 15% to 20% higher than its 52-week low. Gold was able to surpass this marker already just through the first half of 2016, gaining better than 25% from where it started the year.
However, many pundits are suggesting that this is only the beginning.
Strong Sentiment for Gold
Though they are undoubtedly a bit late to the game, a number of official sources are now making positive comments about the possibility of an ongoing gold bull market. Aside from these voices in the media, the data in the trading markets also supports this idea: hedge funds have continuously been increasing their exposure to gold, pushing net-long positions in COMEX gold futures to new highs.
In addition to Citigroup and Bank of America Merrill Lynch, the Singapore-based investment bank DBS Holdings Ltd. has also called for gold prices to march right past $1,500 per ounce. The main difference is that DBS has been publishing this advice since before the momentous gold rally began this year.
Technical Outlook Still Bullish
According to Benjamin Wong, who serves as both the Chief Investment Officer (CIO) and forex strategist for DBS, "Gold has seen four major bull markets since 1970: this is another one." Wong also pointed out that the uncertainty swirling around this year's presidential election in the U.S. is another catalyst for higher gold prices.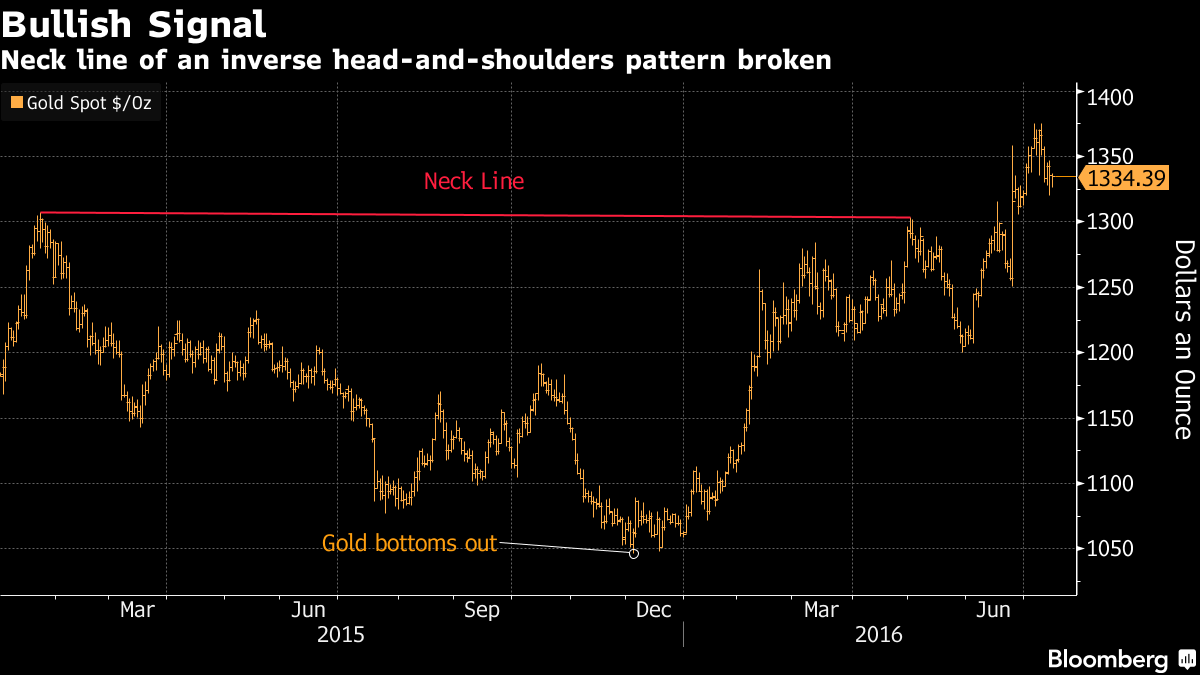 Source: Bloomberg News
As a forex strategist and analyst, Wong provided technical chart patterns to back up his opinion. He cited the "head-and-shoulders" pattern seen int he graph above, which is generally seen by technical analysts as a bullish signal. He advised that investors should take the opportunity to "buy on the dips" if gold prices slip back to $1,296/oz or $1,300/oz. He sees resistance around $1,380/oz, but any move above this level could push gold all the way to $1,455/oz in the near-term.
"Longer term, if the full force of the inverse head-and-shoulders pattern is applied, there remains scope for $1,525," Wong continued.
International Interest
Investors in Great Britain have been shell-shocked by the decision to pull the country out of the European Union, although the scene appears much calmer now than it did a few weeks ago. Nonetheless, purchases of gold bullion have been strong in the U.K. as Brits seek to protect themselves from the sinking value of the pound sterling and the general upheaval in the financial markets.
When the entire global picture is taken into account, it's telling that many of world's strongest economies are backed by the largest gold reserves (e.g. U.S., Germany, China). Perhaps even more striking is the fact that supranational financial institutions like the International Monetary Fund (IMF) are also backed by thousands of metric tonnes in gold reserves. The map below gives a visual representation of some of the world's most impressive national gold reserves.
Graphic courtesy of Karus Chains
The opinions and forecasts herein are provided solely for informational purposes, and should not be used or construed as an offer, solicitation, or recommendation to buy or sell any product.