The big banks are no strangers to paying huge fines to regulators. This has become especially true since the various forms of market manipulation, price rigging, and other unethical conduct by these financial institutions has come to light over the last several years. Megabank JPMorgan has been at the center of these controversies.
Now, one of its former employees is suing the bank for allegedly firing him to make the bank "look clean" regarding its forex business.
Swept Under the Rug?
Patrice Ktorza, a former forex (foreign exchange) salesman for JPMorgan, claims he was unfairly dismissed in order to make the bank "look clean." He is now suing through a London tribunal, following the example of others in the banking industry (primarily from CitiGroup) who have successfully shown that they were scapegoated for similar violations without proper dismissal procedure being followed.
The issue in question deals with the fact that sales personnel like Ktorza were not permitted to execute partially filled or "short fill" trades due to the potential for risk. Only the bank's traders are authorized to fulfill such partial orders. JPMorgan executive Ryan O'Grady suspended Ktorza for this offense last year after regulators opened probes into the bank's practices. Yet, according to Bloomberg,
During a disciplinary hearing on May 22 last year, Ktorza said he did not know he wasn't allowed to partial fill trades, according to O'Grady's witness statement. Ktorza said he thought JPMorgan's trading reforms, known as "Project January" were "ambiguous at best" and only related to client confidentiality, according to the statement.
O'Grady disputes this characterization of the dismissal. Considering that Ktorza was suspended for same offense before, he argues that the bank was simply complying with regulatory scrutiny to tackle the problem of unnecessary risk. This came after JPMorgan was fined $10 billion for conspiring to manipulate the currency markets.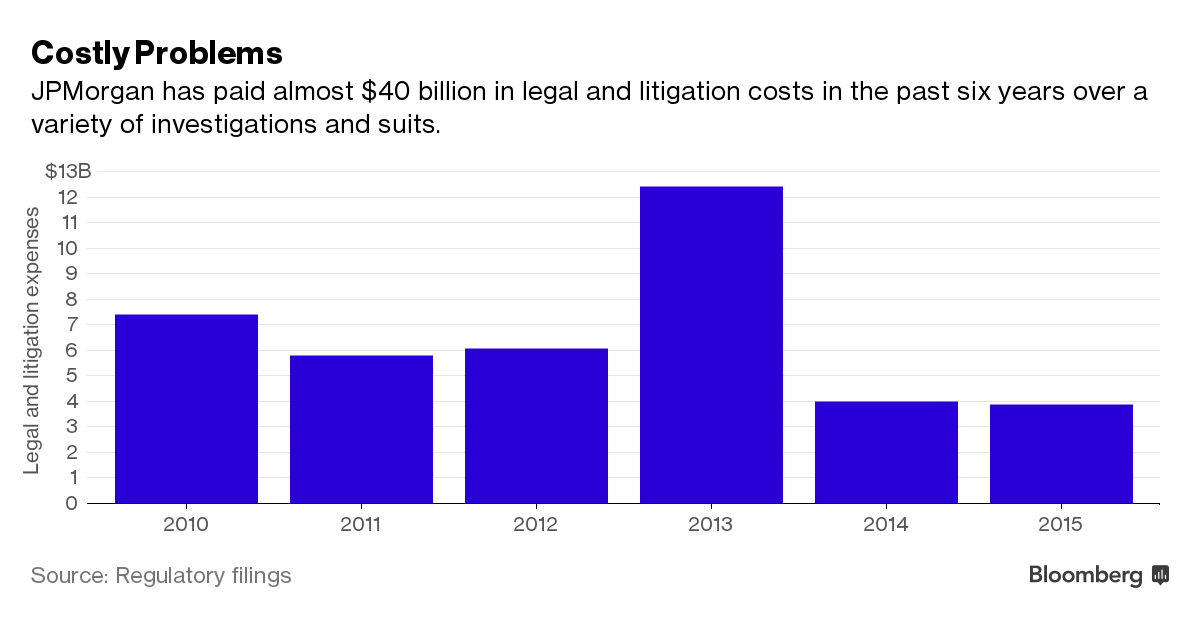 In fact, as the chart above shows, JPMorgan has racked up nearly $40 billion in legal fees and fines relating to its business practices over the past six years. Nonetheless, it's not difficult to believe that such a firing was merely an attempt to impress regulators.
JPMorgan Chief Warns of Brexit Risks
JPMorgan also grabbed headlines when CEO Jamie Dimon warned that there could be as many as 4,000 of its workers laid off in London if the Brits indeed vote to leave the E.U. (known as "Brexit") in a referendum later this month. This total amounts to a quarter of JPMorgan's staff in the U.K.
Dimon suggested that a Brexit scenario would force JPMorgan to shift operations away from Britain and more toward Europe. Many advocates of greater sovereignty for the U.K. who support Brexit call these kinds of statements fearmongering—a charge that we certainly wouldn't put past the likes of JPMorgan.
The opinions and forecasts herein are provided solely for informational purposes, and should not be used or construed as an offer, solicitation, or recommendation to buy or sell any product.