Lithium Startups Challenge Majors
By Steven Cochran
Published February 02, 2017
© Macker54321 |
Dreamstime.com
2017 is shaping up to be the sixth year in a row where lithium production has fallen short of demand. 175,000 metric tons of Lithium Carbonate Equivalent (LCE) was produced in 2016, compared to an estimated demand of 185,000 tons.
With lithium metal prices tripling over the last three years, and electric vehicle (EV) sales set to increase exponentially in the next twenty years, several lithium mining startups are looking to leverage new technology for faster, cleaner extraction of lithium compared to the present global oligopoly that controls the market.
The global lithium shortage is widening faster than new production can come online. This shortage resulted in prices climbing as high as $20,000 per metric ton for lithium metal in China last year. Last January, leading lithium analyst Joe Lowry noted "Demand growth now requires a new plant (producing 15,000 to 20,000 metric tons annually)  every 12-15 months."
The Tesla Effect
Tesla Model S ©
Claudio Gangi
| Dreamstime.com
When most Americans think of electric cars, they envision the Tesla Model S luxury sedan. However, the best-selling plug-in electric car in the US over the last six years has been the Nissan Leaf, and the best-selling hybrid the Chevy Volt. While Tesla CEO Elon Musk has become the face of the electric revolution, the push into the EV market by the big automakers will have a greater effect. Everyone from Audi to Hyundai have introduced, or will introduce in 2017, second-generation electric vehicles that will be more affordable and have longer range. Telsa plans to enter the affordable EV market later this year with the Model 3.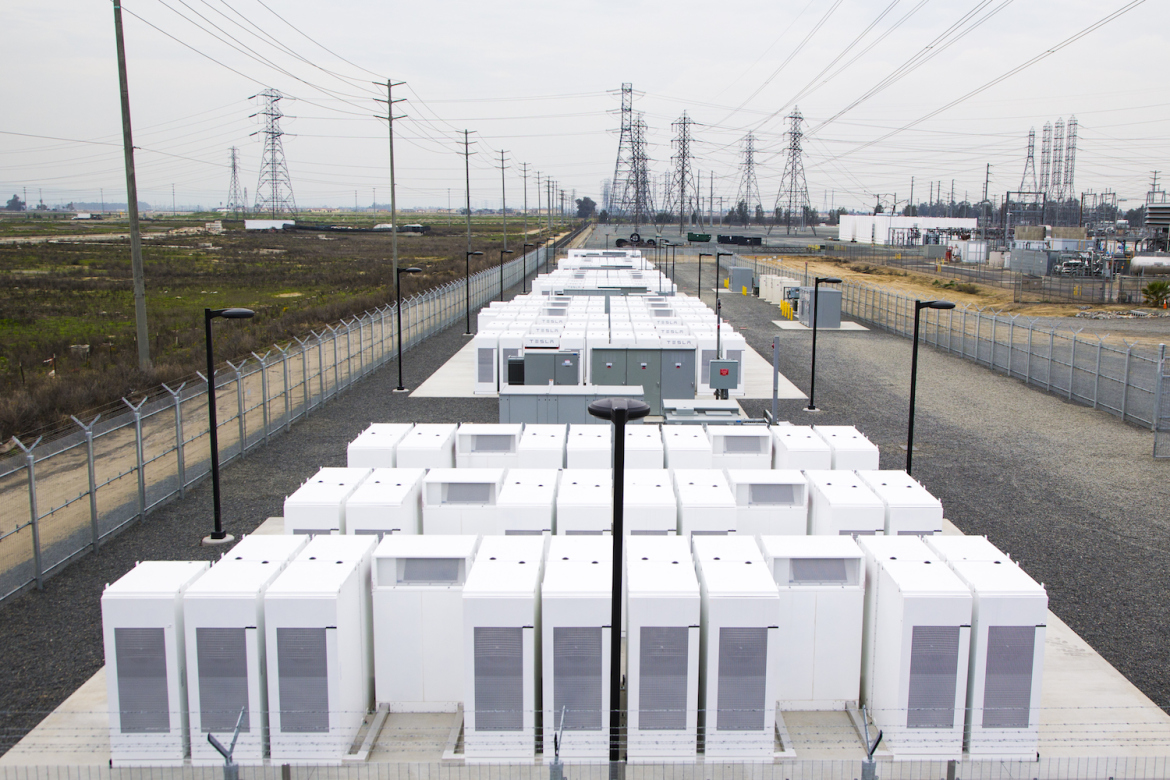 Tesla's electric utility storage facility in California
Tesla is also advancing its Energy Storage Systems technology to the enterprise level. Its recent installation of the world's largest energy storage system for Southern California Edison in only 90 days. This shows how fast grid-sized energy storage is improving. The facility stores 20 megawatts (80 megawatt hours) of instantly available electricity, enough to power 2,500 homes for an entire day.
Advanced Energy Storage and Altagas each deployed similar-sized energy storage facilities for Southern California Edison at the same time, in a sign that, like EVs, Tesla isn't the only major player in the sector.
Gigafactory = Gigademand
Tesla's new Gigafactory in Nevada is producing batteries for cars, home power storage, and enterprise level that the company's various divisions need. Elon Musk's goal of producing enough batteries for 500,000 Tesla cars a year by 2018 (never mind the other demands) is estimated to require 27,000 metric tons of lithium carbonate equivalents -- 16% of 2016 global demand.
According to Goldman Sachs, every 60kWh car battery Tesla makes consumes 54 kg of LCE. The 70kWh battery needs 63 kg of LCE.
Lithium OPEC?
Today, the four largest lithium mining companies account for 85% of global lithium production. Albemarle (NYSE:ALB) is by far the largest lithium producer on Earth, followed by Sociedad Química y Minera de Chile (NYSE:SQM), Tianqi Lithium Industries (SHE:002466), and Jiangxi Ganfeng Lithium (SHE:002460). Together, these companies by themselves and through joint ventures, own most of the actively mined lithium reserves in the world. With a stranglehold on global lithium market, these corporations have seen no need to find more efficient or lower cost mining methods. By dominating the lithium supply, they can keep prices as high as they wish.
Types of Lithium Mining
The lithium mining sector is dominated by two methods: hard rock mining, and brine evaporation. Hard rock mining is just like open-pit mining for other resources. Expenses are higher, exploration and permitting takes longer and costs more compared to brine mining. This can lead to some hard rock lithium operations costs four times as much as a brine operation.
Harvesting underground brine for lithium comes with its own drawbacks. While finding and tapping the underground brine deposits is relatively easy and inexpensive, the startup costs are much higher. Before brine pumping can commence, multiple giant evaporation ponds, each one thousands of acres in volume have to be constructed.
Drawbacks To Traditional Lithium Mining
Lithium obtained through hard rock mining has to go through a lengthy, expensive process to be refined into lithium carbonate. Hard rock mining also has an extensive environmental impact. On the other hand, it can take between 12 and 18 months before a single evaporation pond is ready to be processed and just 40% to 50% of the lithium is recovered. Each of these giant ponds have a large environmental impact of their own.
Faster, Cheaper, Cleaner: Can You Have It All?
Several companies are testing new brine treatment technologies that promise to do away with the need for evaporation pools the size of large towns, while also reducing the time between first pumping the brine and harvesting the lithium carbonate from one year to one day.
Staking a 14 square-mile claim near Albemarle's Silver Peak brine mine in Nevada, startup Pure Energy is building its business plan around one of these new technologies, developed by Bateman Advanced Technologies.
Preliminary tests have resulted in:
Lithium recovery from the brine greater than 99%, compared to 40%-50% recovery from conventional methods
Resulting in 99.9% pure lithium chloride end-product
Bateman notes that the process is not weather dependent and can take just 8 hours as opposed to 1-2 years, as well as requiring a substantially smaller footprint (look, ma -- no ponds!). The process produces no significant waste products because the brine is safe to be put back into the ground, and the solvent is recyclable and is re-used.
As an aside, eliminating the need for evaporation ponds also eliminates the environmental hazards of mineral-rich dust blowing through the countryside and possible groundwater contamination.
Initial tests have been so promising that Tesla has inked a supply agreement with Pure Energy to provide lithium carbonate for their Gigafactory, which is only 200 miles away.
The ruins of the Botallack Mine in Cornwall (pixabay)
Across the ocean, another lithium mining startup is looking to use the same process, and revive the ancient mining culture of Cornwall at the same time. Lithium-rich hot springs have been the bane of tin mining in Cornwall for centuries, so the supply has been mapped out in several locations. Cornish Lithium is planning not only to tap this previously worthless resource, but do it inside an operating tin mine. Pumping the lithium brine out of the mine reduces expenses for the tin mine while providing inputs for the lithium mine. CL also plans to use the naturally pressurized brine to provide geothermal power for both the tin and lithium mining operations.
Lithium Davids vs Goliaths?
Mercedes-Benz F125 electric concept car at the 2011 Frankfurt Auto Show
Analysts are split on the long-term prospects for the lithium juniors. Some see a replay of the recent history in the US shale oil mining sector, where the upstarts with the new mining technology flood the market and bring down prices to the point where some go out of business. Similarly, some industry watchers think the "Big Four" are sandbagging the market, deliberately producing under capacity to keep prices high. If they see the juniors as an existential threat, they just may have enough spare production to drive the new competition out of business, and adopt the new technology in their own operations.
The opinions and forecasts herein are provided solely for informational purposes, and should not be used or construed as an offer, solicitation, or recommendation to buy or sell any product.
Steven Cochran
Precious Metals Market Analyst
|
BS University of South Florida (2002)
A published writer, Steven's coverage of precious metals goes beyond the daily news to explain how ancillary factors affect the market.
Steven specializes in market analysis with an emphasis on stocks, corporate bonds, and government debt.