In 2016, gold and silver have reigned supreme as the two best-performing metals on the market. You may think that by May this would naturally lead to investor fatigue beginning to set in, causing this year's long-awaited bull run to become exhausted. Eventually, this will indeed happen—but the signals from the global markets continue to point toward robust activity in the precious metals.
Blame the Banks
Even with the knowledge that markets are products of human behavior and are subject to irrationality or sudden changes in general, the outlook for gold remains decidedly bullish over the immediate future. Perhaps the main reason underlying this continued trend is the lack of confidence that investors and market participants have shown in central banks to effectively manage monetary policy. There's a good chance that major buyers will simply keep protecting themselves by stacking up gold until this driver of gold demand changes. In other words, unless the direction of monetary policy around the world reverses toward tighter interest rates, gold should remain in favor.
Because monetary policy has increasingly become one of the most integral factors driving how the global economic order functions, central banks have come to rely heavily on it as a tool to accomplish its agenda. Unfortunately, it has often been the only tool that policymakers have considered, as inventive, unorthodox, and untested measures like quantitative easing have not been met with any matching changes in fiscal policy from legislatures in Europe, Japan, and the U.S.
Rising Demand
Demand for gold by investors has been the consensus response to the combination of stagnant economic growth around the world with ineffective attempts by central banks to stir higher inflation. While hedge funds have shown a desire for the safety of gold, helping drive up prices on the futures markets, investors large and small have pushed considerable money into gold ETFs.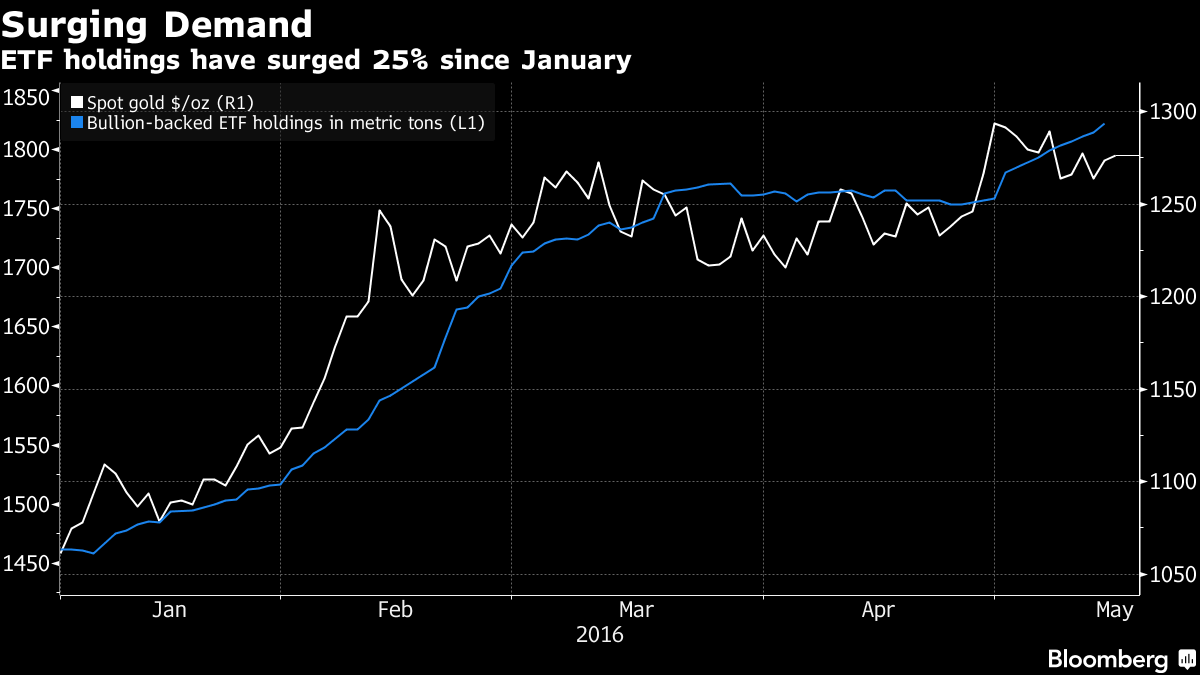 As we can see from the chart above, the rise in gold ETF holdings has essentially matched the performance of the spot price of gold, with both measures rising roughly 25% year-to-date. One sign that the bull market for gold is not yet exhausted came over the last two weeks, when gold ETF holdings rose 63.2 metric tonnes even as bullion prices fell 1.6% over that period.
Big Guns Go For Gold
It's not just hedge funds and pensioners who are fueling the ongoing strength of precious metals prices. Ironically, central banks themselves have been net buyers of the yellow metal. The World Gold Council (WGC) estimates that the world's central banks will make net purchases of 400 to 600 tonnes of gold by year's end. This would hint at the idea, in some sense, the central banks distrust the wisdom of their own (or their peers') policies!
Stanley Druckenmiller. Source: David A. Grogan / CNBC
In addition to the banks, more than one prominent billionaire investor has come out publicly about increasing their position in gold. A pair of hedge fund managers, Stanley Druckenmiller and Paul Singer, have done so: Druckenmiller (pictured, right) disclosed that his fund's largest currency holding is in gold, while Singer suggested that this is only the beginning of the gold boom. Meanwhile, George Soros has sold off a great deal of stocks in favor of holding gold and gold-backed assets.
While only so much can be gleaned from the behavior of these billionaires, it is telling that they are joined by large financial institutions and average investors in buying gold as a safe haven.
The opinions and forecasts herein are provided solely for informational purposes, and should not be used or construed as an offer, solicitation, or recommendation to buy or sell any product.