The clamor for safety from increasingly uncertain markets hit a fever pitch on Thursday morning as central banks around the world chose to stand pat amid growing concern that Britain is leaning toward exiting the European Union.
The "Brexit" referendum will be held later this month—one week from today—and the global markets seem to be getting a preview of the volatility and turmoil that many have advised would accompany such a political reshuffle. Somewhat predictably, central banks in the U.S., Japan, and Switzerland (just to name a few) have stalled any plans to lift abnormally low interest rates in order to avoid roiling markets any further given the furor over what a Brexit may entail.
In response, precious metal prices have surged to multi-year highs as investors take cover from the mayhem.
Bullion Gets a Boost
Building upon a rally that began more than a week ago, gold jumped nearly 2% higher on Thursday morning. The yellow metal notched a fresh 2-year high in terms of dollars, surpassing $1,310 per ounce, and was at its highest price level in three years when denominated in pounds and euros. Spot silver also soared to $17.80/oz, a peak it touched in late April but hadn't been seen since January 2015 before that. Meanwhile, the SPDR Gold Trust ETF (GLD) saw its bullion stockpile rise to largest total since October 2013. This was also the last time that overall gold ETF holdings were this high, while silver ETFs backed by bullion are at record-high inventories.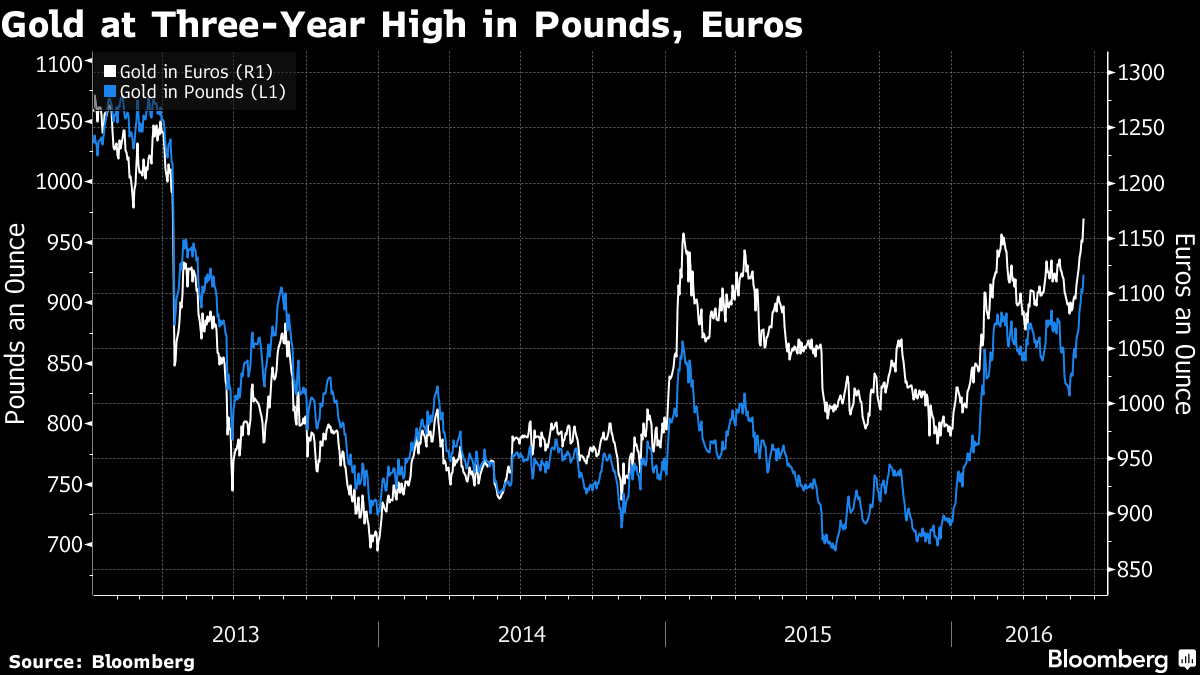 Thursday's rally brings both gold and silver prices an impressive 22% above where they started the calendar year. The Platinum Group Metals were also higher, though less so due to their close ties to industry. Platinum approached $990/oz and palladium traded just below $540/oz.
Central Banks Getting Nervous
The U.S. dollar, Japanese yen, and Swiss franc were all firmer, as well; these currencies are generally seen as safe havens in their own right. This dynamic has forced all three respective central banks (the Federal Reserve, Swiss National Bank, and Bank of Japan) to hold off on any changes to monetary policy for fear of pushing their currencies even higher. Bear in mind that both Switzerland and Japan are currently employing negative interest rates.
Nonetheless, the SNB has indicated it will intervene and possibly cut rates even further into negative territory if a Brexit does indeed result in a wave of safe haven demand for the franc. Much like central bank officials in the U.S., Swiss economists believe the franc is already "overvalued." The franc—once pegged to the euro to avoid this very situation—is trading at its highest premium above the euro so far this year. Meanwhile, the yen is now trading below ¥104 per dollar, its strongest since late 2014.
While central banks are biting their nails about how to react in the event that the Brits do vote to leave the EU, the fraught market conditions have revived interest in gold as a reliable measuring stick of risk. Though the traditional role of the dollar, yen, and Swiss franc as safe harbors is largely unquestioned, these are still fiat currencies that are subject to the manipulation of central bank policies. (The SNB openly admits that it will aggressively devalue the franc to protect its economy; what kind of safety is that?) Physical gold is the only reliable means of protecting one's wealth.
The opinions and forecasts herein are provided solely for informational purposes, and should not be used or construed as an offer, solicitation, or recommendation to buy or sell any product.