With its recent surge back above $17/oz, we have officially entered a silver bull market by technical definitions. This threshold is reached when a market or asset trading at a price 20% above its 52-week lows. (Spot silver dipped below $14/oz as recently as last December.)
Even as this bull market is only a few days old, there are already pundits claiming, for various reasons, that it is fool's gold. However, there are more convincing data backing up an ever higher surge upcoming.
Supply Considerations
One of the arguments circulating against a robust silver bull market going forward is based on demand for base metals picking up. At first, this seems somewhat unrelated. Yet the rationale is based on the fact that a large portion of the annual silver supply comes as a secondary byproduct of base metal mining. Consequently, some analysts are predicting that rising demand for copper and lead will dent the precious metal's scarcity on the market.
While this makes good economic sense, it is not a clear-cut conclusion. Mineweb points out, "If [major Poland-based copper miner] KGHM has seen good prospects for copper, or Goldcorp has thought the yellow metal was about to soar, they've generally ended up with more silver than they planned and have had to dump it on the market, depressing prices."
However, shortly thereafter, the same article follows this speculation by making the exact opposite concession: "Mined production of silver will fall 5% this year, according to the Silver Institute, an industry body, and decline further through 2019." Regardless of there being more silver recovered from other mining operations, total silver production is more likely to decline. This coincides with more available physical silver being taken off the table by investors than ever before. Thus, the supply outlook favors higher prices.
Follow the Market Data
Meanwhile, there's a wealth of key market indicators that point toward silver demand strengthening further. We briefly explore three of these signals below.
Gold-Silver Ratio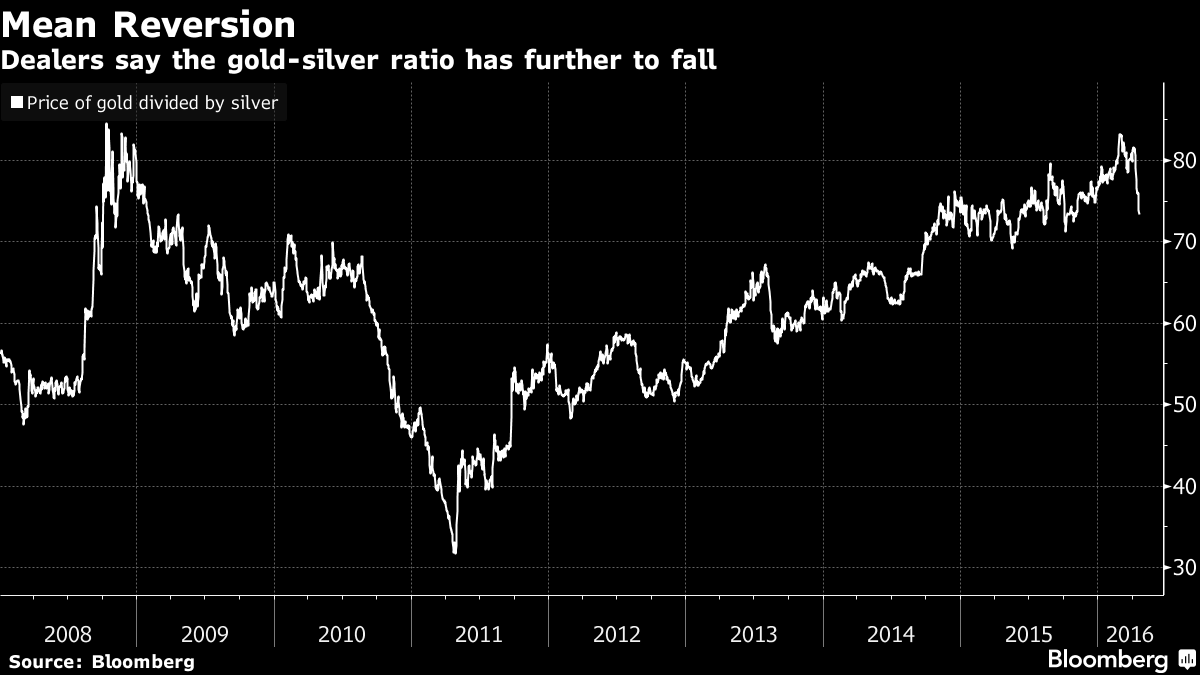 First, the gold-silver ratio is still historically high. This is true even though the measure is finally down from its highest level since 2008, which occurred in February. This suggests that the ratio has more room to fall. As long as gold remains steady, it implies that silver will chip away at the gap by advancing. It's not that the price ratio of gold-to-silver is some magical yardstick; it just influences market participants to favor one metal over the other, meaning silver should remain in favor for quite some time.
Silver ETFs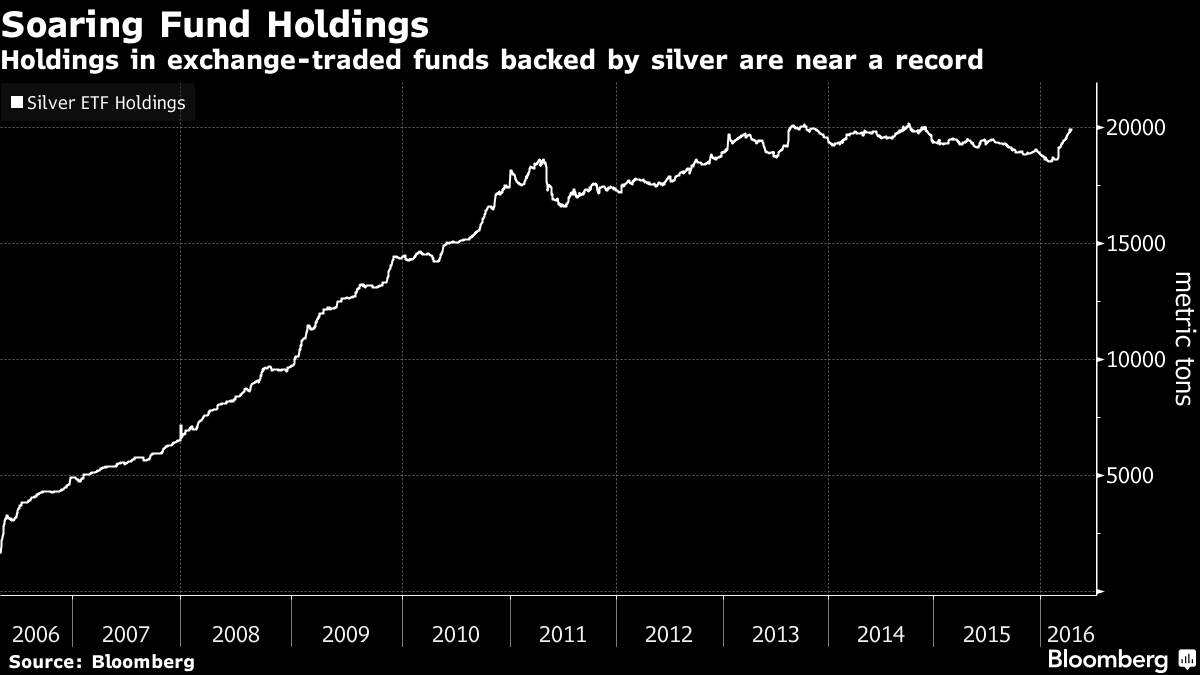 Silver ETF holdings are close to reaching all-time high. Collectively, silver-backed ETF holdings total just shy of 20,000 metric tonnes. The only reason this doesn't translate into the best-ever share price for these funds is due to the significantly lower spot price of silver in 2016 ($17/oz) compared to the last time ETF holdings were this high in 2011 (over $45/oz). Greater demand for silver ETFs, though more speculative compared to owning physical silver, still helps buoy market sentiment.
Futures Show Silver Bull Market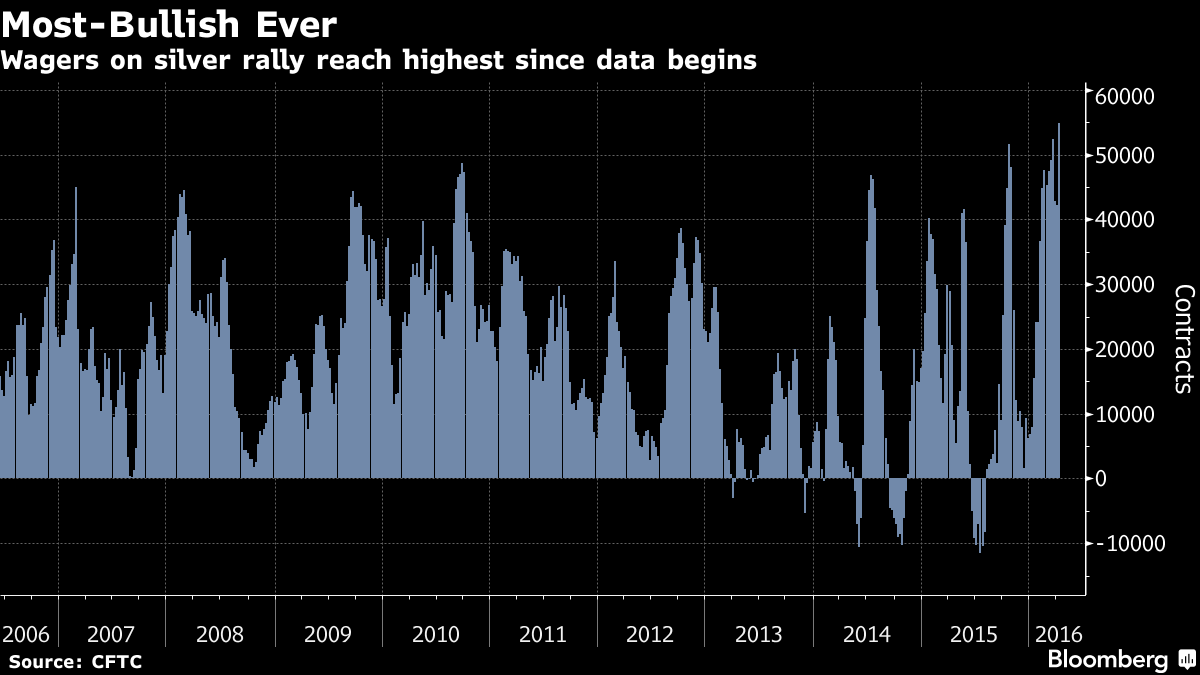 Perhaps most surprisingly, net-long bets on silver futures are the most bullish ever on record in terms of the spread between long and short contracts. Another encouraging sign is that the big guns—hedge funds and institutional investors—have led the charge. At the same time, silver futures just had their highest closing price in nearly a year. This has helped the price rise by 23% since 2016 began, even better than gold's impressive 18% leap.
Although nothing is for certain when it comes to the financial markets, these are strong signals in favor of silver's continued rise.
The opinions and forecasts herein are provided solely for informational purposes, and should not be used or construed as an offer, solicitation, or recommendation to buy or sell any product.