The silver market has benefited greatly from the troubles of the global economy—and these problems don't appear to be abating anytime soon.
Influencing Factors
There are a number of reasons why the precious metals have traced such a steep upward trajectory so far this year. Perhaps the most important among them is the behavior (policies) of central banks. Ensured with crafting and implementing monetary policy, central banks hold significant sway over their respective economies.
© Skypixel |
Dreamstime.com
However, many of the world's central banks have been experimenting with unprecedented stimulus programs that aim to boost the performance of their stagnant economies. One of the main methods has been aggressively cutting interest rates. In many cases, such as with Japan and Europe, rates have even gone into negative territory. This unprecedented move has not proven especially successful as of yet.
The increased demand for gold and silver has been a result of this unorthodox monetary policy. With markets and consumers losing confidence in central banks and their ability to steer economic outcomes, the safe haven of precious metals has become increasingly attractive. Case in point: investors bought record levels of gold bullion during the first half of the year.
Outshining Gold
While the level of gold demand has undoubtedly been strong, silver has actually outperformed its cousin. This has especially been true since the beginning of June. The chart below demonstrates this comparatively stronger performance for silver prices, which are up over 45% so far this year (compared to 27% for gold).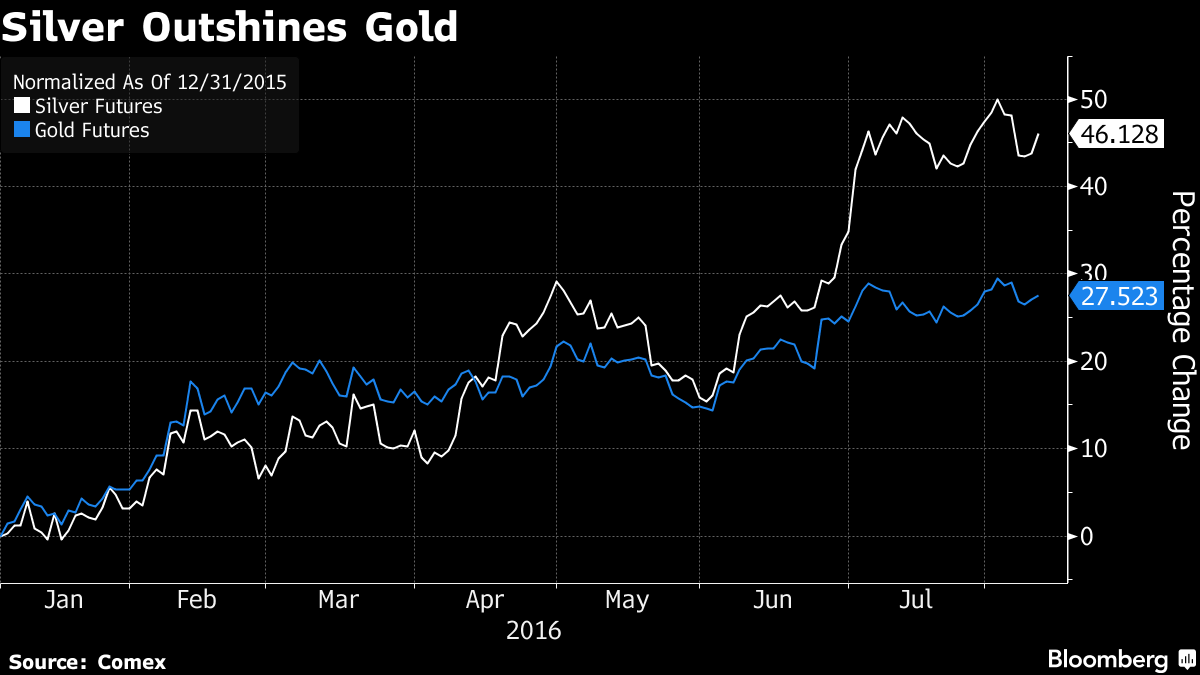 One of the big winners in this rally for the silver price has been exchange-traded funds (ETFs), particularly those that are tied to silver miners. Silver ETFs continue to see considerable investor demand—and until the outlook for interest rates changes, this will likely continue to be true.
For example, the PureFunds ISE Junior Silver Miner ETF has posted the most impressive returns among all of the ETFs tracked by Bloomberg (over 6,000 in total) that aren't leveraged. (Leveraged ETFs are excluded because, by definition, they multiply the returns—or losses—of their underlying targets.)
The rally for the junior silver miner ETF has been thanks in large part to the performance of the small Chicago-based Coeur Mining (CDE), which accounts for a large portion of the ETF's basket. CDE has seen its share price rise over 500% so far this year.
Changes in Production
Low interest rates aren't the only reason for such bullishness surrounding silver, nor does it fully explain why silver would be surging ahead of gold. The answer lies in the fundamentals. While demand for silver has been rising, the production of the metal is forecast to fall for the first time in five years. This is a recipe for rising prices. The CPM Group, an industry researcher, predicts that output of silver will decline by 2.4% this year. The same group forecasts a 1.6% increase in physical silver demand.
The opinions and forecasts herein are provided solely for informational purposes, and should not be used or construed as an offer, solicitation, or recommendation to buy or sell any product.