Plain and simple, silver ETFs are directly affected by movement in the price of silver. Thursday saw intraday highs for the silver price that reached as high at $17.70/oz before falling back to unchanged. Despite the fact that this surge ended up sputtering as quickly as it appeared, the silver price remains firmly in a bull market.
This has helped push the collective holdings in ETFs backed by silver near their all-time highs. As a proxy for investment demand for silver, this is a very encouraging sign. Interestingly enough, shares of these funds are far cheaper than their previous highs due to the relatively lower spot price of silver compared to the metal's 2011 peak.
Moreover, holdings for the six largest bullion-backed silver funds have risen by 930 tonnes in 2016, which accounts for an incredible 30% of annual global mining supply (as measured by 2015 yearly totals).
Another factor that appears to be bullish for silver prices is the big commitment made by the largest economies in the East (Japan, China, India) to purchase solar panels in the coming years. This is seen as a way for the world's heaviest energy consumers to diversify into renewable energy sources. At the same time, the supply of the photovoltaic (PV) cells used in solar panels may be strained at the moment. One of the world's biggest producers of PV cells, SunEdison (SUNE), just filed for Chapter 11 bankruptcy. Also, the biggest solar company in the U.S., SolarCity (SCTY), has been forced out of some of its largest markets by powerful public utility companies.
From a mining perspective, lower demand for copper could also push silver prices higher. The copper price remains near historical lows as China deals with a supply glut of the industrial metal. If less copper is mined, that also means a lot less fresh silver is produced.
Finally, the prospect of a dovish Federal Reserve keeping interest rates low for an extended period of time is also bullish for the precious metals.
Leading Silver ETFs
We'll take a look at three of the most popular silver ETFs out there: the ETFS Silver Trust (SIVR), the iShares Silver Trust (SLV), and the ProShares Ultra Silver ETF (AGQ).
AGQ
Although the ProShares Ultra Silver ETF is the only one among the three that is leveraged, providing 200% (triple) the returns of the silver price, it is also unfortunately the only one of these three silver ETFs that is not backed by physical silver bullion assets.
Since the beginning of April, AGQ has gained 29%. It has also boasted consistently higher trading volumes over the last month than its counterparts. However, it does not count toward total silver ETF bullion holdings.
SLV
The silver ETF that is most frequently reported on is SLV. Naturally, it has the highest market caps in the sector at nearly $5.7 billion.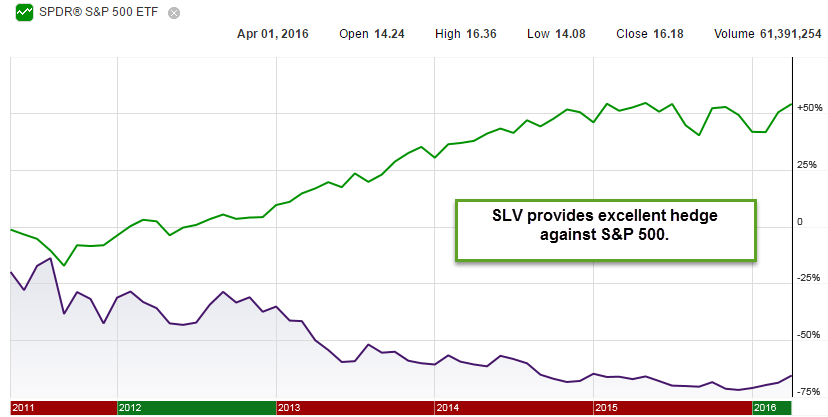 Source: ScottTrade.com via Seeking Alpha
One of the most popular plays with SLV is as a hedge against the stock markets. Because many stock traders and institutional investors who are heavily invested in equities are aware of SLV, this fund usually benefits from significant demand when stocks are falling. The chart above demonstrates the consistent inverse relationship between SLV and the S&P 500, for instance.
SIVR
An alternative to SLV that still relies on physical silver bullion is SIVR. Although its share price is slightly higher than the former, it has a much more attractive earnings-per-share (EPS) and price-to-earnings (PE) ratios.
The opinions and forecasts herein are provided solely for informational purposes, and should not be used or construed as an offer, solicitation, or recommendation to buy or sell any product.