©:
abluecup
/ 123RF Stock Photo
Traders continued to secure profits from the recent rally in precious metals, as they have in other sectors of the financial markets. Spot gold fell through an important support level on Tuesday morning, losing 0.6% to slide below $1,220/oz by 10 am EST. This has actually coincided with a similar sell-off in stocks and bonds for the fourth straight trading session.
While Wall St traded between 0.1% and 0.2% below unchanged, the silver price tumbled 1.5%—shedding over 25¢ per ounce—to about $17.50/oz. Spot platinum similarly fell 1.5% while palladium recovered to unchanged ($770/oz) from about 0.8% lower.
Many chart technicians (technical analysts) have been citing the key support level of $1,220/oz as a reasonable near-term low for gold, making this an opportunity to enter the market. Barring some exceptionally good news about the economy, there appears to be little impetus for gold to breach $1,150/oz, roughly where it started the year.
With an interest-rate hike from the Federal Reserve now seemingly a virtual lock, this expectation hasn't weighed on gold as much as most analysts initially thought. This shouldn't be all that surprising, however: Up until the very end of the last rate hike cycle, gold performed very well (see below), at one point nearly doubling from $400/oz to $720/oz (+80%) when the federal funds rate had consistently risen from 1.25% to 5% over the course of almost two years (June 2004 to April 2006).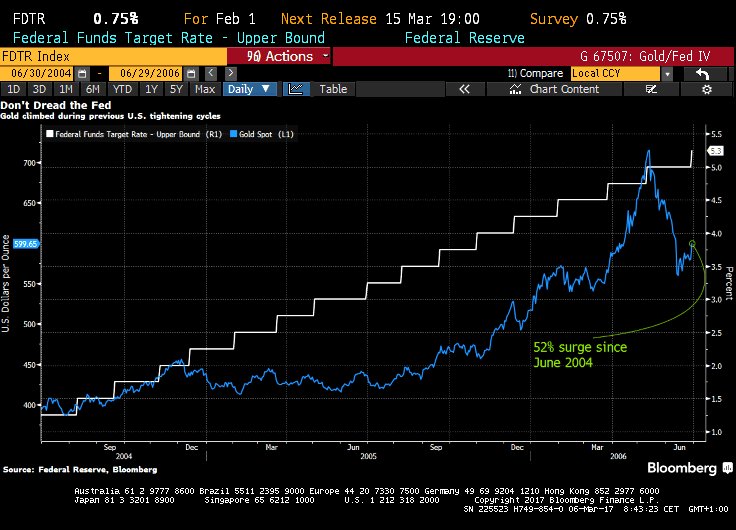 Though of course past performance is no guarantee of anything, this experience certainly contradicts the common wisdom that higher interest rates invariably mean weaker gold prices.
Trade Deficit
The headline economic news on Tuesday was the release of the Department of Commerce's January report showing that the U.S. trade deficit rose nearly 10% compared to December. Higher imports were the main culprit in the jump in the trade gap, which is now at a five-year high. Adjusted for inflation, the total value of imports (and exports, it should be noted) were the highest-ever on record for January. One the main drivers of the rise in imports were firmer crude oil prices, although the U.S. is quickly becoming a major exporter of crude, as well.
The 1.9% expansion for the U.S. economy during the fourth quarter was dragged down 1.7% by the shortfall in trade. This sluggishness has carried over into the first quarter of 2017. According to Reuters, "The wider trade gap added to weak data such as housing starts, consumer and construction spending in suggesting the economy struggled to regain momentum early in the first quarter."
Trump Tweets
Aside from economic data, the markets were moving in response to the president's direct comments about the changes his administration is seeking. President Trump has frequently impacted specific sectors of the economy with his comments and tweets since taking office, sometimes targeting individual companies like Carrier or Ford.
On early Tuesday morning, Trump tweeted about his goal to lower drug prices through a reformed system that focuses on strong competition. Although a far cry from a concrete policy proposal, Trump's placing the issue at the forefront of the media discussion sent big pharmaceutical stocks as much as 3% lower in just an hour of trading.
https://twitter.com/realDonaldTrump/status/839110000870109184
The president's emphasis on lowering the prices for life-saving drugs has been echoed in Congress.
The opinions and forecasts herein are provided solely for informational purposes, and should not be used or construed as an offer, solicitation, or recommendation to buy or sell any product.