It doesn't look like the positive momentum for silver prices will peter out any time soon. Driven by firm fundamentals, silver is poised to remain strong in the view of various financial experts. This spans across the full spectrum of silver ETFs, silver futures, and physical silver demand.
Thus far in April, spot silver has gained 10%. The argent metal was up again on Wednesday, trading 15¢ higher at $17.35/oz.
Strained Silver Supply
Source: mineral-analysis.es
For the first time since 2011, the annual silver production from mines around the globe is expected to drop. This realization has caught on with traders, but it was noted even before prices began to take off. In addition to widely reported remarks supporting this premise made by CPM Group, the large French firm Société Générale published the same conclusion as far back as December. On top of that, less scrap silver is being recycled back into the global supply thanks to greater demand for investment silver in the form of bars and coins.
At the same time as supply growth is expected to fall, the demand side of the equation continues to look robust. The use of silver in fabricating solar panels, jewelry, and other electronics is projected to rise moderately this year. Any growth in silver fabrication will continue to eat into the slowing growth of supply. Again, greater industrial demand from China, India, and Japan—all of whom made big commitments to solar energy—is helping drive this trend. By CPM's calculations, total silver output will fall to 784.8 million oz (24,410 tonnes) this year while being outpaced by fabrication demand of 889.7 million oz (27,673 tonnes).
Experts Cite Fundamentals
Although some of the calls about silver's supply troubles were made in advance (yet only taken note of recently), the bullish analysis about silver's underlying fundamentals has largely followed this year's price gains. Many of the experts are late to the party. Nonetheless, Bank of America Merril Lynch analysts now declare that "Our analysis shows that fundamentals are now the strongest in years." The financial firm increased its year-end price forecast for silver by 8% in response.
Similarly, managed money on Wall St continues to rush into silver. We're already seeing triple the volume of trading in silver futures compared to last year. This is in large measure an indication that the big funds and institutional investors are entering the market. In fact, according to Bloomberg, money managers now hold the highest net-long positions in silver ever on record.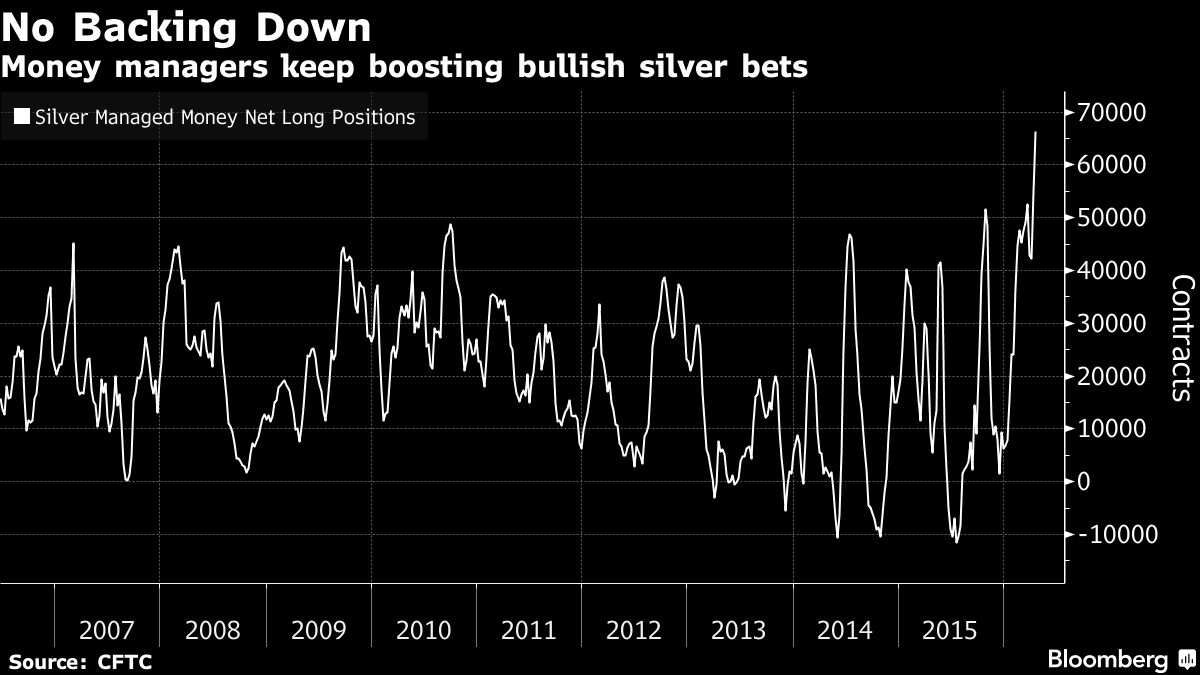 Given the action in the futures market, it's worth noting that improved fundamentals sparked the silver rally, which then fueled stronger speculation. These bets are likely to keep pushing prices even higher save for some unforeseen and dramatic change in the landscape.
Silver ETFs
Silver demand as measured by silver ETFs has also gotten a boost lately. Bloomberg reported, "Holdings in exchange-traded funds backed by silver surged more than 1,132 metric tons this year, almost quadruple the volume for the increase in gold."
For a rundown of the various types of silver-backed funds, check this list of the top 11 silver ETFs from ETF Trends.
The opinions and forecasts herein are provided solely for informational purposes, and should not be used or construed as an offer, solicitation, or recommendation to buy or sell any product.