Gold has entered a bull market. At roughly $1,350/oz, gold prices are up better than 28% so far in 2016. Now what? Will it continue? Or is this merely a temporary rally before it returns to a bear market?
The answer to this question depends on who you ask, naturally.
The Bulls
Cheerleading for gold's continued rise has become increasingly fashionable among mainstream business news pundits. This may worry some—when are CNBC and stock analysts ever right?—but it's worth reviewing some of their arguments.
Bank of America Merrill Lynch recently upgraded its outlook for the gold price this year, forecasting that the yellow metal will rise to $1,500/oz soon. BoAML also called for silver to "overshoot" $30/oz, which would be more than a 50% increase from current levels. This is just one among many financial analyses conducted by big banks that call for the gold price to exceed $1,400/oz. BoAML circulated the chart below showing the rapid rise of negative-yielding sovereign debt to support their position that gold (with no nominal yield) will remain attractive by comparison.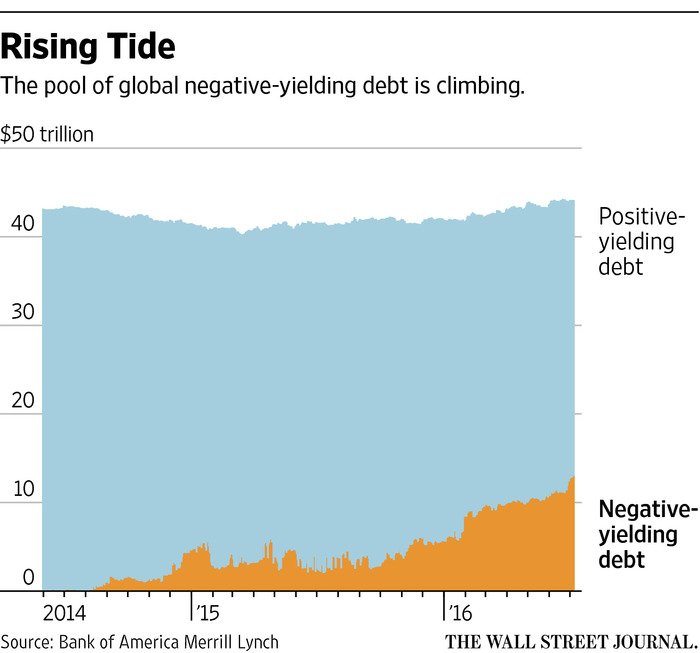 CitiGroup also made a similar bullish call on gold prices. Analysts at the bank predict that gold should rally as high as $1,425/oz in the fourth quarter. As for its confidence level in this projection, the bank gave a 25% chance for gold to rise to $1,400/oz in the third quarter and only a 10% chance that it pulls back from current levels. Citi, however, was more bearish on silver, calling for the argent metal to correct lower to $18.30/oz during Q3 due to profit-taking.
Hedge funds have increased their bullish bets on gold for the third straight week. According to the Commitment of Traders (COT) report for last week, speculative gross long positions in COMEX gold futures rose by more than 14,000 to over 300,000 contracts. The net long for COMEX gold now stands at more than 273,000 contracts, up 4.6% from the previous week. The net gains for precious metals futures have risen five weeks in a row, according to Germany's Commerzbank.
Philip Streible, a senior market analyst for RJO Futures, thinks the gold market will remain steady while silver actually offers greater upside. He believes "we could see silver rally to $25 an ounce" while gold's baseline scenario is to tread somewhere above $1,300/oz.
Craig Johnson, a technical analyst for Piper Jaffray, resists calling for gold to return to its all-time high of about $1,900/oz notched in 2011, but suggests the yellow metal will continue rallying given the current global environment. "We have recently broken above some really important resistance levels at around $1,300/oz for gold, and maybe we can see it move back above $1,525/oz." Technical analysts closely scrutinize price charts using known mathematical trends to arrive at their conclusions.
Contrary to logic, the S&P 500 and other major stock indices are near or surpassing their all-time highs. But the significant shift in the gold-to-silver ratio could portend a big move higher or lower in stocks, depending on how you look at the data. Back in February, the gold-silver ratio hit a high above 83; now, it's down to 65.7—closer to normal territory, but still historically high. Trend data supporting the view that this indicates Wall St is poised to fade includes the fact that the gold-silver ratio also plunged in 2011 before a late-summer dive in equities; yet, when silver outperforms gold since 1998, the S&P rises 11.5% on average over the next year (and only rises 6.5% on average if gold outperforms). Silver's strong moves relative to gold could signal that investors are embracing risk again and engaging in more speculation.
The Bears
The opinions and forecasts herein are provided solely for informational purposes, and should not be used or construed as an offer, solicitation, or recommendation to buy or sell any product.