Precious Metals IRA
By Gainesville Coins
Published February 13, 2015
What Are Precious Metal IRAs?
Self-directed IRAs are special tax-deferred retirement accounts that give investors more control over choosing what kinds of investments are placed in the account. Individual retirement accounts allow your assets to be safely stored in a third-party depository, free of taxation until it's time for the account holder to retire. However, premature withdrawal from the account will result in a 10% penalty. At 59 1/2 years of age, you can freely withdraw funds from your IRA without penalty; by age 70 1/2 you must begin making withdrawals.
Legislation in the 1990s made it possible to include investment-grade precious metals (including platinum and palladium) in a self-directed retirement account. Traditional IRAs and Roth IRAs do not allow for bullion to be placed in the account, so the advent of the self-directed precious metals IRA has opened the door for investors to augment and help protect their retirement savings with gold and silver.
How Do Self-Directed Precious Metals IRAs Differ From Other IRAs?
Although they largely operate in the same manner as traditional IRAs, self-directed retirement accounts have a handful of different rules that apply to what assets are eligible for inclusion.
For self-directed IRAs:
Real estate, Limited Liability Companies (LLCs), precious metals, and other tangible assets can be included.
You can choose the investments yourself without relying on a broker's picks of equities and securities.
However:
What Products Can I Put In a Precious Metals IRA?
The rules for what products can be placed in your precious metals IRA are rather straightforward. These are the bullion items that are approved for inclusion in your account after it has been opened.
Gold:
American Eagle
Canadian Maple Leaf
Austrian Philharmonics
Australian Nugget/Kangaroo
U.S. Buffalo (Uncirculated)
Gold Bars that are .995+ fine and are accredited by COMEX, NYMEX, LME, LBMA, Liffe, NYSE, CBOT or ISO 9000
Silver:
American Eagle
Austrian Philharmonic
Australian Kookaburra
Canadian Maple Leaf
Silver Bars and Rounds that are .999+ fine and are accredited by COMEX, NYMEX, LME, LBMA, Liffe, NYSE, CBOT or ISO 9000
Platinum:
American Eagle
Australian Koala
Canadian Maple Leaf
Isle of Man Noble Coins
Platinum Bars that are .9995+ fine and are accredited by COMEX, NYMEX, LME, LBMA, Liffe, NYSE, CBOT or ISO 9000
Palladium:
Bars that are .9995+ fine and are accredited by COMEX, NYMEX, LME, LBMA, Liffe, NYSE, CBOT or ISO 9000
Meanwhile, self-directed IRAs exclude certain items just like their traditional counterparts. Rare and collectible coins, even if they contain precious metals, are classified the same way as fine art or other collectible investments and cannot be put into an IRA. Here is a more complete list of precious metal items that are expressly ineligible for your IRA.
South African Krugerrand
Swiss 20 Franc
French 20 Franc
Belgian 20 Franc
Mexican 50 Peso
Chilean 100 Peso
Italian 20 Lira
Hungarian 100 Korona
Austrian Corona
U.S. Gold Buffalo Proof
Dutch 10 Guilder
British Britannia
Rare or collectible coins, including any certified or "graded" coins
Storage Options With IRAs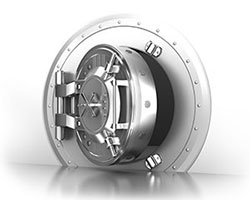 When you buy precious metal bars or coins through your self-directed IRA, you cannot keep them in your personal possession. They must be secured in a third-party depository by a trustee. At Gainesville Coins, we work closely with many reputable IRA custodians so you can set up storage in our vault as your third-party depository. We never pool your assets with other customers' holdings, so you can have peace of mind that your investment is stored securely and separately.
Along with the rules for taxes and item eligibility, your IRA storage options are an important consideration before opening a retirement account. Because you are given the freedom to choose which investments are included in a self-directed account, it is imperative that you become knowledgeable about how IRAs work. There's no time like the present to stay up-to-date on how you can protect your wealth for retirement, and Gainesville Coins is here to help!
The information provided herein is intended for general reference purposes only, and should not be construed as professional investment advice, nor as an endorsement of any product or service.
See Also: