American Gold Buffalo Coin
By Gainesville Coins
Published June 15, 2015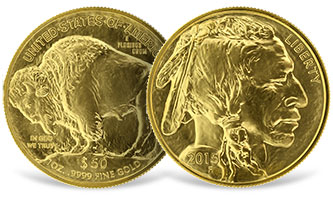 Introduced in 2006 to compete against the .9999 fine gold bullion coins of Canada, Australia, and Austria, the American Gold Buffalo is the first pure gold coin struck by the U.S. Mint. It is also the only 24K gold bullion coin that has its weight and purity backed by the United States government.
Continuing the tradition of reviving beloved classic U.S. coin designs for the bullion market, Congress mandated that the American Gold Buffalo use the 1913-1938 "Buffalo Nickel" design of James Earle Fraser. It was also decreed that, in order to protect the soft .9999 fine gold coins from scratches, that they would be sealed in individual pockets in sheets of 20 coins.
The U.S. Mint also produces proof gold American Buffalo coins, which come in a handsome wooden and leather presentation case.
Facts About the American Gold Buffalo Coin:
The 2006 Gold Buffalo was the first 24K gold coin ever minted by the U.S. Mint
The Gold Buffalo uses the "Type I" 1913 Indian Head Five Cent coin (aka "the Buffalo Nickel") design by James Earle Fraser, where the bison stands on a mound.
2008 is the only year fractional Gold Buffaloes were minted, when 1/2, 1/4, and 1/10 troy ounce proof versions were struck.
The same Act of Congress that authorized the Gold Buffalo also authorized the Presidential Dollar Coin program, and provided for special reverses on the one cent coin in 2009 to celebrate the bicentennial of Lincoln's birth.
Coin Specifications
Mintage
Unlimited
IRA Eligible
Yes
Silver Content
.9999 fine gold
Weights / Denominations
1 troy oz. ($50.00)
Front / Obverse
American Indian right profile, with year-date.
Artist: James Earle Fraser
Rear / Reverse
American bison (buffalo) in left profile, with weight, purity, and denomination.
Artist: James Earle Fraser
Diameter / Thickness
32.70mm x 2.95mm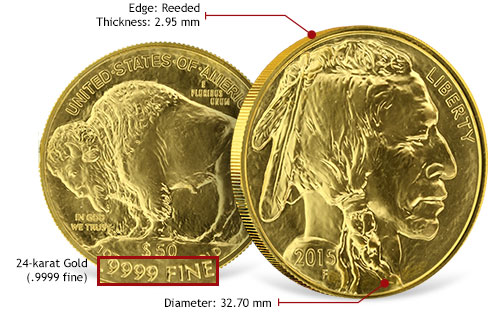 Why Buy the American Gold Buffalo?
The American Gold Buffalo is the only 24k bullion coin that is US legal tender, which means that each coin's weight and purity is backed by the full faith and credit of the United States government. The classic 1913 Buffalo Nickel design makes the coin even more appealing, especially to American investors.
See Also