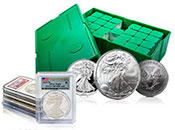 The American Silver Eagle is the flagship bullion coin of the United States. First struck in 1986, they have been minted annually since and are among the most widely bought and traded coins in the world. Each contains .999 Fine metal content and is designated with a $1 face value, making it America's first 99.9% pure dollar. In the three decades since its inception, it has become a representation of America's financial strength to the international community.
Because they are designated as legal tender, the weight and purity is guaranteed by the full faith and credit of the United States government. This is one of the principal reasons why it is so popular; the series set yearly sales records with over 42 million sold in 2013. They are cherished not only for their beautiful Walking Liberty design, but also for the comfort of owning a government-backed item that is IRA approved. 2014 Silver American Eagles are offered individually, or you can purchase them in bulk, whether in mint tubes of 20 or in the popular, mint-sealed "Monster Box" of 500 ounces. In addition, we sell backdates from previous years.
The United States Mint produces an enormous quantity of silver bullion annually. In 2013 in particular, the U.S. Mint experienced soaring sales for both of their bullion programs. With no mintage limit, these popular pieces of history hit a record-breaking 42,675,000 units sold as of December 26, 2013. Further, they are not the only modern pieces experiencing a boost in demand (and, consequently, sales). For the 2013-W Proofs, 797,882 pieces have been sold with no mintage limit set, while there were 149,328 of the 2013-W Uncirculated variety sold. 2014-dated coins are still available, and have been on pace to match or surpass last year's records!
To satisfy the numismatic preferences of collectors as well as investors' desire for low premium items, they are produced in multiple variations. Currently the U.S. Mint strikes three different versions: Brilliant Uncirculated (or Bullion finish), Proof, and Burnished Uncirculated.
Variations
Brilliant Uncirculated / Bullion Finish

The most common type is the Brilliant Uncirculated finish. These are sold individually, in a mint tube of 20, or in a mint-sealed "Monster Box" of twenty-five tubes for a total of 500 ounces. Not only are they 1 troy ounce and 99.9% pure, but each one is fully backed by the U.S. government. This variety is the only version that does not carry a mint mark, and they are not sold directly to the public by the United States Mint. You can purchase this Brilliant Uncirculated version through Gainesville Coins, a leading precious metals dealer.

Proof Finish

The Proof finish is struck from a specially-treated blank that is carefully cleaned and polished. The blanks are hand-fed into a printing press that uses a detailed die to strike each one multiple times. This results in an extra sharp image. The entire process creates beautiful mirror-like fields and frosted details. The Proof editions have a mint mark on the reverse, signifying their collectible status. Current-years are available directly from the U.S. Mint; however, backdates can be purchased from Gainesville Coins.

Burnished Finish

The collectors' edition Burnished Uncirculated is made using the same process as the Proof version, except a burnished blank is used to create a satin-like field behind the frosted features rather than a mirrored effect. The Mint began adding this type to the series in 2006.

Like the Proof, the special burnished blanks are struck with a mint mark on the reverse, and are made expressly for collectors. Only current-year versions are available through the U.S. Mint but we do have other dates available for sale as well.
Design
| | |
| --- | --- |
| Year: | 1986 - Present |
| Denomination: | $1 |
| Weight: | 31.103 gram |
| Fineness: | 0.999 |
| Coin Diameter (mm): | 40.6 |
| Thickness (mm): | 2.98 |
| Edge Design: | Reeded |
| Mint/Brand: | US Mint |
| Coin Series: | Silver American Eagles |
| IRA Approved: | Yes |

The obverse (front) brings the famous 1916 "Walking Liberty" design of A.A. Weinman into the modern era. In this design, Lady Liberty strides towards the rising sun of a new day, blessing the land before her. Wrapped in the American flag, she carries a bough of oak and one of laurel, signifying the triumphs of the United States in both war and civil endeavors. The legend "LIBERTY" arches above the scene, while the motto "IN GOD WE TRUST" is inscribed to the right. The year-date appears near the bottom rim, under Liberty's sandals.

The reverse (back) features the design of John Mercanti, 12th Chief Engraver of the U.S. Mint. Based on the Great Seal of the United States, the design shows an American Bald Eagle in heraldic pose, the Union Shield on its breast. I t clutches an olive branch in its right talon, and six arrows in its left, signifying preparedness for either peace or war. The ribbon it holds in its beak bears the national motto of the United States: "E PLURIBUS UNUM" (Out Of Many, One.) The thirteen stars arranged in an inverted triangle above the eagle's head represent the original founding 13 colonies. Along the top of the rim, "UNITED STATES OF AMERICA" is struck, with the weight and denomination, "1 oz FINE SILVER ~ ONE DOLLAR," along the bottom rim.
ASE Monster Box

The U.S. Mint packages American Eagles for distribution in sturdy green "Monster Boxes," which are custom-made to hold 500 coins in twenty five mint tubes. You can buy these mint-sealed Monster Boxes as a bulk purchase of government-guaranteed silver. They are sealed and strapped at the Mint before being shipped to authorized bullion dealers. In addition, when compared to a large bars containing a comparable amount of metal, a Monster Box carries more liquidity and flexibility, as they can easily be divided and sold individually, if needed.

Roll Of 20

Is growing your stack and keeping everything organized becoming a hassle? You can conveniently get your ASEs in rolls of twenty, delivered in their original mint packaging. Arranged in hard plastic mint tubes that are specially designed to ship your bullion safely and securely, your coins can be neatly stacked, kept together, or transported. Mint rolls are easy to store and make it simple to count your holdings at a glance.

Certified

Graded, also known as certified, are sealed in tamper-evident holders called "slabs" to authenticate, as well as protect and preserve, the condition. These certified pieces not only appeal to physical bullion buyers, but are a favorite among collectors as well. We partner with the two largest and most prestigious grading services to bring collectors guaranteed quality. Our graded coins may have the distinction of either NGC grading or PCGS grading. View our full certified inventory to find the one to complete your collection.
Why Buy?
Silver is becoming an increasingly popular investment. It is more affordable than gold to obtain while providing many of the same benefits. It has a rich history of being used as currency; in fact, the U.S. used 90% silver coins in circulation up until 1965. In the decades since, investing in this awesome metal has entered into the mainstream. Precious metals have proven to be a store of wealth to protect against the effects of inflation, the possibility of economic disruptions, or other crises. Many of these coins are also IRA eligible, qualifying for inclusion in a self-directed retirement account. Also, since they are produced by the United States Mint they are guaranteed by the U.S. government for weight and purity, make them one of the most popular options for collectors and investors.
As an industry leader, we pride ourselves on having a BBB A+ rating. Precious metals are a serious business and we dedicate ourselves to providing secure purchasing in person, online and over the phone. We operate with a zero pressure sales policy so that customers will not feel forced to buy something when browsing online or when talking to a sales representative. Customers can feel confident when doing business with us because of our clear, transparent pricing. We are an authorized dealer for major mints such as the Perth Mint, U.S. Mint and the Royal Canadian Mint. Shop with us for a trusted, secure and friendly experience.
Created By: Gainesville Coins, LLC
Date Modified: October 31th, 2014