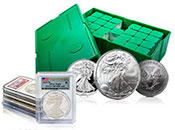 The American Silver Eagle is the flagship bullion coin of the United States. First struck in 1986, they have been minted annually since and are among the most widely bought and traded coins in the world. Each contains .999 Fine metal content and is designated with a $1 face value, making it America's first 99.9% pure silver dollar. In the three decades since its inception, it has become a representation of America's financial strength to the international community.
Because they are designated as legal tender, the weight and purity is guaranteed by the full faith and credit of the United States government. This is one of the principal reasons why it is so popular; the series is the most popular 1 oz silver coin on the market, with more than a half-billion coins sold since its inception on November 24, 1986. They are cherished not only for their beautiful Walking Liberty design, but also for the comfort of owning a government-backed item that is IRA approved. Silver American Eagles are offered individually, or you can purchase them in bulk, whether in mint tubes of 20 or in the popular, mint-sealed "Monster Box" of 500 ounces. In addition, we sell backdates from previous years.
To satisfy the numismatic preferences of collectors, as well as investors' desire for low premium items, they are produced in multiple variations. Currently the U.S. Mint strikes three different versions: Brilliant Uncirculated (or Bullion finish), Proof, and Burnished Uncirculated.