Australia Perth Mint Kangaroo Gold Coin
By Gainesville Coins
Published June 15, 2015

The Perth Mint was originally founded in 1899 as a branch of Britain's Royal Mint, to refine the bountiful gold harvest of Western Australia into gold sovereign coins for the Empire. So, when the Mint was reborn in 1986 as the official bullion mint of Australia, it was no surprise that the first product was a pure gold coin.
Originally named the "Australian Nugget" gold bullion coin, each size coin featured the image of a different famous gold nugget from Australia's Gold Rush history. Even though the gold rushes transformed Australia from a barely-surviving penal colony into a major economy with world-class cities, the "nugget" theme did not resonate with international investors. So, in 1989, the nugget images were replaced with an instantly recognizable symbol of Australia – the Kangaroo. Today, the Australian Gold Kangaroo stands alongside the Gold Maple Leaf, American Gold Eagle, and krugerrand as a leading bullion investment coin.
The Gold Kangaroo is minted in 1 kg, 1 troy oz., 1/2 troy oz., 1/4 troy oz., and 1/10 troy oz. denominations. Coins weighing 10 troy oz. and 2 troy oz were minted between 1991 and 2009, and a 1/20th troy oz. coin was struck from 1990 through 2011.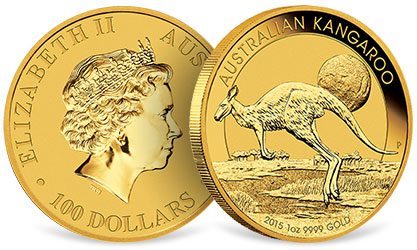 Facts About the Australian Gold Kangaroo Coin:
The Nugget was the first gold bullion coin struck in Australia since minting of the gold British Sovereign coin ended at Perth in 1931.
The first year, over 43,000 troy ounces of pure gold was used to make 947,000 Gold Nugget coins.
The world's largest gold bullion coin is a one metric tonne Gold Kangaroo, minted in October, 2011 with a face value of AU$1 million.
That same year saw the smallest Gold Kangaroo coin, the 1/20th troy oz. version, discontinued.
The original 1989 Gold Kangaroo design was crafted by Dr. Stuart Devlin, AO CMG, personal goldsmith and jeweller to Queen Elizabeth II.
Coin Specifications
Mintage
1 kg: unlimited, 1 troy oz.: unlimited, 1/2 troy oz.: 100,000, 1/4 troy oz.: 150,000, 1/10 troy oz.: 200,000
IRA Eligible
Yes
Gold Content
.9999 fine gold
Weights / Denominations
1 Kilo (1991: $10,000, 1992 – date: $3,000,)
*10 oz. (1991: $2,500, 1992-2009: $1,000,)
*2 oz. (1991: $500, 1992 – 2009: $200,)
1 oz. ($100,)
1/2 oz. ($50,)
1/4 oz ($25,)
1/10 oz.($15,)
*1/20 oz.( 1990-2011: $5)
Front / Obverse
Queen Elizabeth II with year-date and denomination. Artist: Raphael Maklouf (1986-1998,) Ian Rank-Broadley (1999 - Present)
Rear / Reverse
1986-1988: various famous gold nuggets. 1989-present: Red Kangaroo on coins weighing more than 1 troy oz., different kangaroo species annually on others.
Diameter / Thickness
1 Kilo (75.60 mm x 13.90 mm,)
*10 oz (59.70 mm x 7.65 mm,)
*2 oz (40.40 mm x 3.35 mm,)
1 oz (32.60 mm x 2.8 mm,)
1/2 oz (25.60 mm x 2.40 mm,)
1/4 oz (20.6 mm x 2.0 mm,)
1/10 oz (16.60 mm x 1.50 mm,)
*1/20 oz (14.10 mm x 1.40 mm)
*Discontinued
Why Buy the Gold Kangaroo?
The Australian Gold Kangaroo tends to have a slightly lower premium than other gold bullion coins, and you get a new kangaroo design for free each year on coins weighing 1 oz or less. What's not to love? The Perth Mint is one of the world's leading gold refineries, having processed gold into a pure form continuously for over 100 years. Physical gold held personally, or in a private, insured, fully-allocated account eliminates counter-party risk to your portfolio diversification. Many experts recommend that 5% to 10% of your portfolio consist of gold, as insurance against systemic shocks to the national or global economy.
See Also