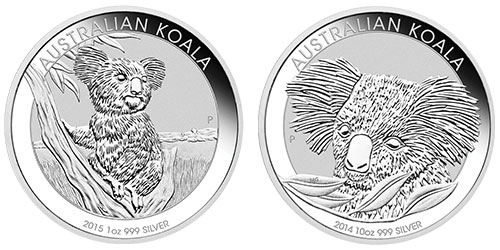 The Australian Koala coin, while relatively new by modern coin standards, enjoys great popularity in global numismatic markets. The coin is issued by the Perth Mint of Australia annually, and the design of the coin changes just as often. The Koala, sometimes pictured with her joey, appears in various situations on the reverse. On the obverse an effigy of Queen Elizabeth II is featured. Each coin is minted of 99.9% pure silver, and is offered four sizes – 1 ounce, 2 ounce, 10 ounce and 1 kilo.
Facts About the Australian Koala Coin:
While the Australian Koala coin most easily recognized by most collectors – that is, the version made of silver – was first struck in 2007, a predecessor to the coin, a Koala coin made of platinum, was made as early as 1988.
Each year, the Australian Koala coin is produced on a "mint-to-order" basis, which means that the actual mintage is not disclosed until after production ceases.
While the coin was originally (and continues to be officially) minted in silver, a 24-karat gold-gilded version were produced in 2008, 2009, and 2010. A gold "proof" version of the coin has also been minted since 2008.
Why Buy the Australian Koala?
In addition to the value of the silver of which the Australian Koala coin is made, this coin holds the value associated with the demand for its specific identity. The coin has historically been, and is likely to continue to be, popular among coin collectors. Furthermore, because the mintage of the each year's pressing is not pre-determined, speculation remains in the market to some degree. On an annual basis, there is an opportunity for a premium to be made.
Now is the Time
Political events and trends in other markets have the ability to influence both supply and demand of precious metals, including silver. Recently spot prices have risen and they are continually trending upward. There has been a subsequent push towards investment in precious metals, which further fuels these surges. Call Gainesville Coins today at 813.482.9300 and let us help you become one of them.
See all of our coins from the Perth Mint.