Australian Silver Kookaburra
By Gainesville Coins
Published June 22, 2015

The Kookaburra was the first silver bullion coin produced by Australia's Perth Mint. Introduced in 1990, it was the first silver bullion coin by a Western mint to have a reverse design that changed every year, enhancing its demand among numismatists as well as catching the attention of silver investors. (China's Silver Panda coin was the first coin with annual reverse designs. It was introduced in a proof version in 1983, and in bullion in 1989.)
Like the Perth Mint's other bullion coin products, the Silver Kookaburra showcases an iconic Australian animal – in this case, the Kookaburra - a native bird of the kingfisher family whose call resembles a human laugh, earning it the name of the "laughing man of the jungle." Struck in .999 (99.9% pure) silver, the Kookaburra is minted in 1 troy oz., 10 troy oz., and 1 kilogram (32.15 troy oz.) sizes. A 2 troy oz. version was discontinued in 2010.
The 1 oz. Silver Kookaburra has an annual mintage limit of 500,000 coins, which, combined with the different reverse design each year, sets off a rush among collectors to get one before supplies run out.
Facts About the Australian Kookaburra Coin:
The Australian Kookaburra Coin was first officially released in 1990, although the Perth Mint issued two coins, 1 oz. and 2 oz., featuring a kookaburra on the reverse as part of the "Australian Bird Series" in 1989. Australian Kookaburra coins issued in 2009 were minted with a "P20" inscribed below the bird to recognize this.
In 1990, the original mintage of the 1 oz Silver Kookaburra was traded over 1.5 million times – that is, over 5-times its original mintage of 300,000.
While the coin was originally (and continues to be) officially minted in silver, a gold "proof" version of the coin has been minted since 2004.
Coin Specifications
Mintage
1 oz.: 500,000
10 oz.: unlimited
1 kilo: unlimited
IRA Eligible
Yes
Silver Content
.999 fine silver
Diameter / Thickness
1 oz (40.60mm / 4.00mm,)
2 oz (50.30mm / 4.50mm,)
10 oz (75.60mm / 8.70mm,)
1 kilo (100.60mm x 14.60mm)
Weights / Denominations
1 oz (AU$1),
2 oz (AU$2,)
10 oz (AU$10,)
1 kilo (AU$30)
Front / Obverse
Queen Elizabeth II, with year-date and denomination. Artist: Raphael Maklouf (1990- 1998,) Ian Rank-Broadley (1999 - Current)
Rear / Reverse
Australian Kookaburra in natural pose (changes each year)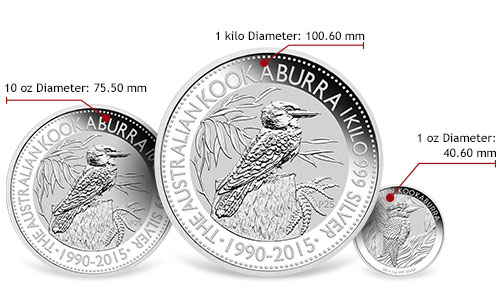 Why Buy the Australian Kookaburra?
The Silver Kookaburra bullion coins are prized by silver bullion investors and coin collectors alike, due to the new reverse design each year. The limited annual mintage of the 1 oz. coins increases the likelihood of price appreciation in the secondary market. As Australia's official bullion mint and one of the leading refineries on the Pacific Rim, the Perth Mint carries a reputation for producing some of the finest bullion coins in the world. The Silver Kookaburra is an Australian legal tender coin, meaning that the government of the Commonwealth of Australia stands behind the weight and purity of every coin.
See Also