Australian "Year of the Tiger" Coins
By Gainesville Coins
Published February 11, 2015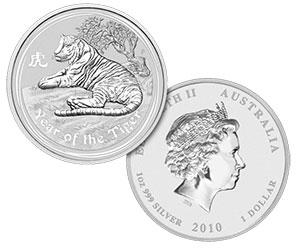 The Australian Year of the Tiger Coins comprise a series of coins issued by the Perth Mint of Australia as part of their larger, annually released "Lunar Series" which commemorates the Chinese zodiac.
There were a number of variations on the coin released as part of the 2010 Year of the Tiger series. In addition to the traditional gold and silver proof coins, a colored variant on the silver coin, on which the tiger's body is colored in bright shades of orange, black, and white, as well as a gilded version which contains a fine gold leafing over the tiger's body are also available. In a rare, 1 kg. version of the colored silver coin, the Perth Mint replaced the tiger's eye with real topaz.
Facts about Australian Year of the Tiger Coins
Australian Year of the Tiger coins are composed of 99.99% (24k) pure gold or 99.9% pure silver, and are available in a number of sizes and weights including (while depending on the composition, either gold or silver): 1/20 oz., 1/10 oz., 1/4 oz., 1/2 oz., 1 oz., 2 oz., 5 oz., 10 oz., and 1 kg. Both gold and silver Australian Year of the Tiger Coins are also produced in a massive 10 kg. weight.
While the Australian Year of the Tiger series is part of the larger "Lunar Series" issued annually, the Perth Mint's Lunar Series joins similar releases by mints around the world including the Royal Canadian Mint, The People's Bank of China, and The New Zealand Mint.
Why Buy Australian Year of the Tiger Coins?
As these coins are comprised of pure gold or silver certified by the Perth Mint of Australia, they have intrinsic value. That is, their worth on global markets is not contingent upon the demand for a "flash in the pan" trinket or another trendy investment, but rather precious metals – a store of value for thousands of years.
Australian Year of the Tiger coins hold, in addition to their intrinsic value, the allure of modern collectable coins. The added numismatic features of these coins add to their value. That is, the design and issue of the coins creates a subset of supply and demand among gold and silver investors; not only do they value the coins for being made of bullion, but also because they are rare and beautiful.
Now is the Time
Global economic trends and recent news stories have caused the prices of both gold and silver to rise. As there is little certainty about the direction of many other markets, investors have returned to the comparative safety found in precious metals and modern coins. Call Gainesville Coins today and let one of our customer service representatives help you join them.