Canada Coal Mining Gold Proof Coin
By Gainesville Coins
Published February 04, 2015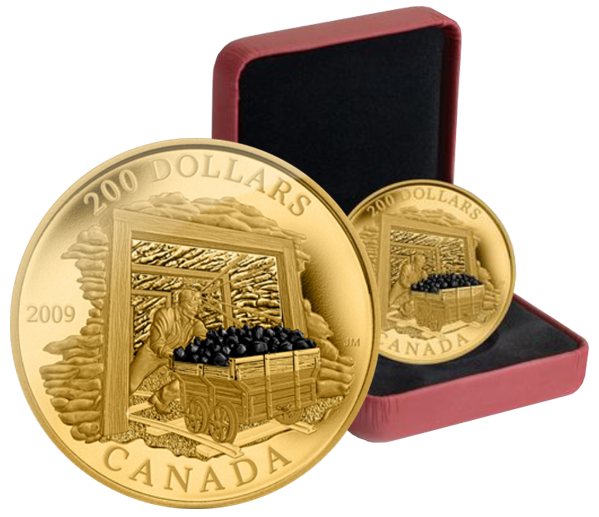 The 2009 Canada Coal Mining Gold Proof Coin contains 22-karat gold with a $200 denomination.
History
In Canada, it was the late 1600's when the reserves of coal along the east coast first came to light. Visible in the outcroppings of cliffs along the shoreline, the valuable fuel source was easy pickings for the French military and early settlers.
Authorities soon realized a potential source of wealth lay in the ground beneath them and opened the first commercial coal mine in 1720 in Port Morien (Cow Bay) in Cape Breton (Nova Scotia). Four years later, coal was shipped to Boston; the first recorded mineral export from Canada. By 1873, there were eight coal companies operating in the region. Theirs were some of the most extensive mining operations in the world.
Coal was the economic fuel of many communities—the prosperity of town and mine linked directly to each other as company stores and housing quickly disappeared when the coal ran out. From east to west, scenarios like this played out wherever coal was being harvested from the ground. Although production in Ontario and Quebec was limited, it was Nova Scotian coal that fuelled their industrial development for almost a century.
Special Features
Fifth issue in the Historical Commerce series.
Handcrafted artistry and cutting-edge craftsmanship ensure ultra-crisp definition and relief.
Laser technology makes the coal shimmer in black against 22 karat gold.
Only 4,000 coins available worldwide makes this a must-have limited work of art.
Coin Specifications
Coin Specifications

| | |
| --- | --- |
| Issue Year | 2009 |
| Weights / Denominations | 16.00g / The face value is $200. |
| Front / Obverse | A finely engraved and dynamic depiction of a old-time coal miner, accented using laser technology, complete with lamp and helmet on his head, straining to move the heavily laden coal cart through the entrance to the mine. The date and denomination are also indicated. |
| Rear / Reverse | A frosted cameo portrait of her Majesty, Queen Elizabeth II of England, in profile facing right. This portrait, the fourth effigy of the queen to appear on Canadian coinage, was executed by the artist Susanna Blunt. The legend ELIZABETH II D. G. REGINA ("Elizabeth II, Queen by the Grace of God") and mint mark also appear. |
| Gold Content | .9167 Fine / 22-karat |
| Packaging | The coin is encapsulated inside a burgundy leatherette, clamshell-style presentation case, lined with black velvet and protected by a black outer box. An individually-numbered certificate of authenticity is included. |