Canadian Silver Grizzly Coin
By Gainesville Coins
Published February 04, 2015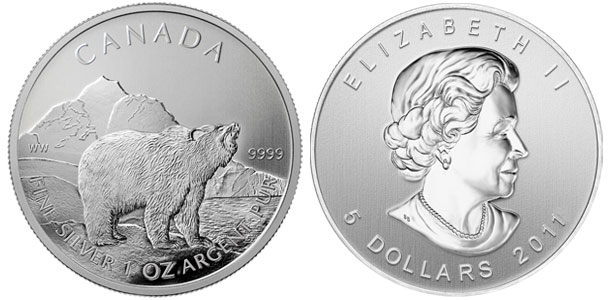 The 2011 1 oz Canadian Silver Grizzly Coin is the 2nd of 6 coins in the Royal Canadian Mint's highly popular Wildlife Silver Bullion Series. To date, five coins have been released in the three-year series:
2011 Silver Wolf
2011 Silver Grizzly
2012 Silver Cougar
2012 Silver Moose
2013 Silver Pronghorn Antelope
Each coin in the Wildlife Series has a maximum mintage of 1,000,000. The new design and the release date for the last coin of the series have not yet been disclosed.
Meet the grizzly bear: Don't let their cute and cuddly appearance fool you. Grizzly bears are large, powerful and sometimes deadly. Yet despite their size and fearsome claws and teeth, their shaggy appearance and appealing features make the grizzly a firm favorite with many people around the world. Grizzly bears are members of the brown bear family. The term "grizzly" refers to the appearance of the hair on the back of mature bears, which is light brown with white tips, giving it a "grizzled," or gray, appearance. Grizzly bears are typically larger than black bears, weighing between 300 to 850 pounds.
Coin Specifications
Coin Specifications

| | |
| --- | --- |
| Obverse/Front | The obverse, or front, of the Canadian Silver Grizzly features a profile of Queen Elizabeth II. The Royal Canadian Mint has used several different versions of the queen's portrait since the Mint began producing 1 oz silver bullion coins. The image of the queen on the Canadian Silver Grizzly was designed by Susanna Blunt in 2003. |
| Reverse/Back | The reverse, or rear, of the Canadian Silver Grizzly shows a growling grizzly bear surrounded by Canadian scenery. The reverse design is by Royal Mint senior engraver William Woodruff, whose initials are inscribed to the left of the grizzly. |
| IRA Eligible | Yes |
| Grade | Brilliant Uncirculated |
| Denominations | $5 (Canadian) |
| Diameter | 38 mm |
| Width | 3.29 mm |