Canadian Silver Pronghorn Antelope
By Gainesville Coins
Published February 04, 2015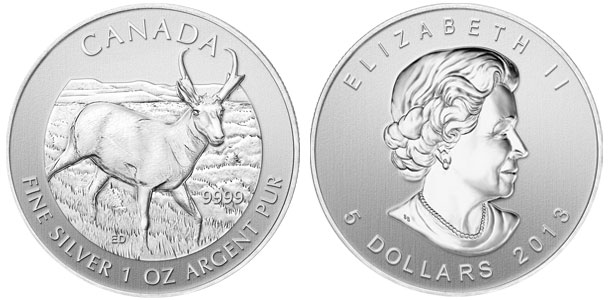 The 2013 1 oz Canadian Silver Pronghorn Antelope is the fifth coin in the popular Canadian Wildlife Series from the Royal Canadian Mint. To date, five coins have been released in the three-year series, each of which features a rendering of a different animal:
2011 Silver Wolf
2011 Silver Grizzly
2012 Silver Cougar
2012 Silver Moose
2013 Silver Pronghorn Antelope
Each coin in the Wildlife Series has a maximum mintage of 1,000,000 - which adds to their appeal and collectability - and is minted to the same standards as the famous Canadian Maple Leaf silver bullion coin. The new design and the release date for the last coin of the series have not yet been revealed.
Meet the Pronghorn Antelope: Fleet-footed pronghorn antelopes are among the speediest animals in North America. They can run at more than 53 miles (86 kilometers) an hour, leaving pursuing coyotes and bobcats in the dust. Pronghorns are also great distance runners that can travel for miles at half that speed. Pronghorns sport impressive, backward-curving horns. The horns split to form forward-pointing prongs that give the species its name. Some animals have horns that are more than a foot (30 centimeters) long.
Coin Specifications
Coin Specifications

| | |
| --- | --- |
| Obverse / Front | The obverse, or front, of the Silver Pronghorn Antelope features a profile of Queen Elizabeth II. The Royal Canadian Mint has used several different versions of the queen's portrait since the Mint began producing 1 oz silver bullion coins. The image of the queen on the Silver Pronghorn Antelope was designed by Susanna Blunt in 2003. |
| Reverse / Back | The reverse, or rear, of the Silver Pronghorn Antelope features a design by Emily S. Damstra of a pronghorn walking across a grassy plain. The artist's initials are inscribed under the antelope rendering. |
| IRA Eligible | Yes |
| Grade | Brilliant Uncirculated |
| Denominations | $5 (Canadian) |
| Diameter | 38 mm |
| Width | 3.29 mm |