2011 Lunar Year of The Rabbit - Alice in Wonderland
By Gainesville Coins
Published February 11, 2015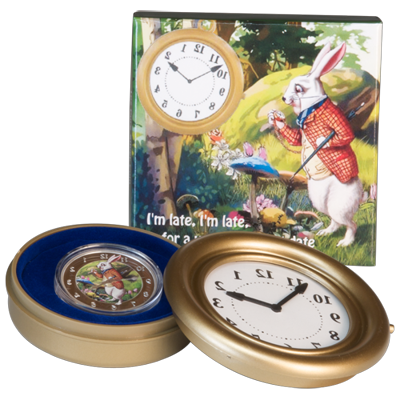 In 1865, the musings of author Lewis Carroll and illustrator John Tenniel, gave birth to one of the most beloved literary works of all time, Alice's Adventures in Wonderland, (or Alice in Wonderland, for short). The novel tells the story of a young girl, named Alice, who upon trailing an anthropomorphic rabbit into a rabbit hole, is transported into a foreign and absurdist world. While in this wonderland, Alice encounters all manner of fantastical creature, from sentient playing cards to talking animals. The story has become a staple of the literary nonsense genre and has influenced the works of writers in nearly every genre since its inception.
The White Rabbit
Standing in contrast, to the precocious Alice, is an elderly, anxiety-ridden, oft-pretentious and sometimes subjugated White Rabbit. The White Rabbit catches Alice's attention when he hurriedly scurries past her, saying "Oh dear! Oh dear! I shall be too late!" Intrigued by the sight of the strange creature, Alice follows him into his burrow and off to Wonderland. The White Rabbit also serves as the Court-herald for the King and Queen of Hearts.
Limited Mintage
Despite being legal tender of the Government of Pitcairn Island, these coins are in limited supply. In fact, the New Zealand Mint has only issued 15,000 of these 1oz pure silver coins.
Coin Specifications
Mintage: Only 15,000 coins have been issued by the New Zealand Mint
Weights: Denominations: 1 oz ($2)
Obverse: Raphael Maklouf's sculpting of Queen Elizabeth II, sovereign of the Pitcairn Islands, is featured on the coin's obverse.
Reverse: A colorful reincarnation of John Tenniel's original illustration is featured on the the coins reverse. Curving about the rim of the coin, is a clock, on which the numbers are backwards, matching the surreal nature of the story.
.999 Silver, Proof, Milled
Each coin will be enclosed in packaging resembling a clock in which time has been inverted, serving as an homage to the fact that time can run backwards in Wonderland. This replica will be enclosed in a box featuring the aforementioned illustration of the white rabbit.
Issued by the New Zealand Mint is an individually numbered certificate of authenticity that will accompany each 1oz silver coin.