Canadian Silver Moose
By Gainesville Coins
Published February 10, 2015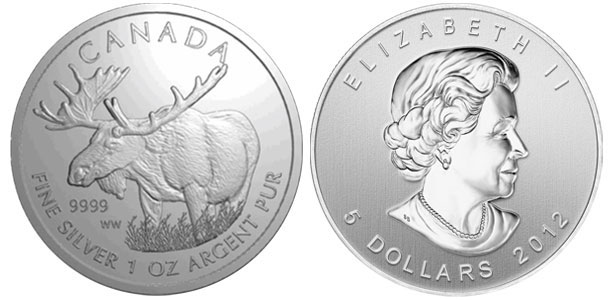 The Canadian Wildlife Silver Bullion Coins are a Royal Canadian Mint struck series with designs featuring the abundant wildlife of Canada. The series features a total of six unique silver bullion coins released by the Mint over a three-year period.
The 2011 1 oz Canadian Silver Moose is the 4th of the six coins in this highly popular series. The first five releases feature animals well-known to those who are familiar with Canadian wildlife, and could almost be considered iconic of the creatures found in the country.
Five coins have been released to date:
2011 Silver Wolf
2011 Silver Grizzly
2012 Silver Cougar
2012 Silver Moose
2013 Silver Pronghorn Antelope
Each coin in the Wildlife Series has a maximum mintage of 1,000,000. The new design and the release date for the last coin of the series have not yet been disclosed.
Meet the Moose: The moose is the largest member of the deer family and is the largest land mammal in Canada. An adult moose stands between 4.6 - 6.9 feet high. The male (bull moose) can weigh between 840-1,500 lb. Moose have a vast range, and can be found from Newfoundland to the Pacific Coast. Moose are powerful swimmers and can dive for plants at the bottom of a lake. Swimming helps them cool off during the summer because they can't tolerate heat.
Coin Specifications
Coin Specifications

| | |
| --- | --- |
| Obverse/Front | A profile portrait of Queen Elizabeth II, designed by Susanna Blunt. |
| Reverse/Rear | A vibrant moose strolls amid native vegetation. The designer of the reverse is Royal Canadian Mint senior engraver William Woodruff. |
| Diameter | 38 mm |
| Width | 3.29 mm |
| Face Value | $5 (Canadian) |
| IRA Eligible | Yes |
| Grade | Brilliant Uncirculated |