Silver Canadian Cougar Coin
By Gainesville Coins
Published February 10, 2015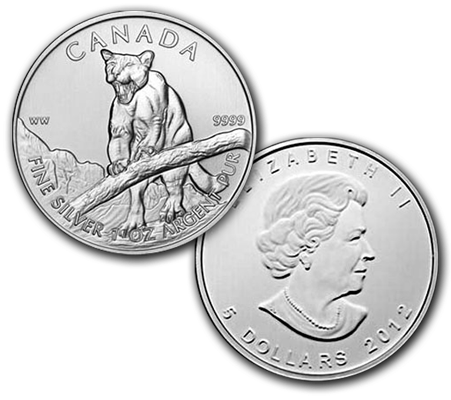 The Royal Canadian Mint's third coin in its Wildlife silver bullion series is the 2012 Silver Cougar Coin. To date, there have been four coins released in this six part series. The coins in the series are listed below in order of appearance:
The 2011 dated Grizzly Silver Coin
The 2011 dated Wolf Silver Coin
The 2012 dated Cougar Silver Coin
The 2012 dated Moose Silver Coin
All coins in the Wildlife series have a limited mintage of 1,000,000. The relatively low premium at which these coins are offered, and their limited mintage make these silver bullion coins ideal for collectors who wish to buy 1 troy ounce of silver, and want the upside of owning what could become very desirable collectables.
Coin Specifications
Coin Specifications

| | |
| --- | --- |
| Obverse / Front | The obverse or the front of the 2012 Canadian Cougar Silver Bullion Coin features a profile portrait of Queen Elizabeth II. The obverse design on the Canadian Cougar Silver Coin was designed by Susanna Blunt. Inscriptions on the obverse include "Elizabeth II, 2012, and 5 Dollars." |
| Reverse / Back | The reverse or the rear of the 2012 Canadian Cougar Silver Coin shows a cougar in a fearsome stance. Its open mouth displays the impressive fangs of this large cat. The design of the Cougar is by Senior Royal Canadian Mint Engraver William Woodruff. Circling the Cougar are the inscriptions "CANADA, 9999, FINE SILVER, 1 OZ, ARGENT PUR, and the initials WW for the designer." |
| IRA Eligible | Yes |
| Denominations | $5 Canadian Dollars |
| Diameter / Width | Diameter: 38 mm / Width: 3.29 mm |
| Fun Facts | The cougar is also known as the puma, mountain lion, or panther. The cougar is a stalk and ambush predator and hunts a diverse number of species. The cougar's adaptability in diet has enabled this big cat to survive the incessant encroachment on their natural habitat by man. Nevertheless, hunting and loss of habitat have greatly diminished the number of wild Cougars in the wild. |
| Packaging | Individual Cougar Silver Coins will come in a plastic flip. Orders for 25 Cougar silver coins will typically be delivered in the Mint roll of 25. Orders for 500 Cougars will typically be delivered in the Royal Canadian Mint's distinctive Monster Box. Unlike its sister coin, the Silver Maple which comes in a yellow Monster Box, coins from the Wildlife Silver Bullion Silver Come in a blue Monster Box. A Monster Box contains 20, 25 coin rolls. |