Silver Canadian Wolf Coin
By Gainesville Coins
Published February 04, 2015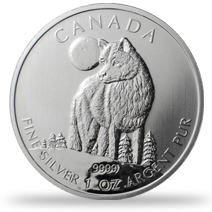 Global silver bullion buyers can now purchase the Royal Canadian Mint's 2011 Wolf Silver Coin. This is the first coin in the Canadian Mint's Wildlife series, a six part coin series to be issued between 2011 -2013. To date, there have been four coins released in this six part series. The Wildlife Series continues a long list of specialty coins by the Royal Canadian Mint. The coins in the series are listed below in order of appearance:
The 2011 dated Grizzly Silver Coin
The 2011 dated Wolf Silver Coin
The 2012 dated Cougar Silver Coin
The 2012 date Moose Silver Coin
Each coin in the Wildlife series will be limited to a mintage of just 1,000,000. These silver bullion coins are offered at a low premium and have the added benefit of being potential collectibles over time.
These coins are being minted in the Royal Canadian Mint's Ottawa facility, an ISO 9001-2008 certified company.
Coin Specifications
Coin Specifications

| | |
| --- | --- |
| Obverse / Front | The obverse or the front of the 2011 Canadian Wolf Silver Bullion Coin features a portrait of Queen Elizabeth II by portrait artist Susanna Blunt. Inscriptions on the obverse include "Elizabeth II, 2012, and 5 Dollars." |
| Reverse / Back | The reverse of the 2011 Canadian Wolf depicts a stately, and highly detailed image of a wolf standing in a clearing with pines in the distance. A full moon can be seen high in the sky behind this highly intelligent predator. Like the other coins in the Wildlife Series, the reverse design is by Senior Royal Canadian Mint Engraver William Woodruff. Inscriptions on the reverse are the words "CANADA, 9999, FINE SILVER, 1 OZ, ARGENT PUR, and the initials WW for the designer." |
| IRA Eligible | Yes |
| Denominations | $5 Canadian Dollars |
| Diameter / Width | Diameter: 38 mm / Width: 3.29 mm |
| Fun Facts | The wolf is the largest existing member of the dog family of mammals. These pack hunters once had a vast range spanning Eurasia, North Africa and North America but habitat loss and hunting has vastly reduced their range. A growing global awareness of the benefit of predators in the wild has seen numerous re-introduction efforts of the wolf to habitats where they had been driven from existence. Wolves are social predators that live in families, and hunt in packs. Numerous studies have shown that the grey wolf is the ancient ancestor of the domestic dog. |
| Packaging | Individual Wolf Silver Coins will come in a plastic flip. Orders for 25 Cougar silver coins will typically be delivered in the Mint roll of 25. Orders for 500 wolves will typically be delivered in the Royal Canadian Mint's distinctive Monster Box. Unlike its sister coin, the Silver Maple which comes in a yellow Monster Box, coins from the Wildlife Silver Bullion Silver Come in a blue Monster Box. A Monster Box contains 20, 25 coin rolls. |