The American Gold Eagle coin is the official gold bullion coin of the United States, fully backed and guaranteed by the U.S. government for the weight and purity of its gold content. Issued by the U.S. Mint, this patriotic coin began as a mere suggestion made by Congressman Ron Paul to President Ronald Reagan's Gold Commission in 1981. The idea was brought to fruition under the Gold Bullion Act of 1985, and the first modern American Gold Eagle was minted in 1986.
During their first year of issue, only one ounce sizes were minted with the special proof device. In the years to follow, half-ounce, quarter-ounce and tenth-ounce proofs were released as well. All four sizes are stuck in .9167 pure gold. Although each coin is designated with a face value as legal tender, the American Gold Eagle is traded on the basis of its fine metal content.
History of Gold Eagle Coins
Like all U.S. legal tender coins, Gold Eagles must adhere to strict standards of quality, beginning with the extraction of the gold used to produce these iconic coins. Under the Gold Bullion Act of 1985, American Gold Eagles must be produced from gold mined exclusively within the borders of the United States. They must also meet precise weight and dimension requirements before receiving legal tender status. Due to their government guarantee, these coins are eligible for inclusion in Individual Retirement Accounts (IRAs).
American Gold Eagles were the first modern bullion coin authorized by Congress. They have since become one of the most popular gold bullion coins worldwide. Today more than 16 million of these coins have been distributed, with more than 13 million minted in the one ounce size. These gold coins make up a remarkable 80% of the United States' physical gold bullion market. Precious metal investors buy American Gold Eagles not only for their intrinsic value, but also because they are durable, recognizable, and easily portable.
Gold Eagles Specifications
1 oz
1/2 oz
1/4 oz
1/10 oz
Denomination:
$50
$25
$10
$5
Actual Gold Weight:

1

ozt

.5

ozt

.25

ozt

.10

ozt

Coin Diameter(mm):
32.7
27
22
16.5
Thickness(mm):
2.87
2.15
1.78
1.19
Fineness:
0.917
0.917
0.917
0.917
Edge Design:
Reeded
Reeded
Reeded
Reeded
Mint/Brand:
U.S. Mint
U.S. Mint
U.S. Mint
U.S. Mint
Year:
1986 - Current
1986 - Current
1986 - Current
1986 - Current
Bullion:
Yes
Yes
Yes
Yes
IRA Approved:
Yes
Yes
Yes
Yes
Gold Eagle Coin Design
All of the sizes of the American Gold Eagle share the same obverse and reverse designs.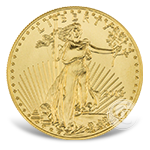 The Obverse / Front
The obverse features Augustus Saint-Gaudens' classic rendition of Lady Liberty. She is pictured carrying a torch in her right hand and an olive branch in her left, in the foreground of a rising sun over the Capitol building. Gold Eagles minted between 1986-1991 express the date in Roman numerals as the original Saint-Gaudens design did in 1907. After 1991, the U.S. Mint switched to the more familiar Arabic numeral dates.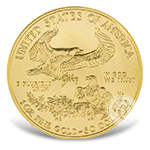 The Reverse / Back
Designed by Miley Busiek, the reverse depicts a family of American bald eagles. The male carries an olive branch to his mate and their eaglets, who are resting in a nest. Inscriptions along the bottom rim denote the coin's weight, purity, and legal tender face value. This remains the only U.S. coin to portray multiple eagles in its design.
Variation of American Gold Eagle Coins
To satisfy the preferences of both collectors and investors, the U.S. Mint currently strikes American Gold Eagle coins in three different varieties: Brilliant Uncirculated / Bullion, Proof, and Burnished. There are also Certified Gold Eagles, and a variety of different sizes offered.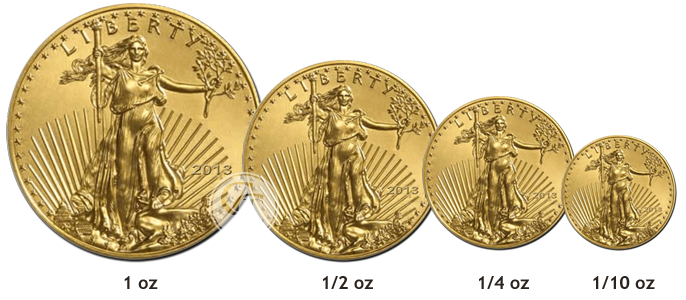 Sizes
Since its inception, the American Gold Eagle has also been minted in fractional sizes in order to make smaller, more affordable quantities of gold available to the public for investment purposes. In addition to the standard 1 ounce Gold Eagle, there are also 1/10 ounce, 1/4 ounce, and 1/2 ounce denominations. This full lineup of sizes will once again be offered by the U.S. Mint in 2014.