Investing In Silver
By Gainesville Coins
Published February 19, 2015
Many people who are looking at purchasing precious metals for the first time have many questions and are not sure where to turn for answers. This guide will explain investing in silver, and show you how to buy silver online.
Why Invest In Silver?
Silver's Function In Your Portfolio
Silver acts to diversify your portfolio against downturns in other sectors. Holding 100% of your investments in stocks leaves you fully at the mercy of a sudden market downturn. Assets that are negatively correlated to stocks, such as precious metals, helps smooth out the rough patches.
Gold vs Silver
While gold is often touted as the best hedge against inflation and currency devaluation, the fact is that many people who want that protection would be hard put to regularly buy gold. Silver is sometimes called "poor man's gold," but it can also be considered "the peoples' gold." It is more affordable, and individual transactions don't have to cost thousands of dollars. Buying an ounce, or several, of silver every week according to your budget doesn't pose a large burden on most people, and it gets you into the habit of regular silver purchases. This is a natural "dollar cost averaging" strategy.
IRA-Approved Silver
Since 1997, the government has allowed individuals to include precious metals in a self-directed IRA. This allows you to diversify your IRA the same way as you do your regular holdings, with the safe tax-deferred profits. Many types of silver are eligible for inclusion in a self-directed IRA, including the American Silver Eagle, Canadian Maple Leaf, Austrian Philharmonic, and bars from approved refiners. To learn more about a precious metals self-directed IRA, click HERE or call one of our live traders at (813) 482-9300.
Paper Silver Vs Physical Silver
What does one mean when talking about "paper silver" or "physical silver?" Paper silver is a contract, such as silver futures, options or shares of an Exchange-Traded Fund. These are either speculative or hedging contracts, and claims against physical silver. Even shares of ETFs that claim to be 100% backed by bullion have strings attached, such as only being able to be redeemed through a broker, or needing $100,000 in shares to redeem for actual bullion.
Physical silver is something you can hold in your hand – a silver dollar, a bar, even sterling silverware. Silver bullion (silver made as a store of investment, with no collectible value) is usually 99.9% pure or better, and is a very liquid asset. There are literally millions of places across the globe where you can trade silver for the money, good or service of your choice. Some people keep silver close at hand, in case the U.S. ever sees a bank "bail-in" like what happened in Cyprus, and depositors are unable to access their money while the government decides how much each account will be charged to bail the bank out.
Types of Silver Bullion
Silver for investment comes in three basic forms, Government-issued legal tender coins, Non-legal tender silver "rounds", and Silver bars. Each has its benefits.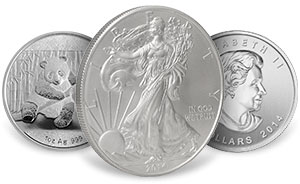 Silver Coins carry a face value, denominated in that nation's currency. That face value confers "legal tender" status to the coins, meaning that the purity and weight of the coin is backed by the issuing government. Many silver coins are also produced to a higher standard than rounds or bars. The premiums over the raw metal spot price is usually a bit more than for rounds or bars.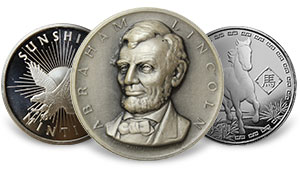 Silver Rounds when you get down to it, are small silver bars shaped and decorated like coins. Made by private mints, they have no face value, and no government guarantee. Gainesville Coins only purchases silver rounds from ISO 9001:2008 - certified mints based in the United States, and keeps careful watch over their suppliers. Silver rounds are usually slightly cheaper than government-issue coins.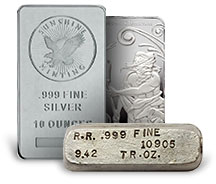 Silver Bars are usually the cheapest form of silver. Traditionally made in rectangular shapes, they range in size from 1 troy ounce to 100 troy ounces for retail investors.
Storing Your Silver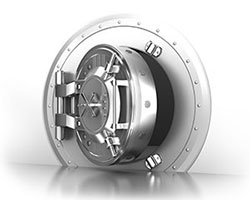 There are many options for holding your silver investment, once you've purchased it. You can store it at home, in a hiding place or in a home safe. This is the truest sense of "If you hold it, you own it," but for large amounts of silver, can present security issues. Choose a safe that is highly rated, and either secured to the ground or too heavy to move. Most of all, don't talk about having large amounts of silver at home.
A second option is at a bank. Safe deposit boxes can only hold a limited amount of silver, but you can rent space in the vault. This provides a large measure of security, but there are factors you should be careful of. There are two types of bank accounts for bullion: allocated, and non-allocated. An allocated account means that your actual silver is recorded in your name – when you withdraw the silver, you get the same bars that you deposited. Non-allocated means that the amount of silver you deposit is noted on the bank's balance, and it is jumbled together with everyone else's. Since non-allocated bullion is carried on a bank's balance sheet, it can be claimed by creditors if the bank gets into trouble.
The third option is to store your silver with an insured, commercial vault. Gainesville Coins offers fully-segregated vault storage. This goes one step beyond allocated storage, as your bullion is stored physically separate from other clients. Storage at a bullion distributor such as Gainesville Coins also adds convenience. There's no shipping fees, and you can easily and quickly sell your bullion back when the time comes.
Selling Your Silver
When the time comes to sell some or all of your silver, there are a few options of varying degrees of ease (and safety!) One option is to make a classified ad, in the paper or online. This of course can be very dangerous. Never allow someone to know where you live when selling precious metals to an individual. Meet in a well-lit, public place, preferably where there are security cameras. Another option is selling your silver to a pawn shop or "cash for gold" store. The price you receive from them can vary widely, and many are reselling the metal as scrap to a refiner. Your local coin shop could be an option, if they also buy and sell bullion as well as collectible coins. One of the best and safest ways to sell silver is to use a large bullion distributor such as Gainesville Coins. You can call or email them to get an estimate of the value of your silver, though the actual price will depend on the spot price at the time they receive your silver. If you have an allocated precious metals storage account with the distributor, transactions are quick and easy. Note that some distributors have minimum buy-back levels, or demand that you sell thousands of dollars worth of the same item to get their best price. Gainesville Coins has no minimum buy-back amount!
Ready to Buy?
The safest method of buying silver, with the largest selection, is to buy online. Gainesville Coins is one of the largest online bullion dealers in America, with an A+ rating from the Better Business Bureau. If you have any questions regarding buying silver, one of our traders would be happy to assist you. Our employees don't work on commission, so there's never any pressure for you to buy something that you don't want. There's also no minimum purchase level. Contact us by email or call (813) 482-9300. If you're in the Tampa Bay area, visit our lovely showroom at 17860 US Hwy 41, Lutz, FL 33549.