New Lakota 1 AVP Oz Copper Round (Made in the USA)
By Gainesville Coins
Published February 11, 2015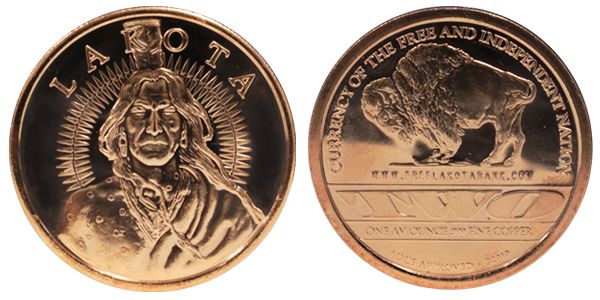 Critics describe this copper round as one of the most remarkable and important rounds ever produced. The New Lakota 1 AV oz Copper Round, is representative of the nation's efforts to preserve its heritage.
The Lakota nation consists of seven tribes, historically belonging to the Sioux confederacy. The seven tribes include the Oglala, Sicangu, Hunkpapa, Miniconjou, Sihasapa, Itazipacola, and the Oohenupa. The tribes were well known for their strength as warriors and for their practices in hunting buffalo. Lakota tensions with the U.S. began in 1854, near Fort Laramie, Wyoming, when a U.S. treaty to remain off of Lakota lands was broken and 19 U.S. soldiers were killed. U.S. forces fought back in 1855 in Nebraska, killing 100 Sioux and imprisoning a Sioux chief. Crazy Horse, pictured on the round, is a spirited and highly regarded Lakota warrior who was committed to sustaining the traditions and values of his people. Crazy Horse kept the Lakota nation's interests at heart by fighting for its independence from U.S. encroachment on Lakota land. Crazy Horse was ultimately unsuccessful, despite several individual victories against U.S. soldiers.
Despite making several treaties with the Lakota, the U.S. did not keep to them. After the battle at Wounded Knee in 1890, the Sioux ended their resistance to U.S. forces. In 2007, the Lakota Nation withdrew from all treaties with the U.S. and declared its sovereignty and independence from it. Today, a majority of the Lakota inhabit southwestern South Dakota in the 2,782 square mile Pine Ridge Reservation.