Mexican Gold Peso
By Gainesville Coins
Published February 11, 2015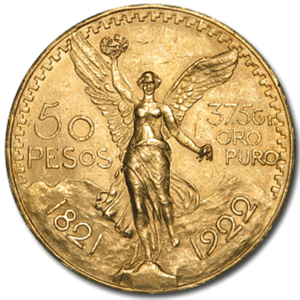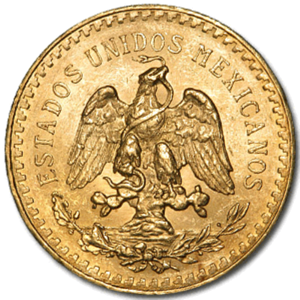 The Mexican Gold Peso has been a collector and investor favorite for years because of the coin's beautiful designs and reasonable trading price. The coins come in a variety of weights and sizes, which can range from 2 pesos to 50 pesos. The 50 peso Mexican Gold coin (1.2057 oz) commemorates Mexico's freedom from Spanish rule.
The obverse design portrays "El Ángel de la Independencia," or the Angel of Independence, holding broken chains in one hand and a laurel wreath in the other. The angel stands in front of Popocatépetl volcano and Ixtaccíhuatl mountain, an iconic Mexican landscape. The two natural bodies are named so after two legendary Aztec people. It is said that Ixtaccíhuatl was an Aztec princess who was promised to the warrior Popocatépetl. Popocatépetl was sent off to battle by the king in the hopes that he would not return to wed Ixtaccíhuatl. Having failed to have Popocatépetl killed, the king lied to the princess which resulted in her grief-stricken death. Upon returning from war, Popocatépetl was enraged at the early death of his beloved. Aztec legend explains that Ixtaccíhuatl mountain is the sleeping princess while Popocatépetl volcano still spouts its fiery rage at the world.
The reverse pictures the Mexican national coat of arms. The coat of arms illustrates the storied bird of prey clutching a defeated serpent. The avian is perched on a cactus in the middle of a lake, in accordance with Aztec legend. Intertwined oak and laurel branches are on the lower rim of the coin. The upper rim contains the legend, "ESTADOS UNIDOS MEXICANOS."
Minted in Mexico City, the Mexican Gold Peso contains 90% pure gold and 10% copper, making it one of the most durable and cost-effective gold coins in the world. With the presence of copper, Mexican Gold Peso coins are able to withstand the wear of circulation, adding to its collectability. This historic coin has been a favorite to many numismatic enthusiasts.