PAMP Suisse Gold Bars
By Gainesville Coins
Published February 11, 2015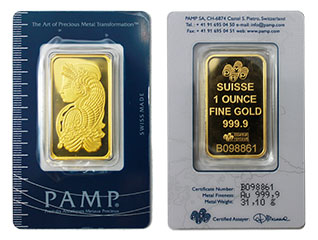 PAMP (Produits Artistiques Métaux Précieux) Suisse Gold Bars are a standard in bullion bars. Recognized for their quality in craftsmanship, quality of content and beauty in design, these bars are renowned among investors around the world. They currently produce gold bars in weights ranging from 1 g to 12.5 kg. PAMP Suisse gold bars are eligible for inclusion in metals IRAs.
Facts About PAMP Suisse Gold Bars:
PAMP Suisse produces more than half the gold bars under 50 grams sold worldwide each year.
In 1977, PAMP Suisse introduced the concept of printing decorative designs on their "ingots," or small bars. The most popular of these is the "Lady Fortuna" design.
In addition to the gold bars it produces, PAMP Suisse also supplies much of the gold used in the production of fine jewelry worldwide.
Why Buy PAMP Suisse Gold Bars?
PAMP Suisse Gold Bars are recognized around the world as a standard in modern bullion. The 12.5 kg gold bar is in fact kept as "good delivery" in many vaults around the world. As such, they, along with the rest of the bars produced by PAMP Suisse, enjoy incredible liquidity in global markets. In addition to the demand they incur because of their universally-recongnized quality, these bars are valued for their numismatic worth. PAMP Suisse bars are among the few to be adorned in any way, and because of this, attract attention from the collector community as well.
Invest in Precious Metals
Gold remains the standard in precious metals. In times of economic turbulence, or an undermining of confidence in currency or other investments, gold has historically outperformed. Recently, interest in investing in gold has seen a resurgence. For instance, Central Banks, which had been the largest sellers of gold since the world abandoned the gold standard, turned into net buyers of gold in 2010. Precious metals ETF's has increased the number of avenues available to invest in gold. Call Gainesville Coins today at (813) 482-9300 to discuss investing in gold, including PAMP Suisse gold bars to your investment portfolio.