Platinum Bullion
By Gainesville Coins
Published February 11, 2015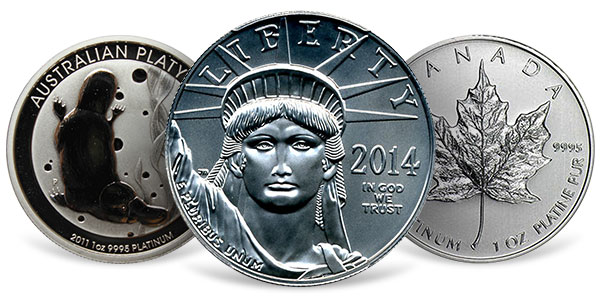 There has never been a better time than today to buy gold, silver and platinum bullion coins and bars. With countries across the globe still reeling from serious financial crisis, it is wise to put your money on investments whose prices can weather the economic downturn.
For the most pleasant experience for buying platinum bullion bars and coins, Gainesville Coins can help. We have a team of seasoned numismatists who can provide you knowledge drawn from years of experience in the coin exchange industry. In addition, we offer our state-of-the-art selling platform, exceptional customer service, and the best prices in today's market.
About Platinum
Platinum is an extremely rare precious metal that is sometime mistaken for silver. In fact, platinum is produced in quanities of about 5 million troy ounces per year. It's most often found today as a by-product during the nickle and copper mining process.
Platinum coins, bars and ignots are traded for investments on global markets, and while spot prices vary, it often commands twice the price of gold bullion. Such changes in pricing are usually the result of a rise or fall in industrial demand, as opposed to gold's spot price which fluctuates according to economic stabilty/growth and demand.
Platinum bullion is traded on the New York Merchantile Exchange (NYMEX) and the London Platinum and Palladium Market.
We are proud of the wide range of coins and bars that we offer, which includes pre-1933 bullion, as well as modern gold, silver and platinum bullion coins. Gold, silver and platinum bullion bars are available as well. To know more about the lucrative investment opportunities that await you here at Gainesville Coins, visit us at GainesvilleCoins.com or call us at 813.482.9300.