2014 1 oz Australian Silver Kookaburra Coin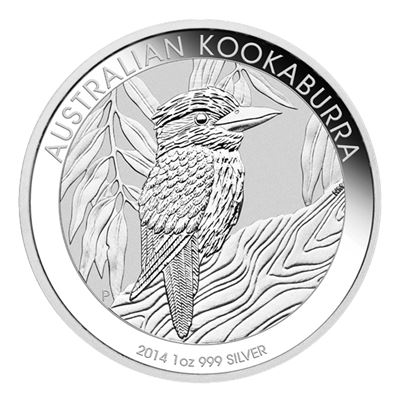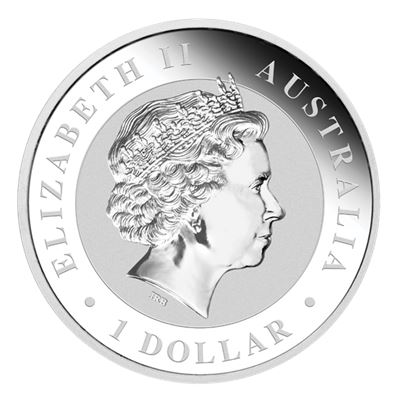 Click image for larger picture.
As low as
*Price changes every 5 seconds. The price added to cart will reflect the current spot price. Discount is calculated savings compared to credit card pricing for one unit quantity.
$33.82
As low as $10.00 over spot!
| Qty | Check / Bank Wire | Credit Card |
| --- | --- | --- |
| 1+ | $33.82 | $35.00 |

Shop With Confidence
100% satisfaction guarantee, A+ BBB, safe shopping.
Fully Insured
All packages are fully insured from our vault to your door.
Secure IRA & Storage
Safe, private, secure storage solution for your precious metals.
Get Help Buying
Have questions about a product? Contact our trading floor.
Call (813) 482-9300
Buy 2014 1 oz Australian Silver Kookaburra Coin
The 2014 edition of the Silver Kookaburra coin series is a 1 troy ounce 99.9 % pure silver coin, and a wonderful investment for any collectors or buyers of silver. The reverse of the coin features the Australian Kookaburra perched on the branch of a Red Ash tree, and is inscribed, "Australian Kookaburra, 2014," and "1 oz 999 silver." The obverse of the coin displays the bust of Queen Elizabeth II, a mandatory installment on all legal tender of the Australian market, and is inscribed, "Elizabeth II, Australia," and "1 Dollar."
The Silver Kookaburra coins are produced in Western Australia's Perth Mint. The Perth Mint was originally owned by the British, but transferred power in 1970 to the Western Australian government. The Perth Mint's "P" mint mark is located on the reverse of the coin within the leaves of the Red Ash tree. The 1 ozt silver Kookaburra is IRA approved, weighs 31.103 grams, has a diameter of 40.60 mm, and a thickness of 4 mm. The 2014 Silver Kookaburra is readily available for purchase online, at Gainesville Coins.com, twenty-four hours a day and seven days a week. The Kookaburra Coin series is one of Gainesville Coins' most popular selling coins from the Australian Perth Mint. Buy 1 oz silver kookaburra coins today from Gainesville Coins, a trusted Perth Mint distributor!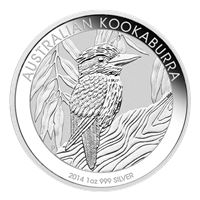 Related Products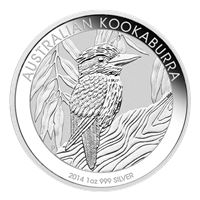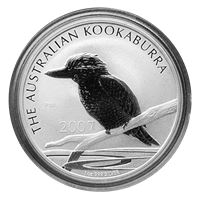 Customer Ratings & Review
5 out of 5 stars
Review This Product
Share your thoughts with other customers.
Showing 9 reviews.
JW2000
Tuesday, April 8, 2014
I have samples of most Silver 1oz coins. The Kookaburra is the finest in quality short of an official proof coin. For most people they are Proof Coin quality. Each one sealed in a plastic capsule free of dust, fingerprints, scratches, or shipping damage. Even the polish and matte finished areas of the coin vary by several levels to make it look like a work of art. The US Silver Eagle is crude by comparison. The Canadian Maple Leaf is prone to white spots that appear after you buy them from a water based detergent used to clean off the production oils. The Britannias are often scratched by careless mint workers. Bulk Bullion coins are never going to appreciate above spot prices. This is the one to buy.
5
of
5
people found this helpful
Ashton
Fantastic coin and a great investment
Wednesday, October 30, 2013
I bought a couple of these from gainesville and they are fantastic coins, the perth mint did a great job. Its not my favorite kookaburra by any means but it really is still a great coin. The staff at gainesville was nice and my coins got to my house faster than expected and if your worried about getting high value coins shipped in the mail don't worry about it gainesville has it all figured out.
2
of
2
people found this helpful
golferII
Wednesday, October 30, 2013
Gainesville had the lowest price i could find on the 2014 kooks. My order of 20 came in the original mint shrink wrap and all the coins were in pristine shape. i will continue doing business with you.
5
of
5
people found this helpful
barryman
Wednesday, October 30, 2013
I ordered 1 of these coins to add to my kookaburra collection. It arrived at my doorstep faster than i thought it would. You can tell that great care goes into making sure they will arrive intact. thanks GC team!
2
of
2
people found this helpful
silverguy12
Wednesday, October 30, 2013
Perth mint produces some quality products and this is no exception! really appreciate that they come in protective capsules so i don't need to buy them separately. Shipping time and service was perfect as well!
2
of
2
people found this helpful
kookcollector
Wednesday, October 30, 2013
i have been collecting kookaburras for years and i must say the 2014 design is great to look at. I got my package within 7 days of the purchase date which i think is great.
1
of
1
people found this helpful
ScubaPat
Monday, October 28, 2013
I been buying Australian Kookaburras for years. The 2014 Kooks looks great!
2
of
3
people found this helpful
tgarrels
Monday, October 7, 2013
Got my 1 oz Kookaburra today, it looks amazing! Not any fingerprints on it and no scuff marks either, it looks perfect! It comes enclosed in a protective hard plastic case. It takes a bit of work, but you can remove the plastic case if you have fingernails. My next order will be for 20 of these, to fill one of those plastic containers you get free when you order 20 of them. The Bank wire option worked smooth and the shipping was super fast too! Gainesville Coins is without a doubt the best place to buy your gold and silver rounds, coins and bars, with the lowest premium, don't waste your time on the auction sites trying to get a deal, just go to Gainesville Coins.com and place your order and be done with it, you wont be sorry. Trent in Solomon Kansas
4
of
6
people found this helpful
magnum
Wednesday, October 2, 2013
i think this is a very cool designed coin. a great collector investment. i have been buying them the last few years and they have turned out to be one of my favorite silver coins.
4
of
9
people found this helpful