2018 American Silver Eagle Monster Box of 500 Coins - BU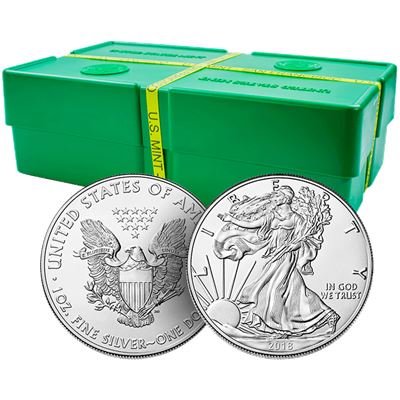 Click image for larger picture.

Shop With Confidence
100% satisfaction guarantee, A+ BBB, safe shopping.
Fully Insured
All packages are fully insured from our vault to your door.
Secure IRA & Storage
Safe, private, secure storage solution for your precious metals.
Get Help Buying
Have questions about a product? Contact our trading floor.
Call (813) 482-9300
Buy 2018 American Silver Eagle Monster Box of 500 Coins - BU
The best-selling silver bullion coin in the world is back for 2018! The American Silver Eagle is trusted by investors worldwide for its .999 fine silver, its classic design, and its backing by the full faith and credit of the U.S. government. If you're interested in purchasing silver in bulk, one of the most trusted options is a "Monster Box" of 500 Silver Eagles, which comes sealed from the United States Mint. Each coin contains 1 oz of fine silver content and, as legal tender, is given a nominal face value of 1 Dollar.
A.A. Weinman's popular design of Lady Liberty, which originally appeared on the Walking Liberty silver half dollar in 1916, was revived for the Silver Eagle in 1986 and has graced the coin each year since. Shown confidently walking toward the rising Sun in a dress made from Old Glory, Miss Liberty carries oak boughs in one arm and beckons to the sunny future ahead with her other arm. "IN GOD WE TRUST" is inscribed to her right and the year-date "2018" is placed at the bottom rim. The legend "LIBERTY" is spaced out across the top half of the rim.
On the reverse, the heraldic eagle design of John Mercanti, a former U.S. Mint Chief Engraver, is prominently centered between rim inscriptions for the issuing country, "UNITED STATES OF AMERICA," and the coin's weight and denomination, "1 OZ. FINE SILVER~ONE DOLLAR." The eagle in the center has its swings spread majestically, with every detail of each feather visible. Thirteen stars hover above the eagle's head while it carries an olive branch in one talon, a bundle of arrows in the other talon, and a ribbon its beak reading "E PLURIBUS UNUM." The edge is reeded.
Bulk silver investors often trust the Silver Eagle Monster Box due to its consistency and reliability, as well as the assurance that the coins have not even been touched since leaving the mint. With 500 coins, each Monster Box contains a full 500 troy ounces of pure silver. Wealthy investors gobble up these mint-sealed boxes, so make sure you get yours from Gainesville Coins before our inventory is depleted!
Customer Ratings & Review
5 out of 5 stars
Review This Product
Share your thoughts with other customers.
Showing 3 reviews.
Grimes
Monday, October 15, 2018
Purchased my first "monster box" of silver eagles and this thing did not disappoint. Very smooth transaction and well packaged. Now I just have to find a place to store this thing!
0
of
0
people found this helpful
SilverKing
Tuesday, February 20, 2018
I have bought and sold precious metals with Gainesville coin for over 10 years. They always have the best prices and great service. At first I was nervous about spending large sums of money with someone I never met and even more anxious about believing I could sell them back the metals at a reasonable price. Gainesville Coin has delivered on all promises with excellent service. I am buying more this week !
1
of
1
people found this helpful
Arty
Tuesday, January 16, 2018
thanks for another smooth transaction
2
of
2
people found this helpful