Bi-Metallic Coins
Product Spotlight
Bi-metallic coins are coins which are made from two (or more) different metals, fused together. The most common arrangement for bi-metallic coins is a center disk of one metal, surrounded by a ring of a different metal. The pressure from minting the coins fuses the two pieces together, so that they do not separate. There are over 140 nations who have bi-metallic coins in circulation. Perhaps the ones familiar to the most people today are the €1 and €2 coins of the European Union.
Bi-metallic coins were invented as an anti-counterfeiting measure for circulating coins, but many precious metal commemorative coins have also been produced. Common combinations for precious metal bi-metallic coins are silver and gold, and gold and platinum. Other metals are sometimes used, such as niobium or titanium, for their ability to be anodized with different colors.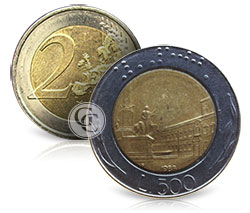 History
Perhaps the first circulating bi-metallic coin was the "Rose Farthing" of English King Charles I. To prevent counterfeiting, a copper rod was grooved down one side, and a wedge of brass was hammered into it. Then, coin blanks were cut off the end. The resulting coins displayed a "pie slice" of brass starting at the center of the coin, and reaching one edge.
America's only attempt at a bi-metallic circulating coin was the 1792 "Silver Center" cent. Congress wanted the new coinage to carry a bullion value equal to face value, but this would result in a copper coin the size of a half dollar. One idea was to make a small coin with a tiny silver plug in the center. This proved too labor-intensive for mass production.
Modern bi-metallic coins made a return in 1982, with the Italian 500 lire coin. The idea soon spread to other nations in Europe and Asia, due to the anti-counterfeiting properties of the coins.
Precious Metal Bi-Metallic Coins
While precious metal bi-metallic coins enjoy the same benefits of increased resistance to counterfeiting that base metal versions do, the main attraction for commemorative coins is the increased range of artistic expression. The inner part of these coins does not necessarily have to be coin-shaped. There have been bi-metallic coins where the center part was shape of a coat of arms, a person's effigy, or even of an animal. Here are some popular combinations of precious metals for bi-metallic coins.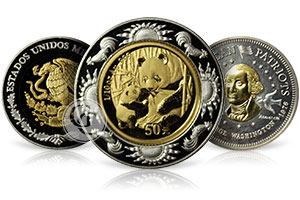 Gold/Silver
This is the most popular combination. These coins will most commonly consist of a disk of silver, surrounded by a ring or collar of gold. The other combination, of gold inside and silver outside is also seen. Less frequently, yellow and white gold will be used.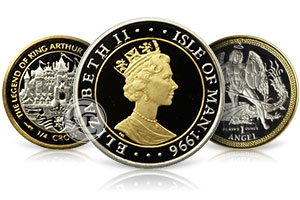 Gold/Platinum
Gold and platinum are closer in value, yet provide the same contrast of colors that gold and silver offer. A common practice is to design the coins so that half the weight is in gold, and half in platinum. Due to the arrangement of the coins, the collar will seem to be smaller than the center disk, and many people are surprised to find that they are the same weight. There seems to be no preference for gold on the inside or platinum.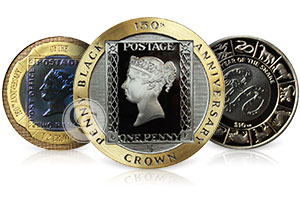 Other
Advances in minting technology has allowed such extremely hard metals such as titanium to be used in bi-metallic coins. Titanium was first used for coins in 1999. Titanium and niobium are popular metals for bi-metallic coins, because of the ease of anodizing them in bright colors. These metals are usually used as the disk, with a collar of gold, platinum, or silver.