Private Mints
Product Spotlight
Even though the idea of private mints and refineries has some historical basis in Europe, it is largely a recent development in the U.S. The advent of private refiners appearing on the scene and gaining a share of the bullion market became more common beginning in the 1970s. This was a direct response to the removal of the silver content from circulating American coins, meaning that citizens had to turn elsewhere if they wanted to hold their wealth in physical silver bullion. Thus, independent mints stepped in to meet the demand for privately owned silver.
In the decades since this trend began, investors have taken advantage of the access to millions of ounces of precious metals that the privatization of bullion services has afforded the average consumer. It has also catapulted several expert refiners in Switzerland to new heights of international acclaim, creating a vibrant secondary market for the most trusted brand-name products in the precious metals industry.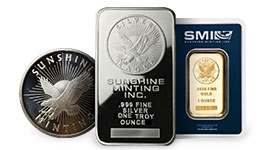 Sunshine Minting
Probably the best-known private minting facility in the United States today, the Sunshine Mint is both a supplier for the United States Mint as well as a stand-alone brand in its own right. It is noteworthy for producing the silver blanks that the U.S. Mint uses to strike its American Silver Eagle 1 oz silver bullion coin, and has maintained this esteemed contract for many years. Sunshine also specializes in custom gold and silver blanks, offering a wide range of services for government mints, small businesses, and private individuals from all around the world. Moreover, the company has its own line of Sunshine Minting gold bars, silver bars, and silver rounds. Sunshine Minting brand bullion products are noteworthy for their industry-leading security features.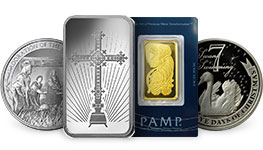 PAMP Suisse
Wherever you go in the world, people familiar with the precious metals industry will easily recognize PAMP Suisse bullion products. As one of the most well-regarded names in the gold and silver bullion trade, PAMP's reputation precedes it. Its products are bought and sold in virtually every corner of the world, helping make PAMP Suisse one of the biggest players on the global markets for gold and silver. In addition to producing distinctively shaped gold items that match the cultural symbols of specific regions, PAMP is also widely known for the trust, high quality, and artistry of its minted silver and gold bars. This is why PAMP Suisse bullion products frequently trade at a premium above their intrinsic metal value in a way that more generic precious metal items do not.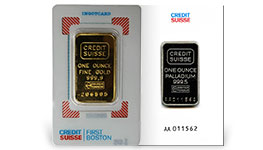 Credit Suisse
Founded during the 1850s by famed Swiss entrepreneur and politician Alfred Escher, Credit Suisse has today grown into one of the leading financial services companies anywhere on the globe. Like PAMP, Credit Suisse AG benefits immensely from its Swiss heritage, lending immediate credibility to the brand name. Although the banking and financial services group withdrew from its bullion operations at the turn of the 21st century by selling Valcambi Suisse to European Gold Refineries (a holding of resource conglomerate Newmont Mining), existing Credit Suisse precious metal products have remained in demand among investors, especially on the secondary market. Its Liberty design gold bars, featuring an image of the Statue of Liberty, are still a popular investment choice, and have been minted in sizes as small as one gram.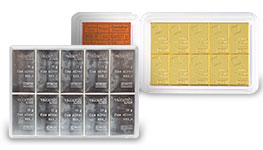 Valcambi
Once owned as a subsidiary division of Credit Suisse's precious metals refining operations, Valcambi SA has grown into its own independent bullion refining business, operating all across the world. The Swiss-based firm now has more than 50 years of experience in the industry, and combines its expertise and history with a penchant for innovation. During the 1990s, Valcambi minted highly pure gold pendants in a variety of different shapes that straddled the line between bullion and jewelry. These small pendant-shaped gold bars were targeted to different regions and demographics, and were even included in the expansive Industry Collection of Gold Bars--a fantastic array of gold bars with different designs. from all over the world that is now owned and displayed by gold trading firm Degussa.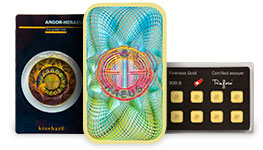 Heraeus
Heraeus is a cutting-edge technology and engineering firm based in Germany that has been active in the precious metals trade since the middle of the 19th century. It once specialized in refining platinum; in fact, company progenitor Wilhelm Carl Heraeus developed the first process used to melt platinum. Today, the company has expanded into gold, silver, and palladium through Argor-Heraeus SA, a partnership with prominent Swiss refinery Argor. Its patented Kinegram anti-counterfeiting technology used in a special line of its gold bullion products pairs colorful aesthetics with the latest security features developed by the company's expert staff. The vibrant rainbow hologram effect is imparted onto the Kinebars with the latest laser-etching technology, rendering these gold bars among the most secure in the industry.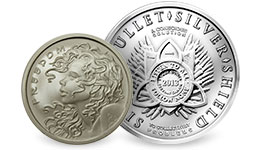 Silver Bullet Silver Shield (SBSS)
Few independent refineries have as clearly defined and well-executed a central theme as the Silver Bullet Silver Shield brand. This innovative line of bullion uses a combination of captivating medallic artwork and meaningful political messages to distinguish itself from other bullion items on the market. Espousing an anti-banking platform, these high-quality silver bars and rounds feature themes such as "The Bankster: Spreading Debt and Death" and "The Federal Reserve: Den of Thieves." The mix of vivid illustrations and ironic political themes has generated considerable attention for SBSS within circles of silver investors. In fact, Silver Bullet Silver Shield is among the few brands of privately-minted silver that has also gained traction with collectors due to their profound, well-conceived artwork.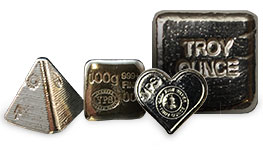 Yeager's Poured Silver (YPS)
There is no denying the nostalgia and novelty of the historical style of hand-poured silver bars. With the proliferation of minted bullion products, poured bars offer a window into the past. These poured bars are created by hand in a similar manner to how precious metals were made into bars hundreds of years ago, giving you a glimpse of how precious metals were refined and traded for much of history. In addition to their standard poured "loaf" bars, YPS is also active in minting 3D silver bars, which are essentially free-form bars shaped like various real-life items, like eagle heads or starfish. Many of these products are only made in limited quantities, and bear unique serial numbers that attest to their restricted numbers.
See Also: